Ever since his inauguration as chairman of the Taiwan Industrial Fasteners Institute (TIFI) in 2008, Joe Chen has devoted himself to the sustainable development of the domestic fastener industry. Chen is also chairman of the Ho Hong Works Co., founded in 1973 in Kaohsiung County as one of the oldest fastener makers on the island.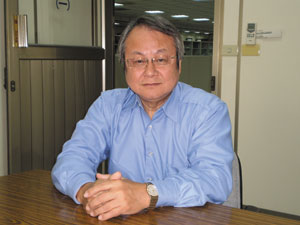 Joe Chen, chairman of Ho Hong Works Co. and the Taiwan Industrial Fasteners Institute, wants to boost the global profile of Taiwan's fastener industry.
Chen's devotion to Taiwan's fastener industry is seen in his unremitting efforts to lead the industry in winning an anti-dumping lawsuit in the United States. In September, 2009, Nucor Fastener accused Taiwan of dumping fasteners in the U.S. and asked for punitive antidumping duties of 78%-150% on fasteners imported from the island.
TIFI immediately hired attorneys and brought Taiwanese fastener makers together with local importers numerous times to discuss how to counter the suit. Industry insiders were highly impressed with Chen's success in organizing the meetings and for participating personally in all of them. He even attended the public hearing held by the International Trade Commission in Washington, D.C. on October 14. His efforts paid off, and the ITC dismissed the case a month later.
Following are excerpts from an exclusive interview with Chen about his blueprint for boosting the position of Taiwan's fastener industry in the global supply chain.
General Recession in 2009
The financial crisis darkened the skies for companies all over the world in 2009, causing many of them to struggle for survival or even to close down. The Taiwanese fastener industry was also inundated in the global tsunami.
Improved sales in the second half of the year were not enough to offset the industry's weak exports in the first half, Chen noted; export volume for the year as a whole plummeted 26.33% and export value dropped an even steeper by 34.47%, to only US$2.073 billion.
The U.S. remained by far the largest importer of Taiwan-made fasteners in 2009, absorbed over 40% of the island's total exports. Germany was the second biggest market, taking 7.76% of the total, followed by Japan with 4.73%, the Netherlands with 4.07%, and the United Kingdom with 3.33%. Still, exports to the U.S. were down 34.25% by volume and 40.79% by value, severely dampening the industry's overall export performance. "There was a general recession in the industry," Chen said. "It did not erode Taiwan's role in the global fastener supply chain, however, and the island still ranked as the world's second-largest fastener exporter."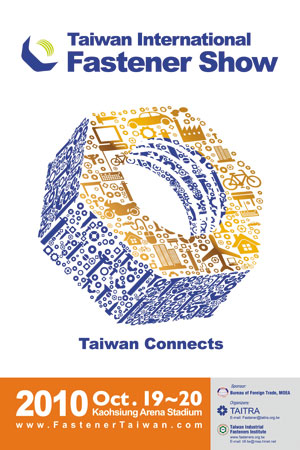 The first Taiwan International Fastener Show is slated for Oct. 19-20, 2010, in southern Taiwan's Kaohsiung City. It will provide a buying-and-visiting business platform for local exhibitors and foreign buyers.
Cluster Effect
The key reason why Taiwan's fastener industry has been able to maintain its position in the global market, he added, is that with over 60 years of development, the industry has created a unique competitiveness derived from its cluster effect. The island has over 1,900 companies engaged in fastener manufacturing, surface treatment, heat treatment, mold making, packaging, and distribution, with over 80% clustering in Kaohsiung.
"The cluster formed there simply because of geographic factors," Chen explained. "Kaohsiung has a harbor and international airport, as well as an abundant supply of materials from the China Steel Corp. With this favorable environment, when Taiwan's economic takeoff got under way in the 1960s, fastener manufacturers and supporting companies popped up and formed the soundest supply chain in the area. This allows them to realize better efficiency and flexibility than their foreign competitors."
In addition, Chen went on, there is the historical aspect. The more than 60 years of development has generated chemistry in the line, as most participants are friendly with each another and relatively willing to share information, especially since some of the companies originated from older ones or have family ties with others. This has also contributed to the formation of the fastener industrial cluster; it reduces the likelihood of product and market overlap, helps to avoid vicious competition, and enhances production efficiency and flexibility.
Another factor helping the industry to weather the hard times in 2009 and emerge in relatively good shape, Chen added, was the hard work that the Taiwan External Trade Development Council (TAITRA) devoted to organizing business meetings between Taiwanese fastener makers and heavyweight buyers from emerging markets such as Mexico and Brazil. TAITRA statistics show that business opportunities worth an estimated US$70 million were generated by those meetings during the year, pumping solid business growth momentum into the industry for the coming years.
Stellar Products
Asked what categories of fasteners will prop up the industry in the next few years, Chen pointed to fasteners for cars, noting that China, the U.S., Japan, and Germany are the world's four biggest producers of fasteners in terms of value and that the four also have a huge demand for auto fasteners because of their large, world-class, carmakers.
"In other words," Chen said, "the auto fastener market is a huge pie and Taiwan can scramble for a large slice of it, especially since our manufacturers are able to turn out fasteners with the required quality and competitive prices." However, the chairman commented, to remain competitive they will have to assure product consistency and quality; they must have their production capability certificated to international standards such as QS9000 and TS16949, and must be compliant with related technical requirements on consistency of production.
Chen observed that the Production Part Approval Process (PPAP) has been widely used in the auto industry to measure consistency of quality characteristics, and that it has now also been adopted by some Taiwanese makers of auto fasteners. "Auto fasteners are regarded as safety parts, so suppliers must prove to their clients that they are not only capable of manufacturing, but also that they concentrate on consistency of output," Chen said.
Therefore, he stressed, TIFI is aware of the importance of introducing related standard requirements, and has actively pushed insiders to adopt those standards in their factories. "I think that the 3C (computer, communication and consumer electronic) product, medical device, and wind power generation equipment sectors are promising for the fastener industry as well," Chen stated. "Fasteners are used everywhere, and Taiwanese makers can always find their niche so long as they direct their energies in the right direction."
Academic Support
Pushing for more industry-academia cooperation is also part of Chen's plan. "The industry will have to upgrade to original equipment manufacturing (OEM) and establish made-to-order production, and become more involved in the production of customized fasteners for industrial use instead of standardized, low-end fasteners for DIY use," Chen said. "Cooperating with colleges and universities is the key for their upgrading of production and, above all, attracting school graduates to join the industry."
With TIFI actively urging cooperation between fastener makers and academic institutions, some insiders have gained strong support from universities, including Kao Yuan University, National Kaohsiung University of Applied Sciences, National University of Kaohsiung, and National Cheng Kung University, and have already kicked off joint research projects in either production automation or operational optimization. TIFI has also teamed up with the National Kangshan Agricultural & Industrial Vocational Senior High School to provide a series of courses related to fastener manufacturing and related skills, in an effort to secure sufficient labor for the industry.
Fortunately, the industry's excellent export performance has been noticed by the government, which has come up with industrial development policies designed to provide subsidies for joint research by company personnel and university professors and encourage the establishment of incubation and R&D centers in colleges. In addition, TIFI has reinforced technical ties with China Steel and the Metal Industries Research & Development Centre (MIRDC).
Access to Taiwan's Fastener Industry
One of Chen's most notable achievements as chairman of TITI is the organizing of the first Taiwan International Fastener Show (TIFS), which, with TAITRA as the other main organizer and Bureau of Foreign Trade as the co-organizer, is to be staged on October 19-20, 2010 in the Kaohsiung area.
Covering a full line of fasteners including buckles, clamps, screws, bolts, nuts, rivets, washers, pins, anchors, turnbuckles, nails, studs, hooks, staples, fastener molds, and related parts, TIFS is certain to be Taiwan's most professional fastener show, and will very likely become one of leading trade fairs of its kind in Asia. "We plan to brighten Taiwan's global profile as the best OEM partner in the fastener industry and create easy access to the industry for foreign buyers," Chen stressed. "The first TIFS will offer a total of 300 booths for rent, giving more than 200 exhibitors an opportunity for face-to-face meetings with foreign buyers."
Asked why Taipei, with its greater global awareness making it easier to attract international buyers, was not chosen for the debut of TIFS, Chen replied that Kaohsiung is a better place to show off Taiwan's world-class fastener industry because of its position as Taiwan's—and even the world's—manufacturing base for fasteners.
"Specifically," Chen explained, "the reason why we decide to hold the first TIFS in Kaohsiung is that we want to differentiate it from all the other trade fairs of its kind in the world. In Kaohsiung, buyers will not only be able to see comprehensive exhibits of fasteners, but will also be able to pay personal visits to suppliers' factories right away if they are looking for OEM partners and have some potential companies in mind after meetings at the showground."
Chen believes that his new show will prove an international success. "Numerous Taiwanese fastener makers have responded positively to the inauguration of TIFS," the chairman noted, "and have shown intense interest in participating in it. We expect that he buying-and-visiting model will bolster the industry's capability and image among foreign buyers."
Exports of Taiwan's Fastener Industry in 2009

Month

Volume (KG)

Value (US dollar)

Average Price (US dollar)

Weight

Contribution Ratio

Annual Growth Rate

Total

Contribution Ratio

Annual Growth Rate

Jan.

68.2 m.

7.62%

-12.15%

190.0 m.

9.17%

-22.76%

2.786

Feb.

50.2 m.

5.62%

-26.34%

133.2 m.

6.42%

-30.36%

2.649

Mar.

64.3 m.

7.19%

27.97%

164.0 m.

7.91%

-37.89%

2.550

Apr.

58.6 m.

6.55%

-8.90%

140.4 m.

6.77%

-45.42%

2.396

May

67.5 m.

7.54%

15.18%

157.7 m.

7.60%

-41.91%

2.336

Jun.

68.2 m.

7.62%

1.06%

148.4 m.

7.16%

-48.36%

2.175

Jul.

76.2 m.

8.51%

11.65%

162.2 m.

7.82%

-44.46%

2.130

Aug.

78.1 m.

8.72%

2.54%

168.9 m.

8.15%

-44.04%

2.163

Sep.

85.1 m.

9.62%

10.29%

187.0 m.

9.02%

-38.54%

2.171

Oct.

92.9 m.

10.38%

7.89%

201.2 m.

9.70%

-31.91%

2.165

Nov.

87.8 m.

9.81%

-5.49%

196.2 m.

9.46%

-15.21%

2.234

Dec.

96.8 m.

10.82%

10.23%

224.0 m.

10.80%

-1.29%

2.314

Sum

895.1 m.

100%

-26.33%

2.073 b.

100%

-34.47%

2.316
Source: TIFI
Top 13 Importers of Taiwan-made Fasteners in 2009

Country

Volume (KG)

Value (US dollar)

Average Price (US dollar)

Weight

Contribution Ratio

Annual Growth Rate

Total

Contribution Ratio

Annual Growth Rate

U.S.

378.67 m.

42.30%

-34.25%

787.80 m.

38.00%

-40.79%

2.786

Germany

69.48 m.

7.76%

-21.53%

162.10 m.

7.82%

-31.26%

2.649

Japan

42.38 m.

4.73%

-24.82%

113.57 m.

5.48%

-30.34%

2.550

Netherlands

36.48 m.

4.07%

-26.07%

90.01 m.

4.35%

-32.03%

2.396

U.K.

29.85 m.

3.33%

-4.26%

69.65 m.

3.36%

-23.40%

2.336

Canada

23.27 m.

2.60%

-43.23%

52.33 m.

2.52%

-43.10%

2.175

Italy

20.06 m.

2.24%

-34.89%

42.85 m.

2.07%

-41.54%

2.130

Poland

19.23m.

2.16%

38.72%

29.60 m.

1.43%

3.96%

2.163

Australia

17.83 m.

1.99%

-23.02%

50.09 m.

2.45%

-29.18%

2.171

Belgium

17.41 m.

1.95%

9.59%

39.51 m.

1.91%

-12.98%

2.165

China

15.53 m.

1.73%

-22.64%

79.08 m.

3.81%

-21.45%

2.234

Sweden

14.25 m.

1.59%

-31.52%

37.57 m.

1.81%

-39.87%

2.314

Russia

13.52 m.

1.51%

-34.35%

21.40 m.

1.03%

-45.00%

2.316
Source: TIFI