Taiwan's Automotive Research & Testing Center (ARTC) has been aggressively developing millimeter wave radar technology, a type of sensor expected to play a major role in automotive active safety systems.

ARTC says that active safety systems were in the spotlight at the IAA 2007 in Frankfurt, Germany, where Volvo introduced a collision warning auto brake system. The past few years have seen the emergence of various technologies that enhance the detection accuracy and functionality of active safety systems. The older image-sensing method is being steadily replaced by image-distance detection technology, which is more accurate and reliable in poor visibility environments.

Image-sensing devices are also less adept at gauging distance and speed, ARTC says, and often need additional sensors to collect more information about obstacles around a vehicle. Millimeter wave radar sensors outshine many other counterparts in providing this extra level of data, the center says, with advantages including compact size, lightweight, higher sensitivity and all-weather operation.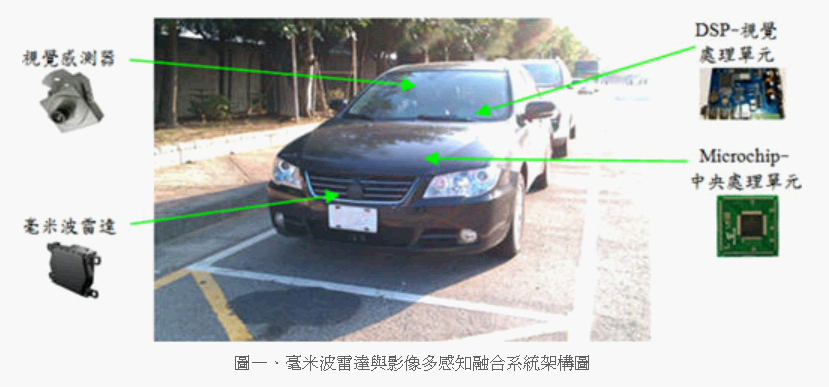 The system architecture of the integrated detection system developed by ARTC
ARTC notes that millimeter wave radar sensors are still more vulnerable to interference from reflected electromagnetic waves, leading to mistakes in obstacle and distance detection. In addition, such systems have difficulty in identifying what types of objects are detected.
To address this shortcoming, ARTC's R&D team developed integrated detection techniques that simultaneously collect signals from image- and distance-sensing sensors. The integrated technique can greatly improve the reliability and accuracy of the detection results by compensating shortcomings in either the image- or distance-sensing capabilities, the center says. ARTC's integrated active-safety system solution joins an image sensor, a millimeter wave radar, a digital signal processor (DSP) unit, and a microchip control unit.
ARTC claims that the newly developed system has three prominent features: First, if either of the two sensing sub-systems (image- and distance-sensing) malfunctions, the other sensor will still maintain detection capability, improving system reliability. Second, both sub-systems work on overlapped detection ranges to upgrade data accuracy and detection capability. Third, the two sub-systems simultaneously operate and provide different information on detected objects, making the detection results more reliable.
ARTC says that its new integrated detection system can improve system performance and meet the increasingly stringent demands of consumers for advanced and reliable automotive electronic systems.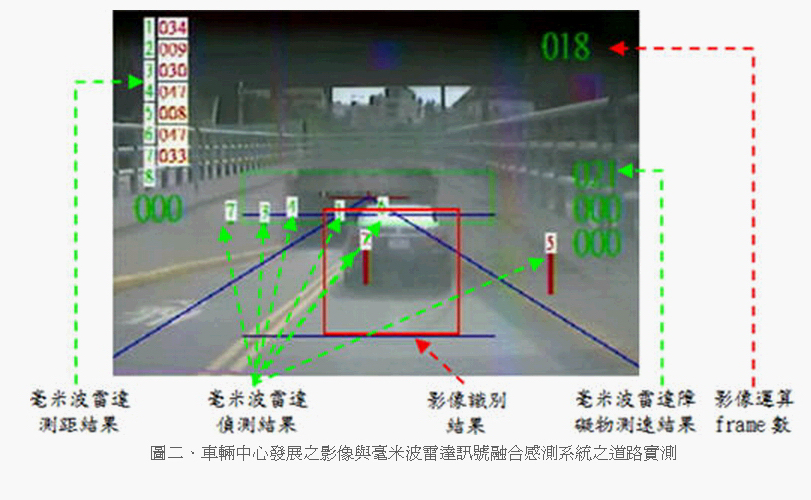 Real-road test of ARTC's image- and distance-sensing active safety system
ARTC's millimeter wave radar delivers detection signals to an image-recognition unit for vehicle identification, underscoring ARTC's ability to develop advanced vehicular safety systems.
ARTC's innovation ability was been recognized at the 65th Nuremberg Ideas - Inventions - New Products (iENA 2013) trade fair, the world's largest invention exhibition. During the fair, the center was awarded with two of the world's most coveted invention awards: gold medals for Advanced Driver Emergency Aid System (ADEAS) and Vehicle Steering System with Variable Geometry. The center's millimeter wave radar technology is the core part of the ADEAS.
ARTC adds that it has partnered with automakers in Taiwan to jointly develop more advanced and reliable active safety systems for passenger cars and commercial vehicles. The commercialized systems are expected to be internationally competitive with most similar counterparts available on the market.