Relatively low cost of integrating essential equipment for cultivation systems is seen a main development advantage
By KEN LIU

"Plant factory" has emerged as a theme at the LED Lighting Taiwan trade show during the past two years, and Wei Fang, director of National Taiwan University's Department of Bio-Industrial Mechatronics Engineering and a specialist in greenhouse horticulture, believes that Taiwan is well positioned to develop this new industry.

One of island's main advantages for the development of greenhouse horticulture, Director Fang feels, is the relatively low cost of integrating essential equipment for cultivation systems, including air conditioning, clean rooms, thermal-insulation materials, energy-saving lighting, control units, and electromechanical gear. An abundance of personnel with post-secondary educations is a second advantage. Finally, there is a considerable number of idle buildings administered by local governments as well as unused factory and warehouse buildings owned by enterprises that can be re-purposed for greenhouse horticulture.

"If the government can offer some incentives," Fang adds, "I believe more companies will be willing to enter the plant factory industry, which can create jobs and reactivate idle assets." He defines "plant factory" as an artificially-controlled environment under which vegetation can grow all year round without interruption by natural climatic change.

The plant factory industry has attracted more and more Taiwanese companies as worldwide awareness of food shortages has risen and the cost of greenhouse equipment has fallen, especially for the LEDs that have become so essential to greenhouse operations today.

LED Horticultural Lights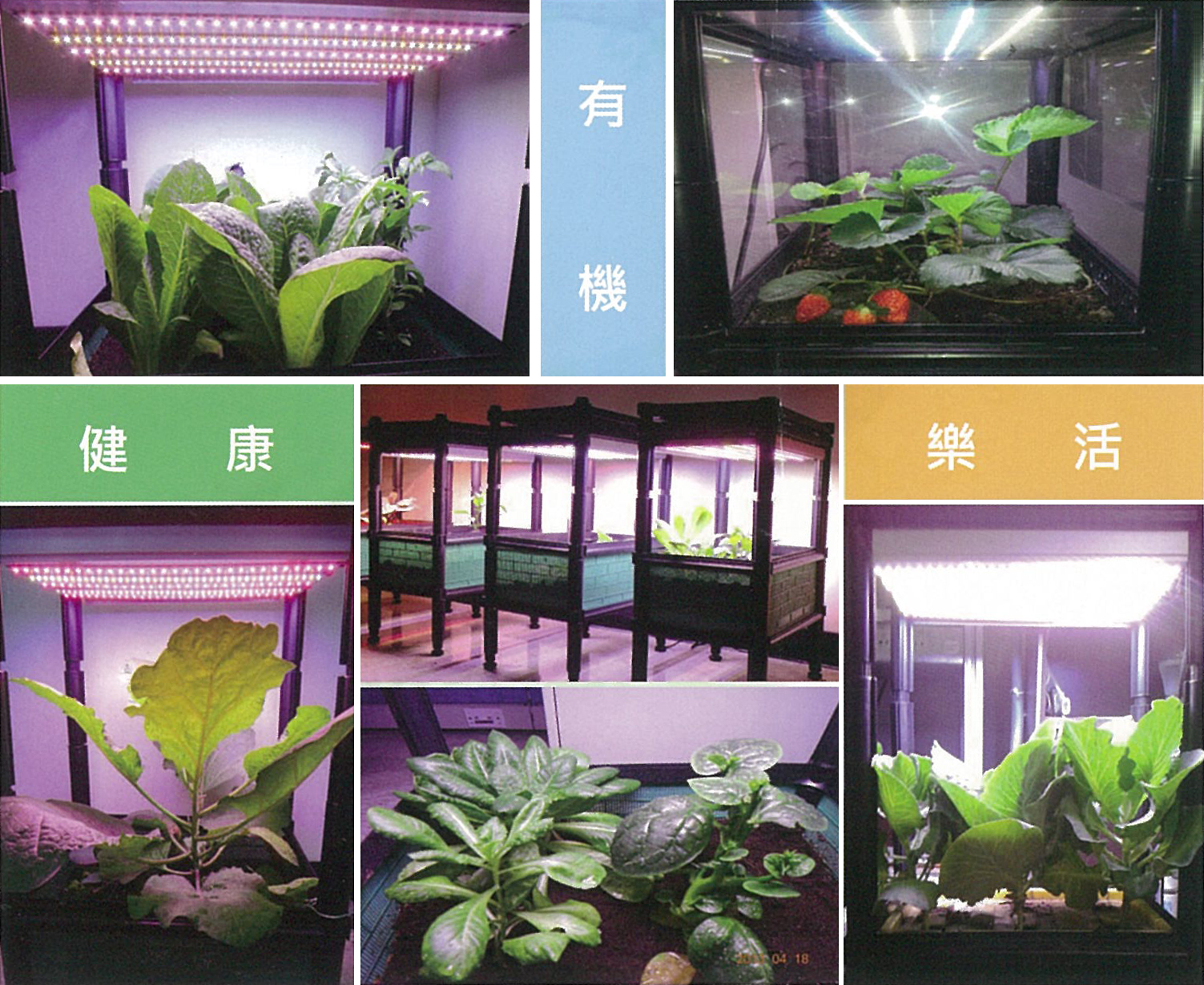 Chiplus's LED horticultural lamps are unique in having six wavelengths that simulate round-the-clock natural light.
Chiplus Semiconductor Corp., which expanded into the LED IC sector in 2008, has introduced LED horticultural lights that make use of its LED IC technology. The company has partnered with several local universities known for agricultural technology, and with a domestic energy-technology company.
The new horticultural lights are unique in having six wavelength spectrums that simulate round-the-clock natural light and automatically shift among wavelengths, including a wavelength for dormancy, over 24 hours in accordance with a preset program, making them ideal for a wide range of plants.
The lights are available in two types: hydroponic and tilled-soil. In addition to an LED module and a control IC, they come with soil, fertilizer, cultivation box, and culture liquid.
Chiplus also makes household-type lights for DIYers and factory type lights to fill custom needs.
Advantech Corp. has made use of its expertise in industrial PCs, embedded PCs, and automation control to develop an intelligent temperature/humidity control system for orchid greenhouses. The system is built around cloud computing technology and allows users to remotely monitor temperature, humidity, and soil pH value in greenhouses on mobile devices like smartphones and iPads that have Advantech WebAccess man-machine interface software.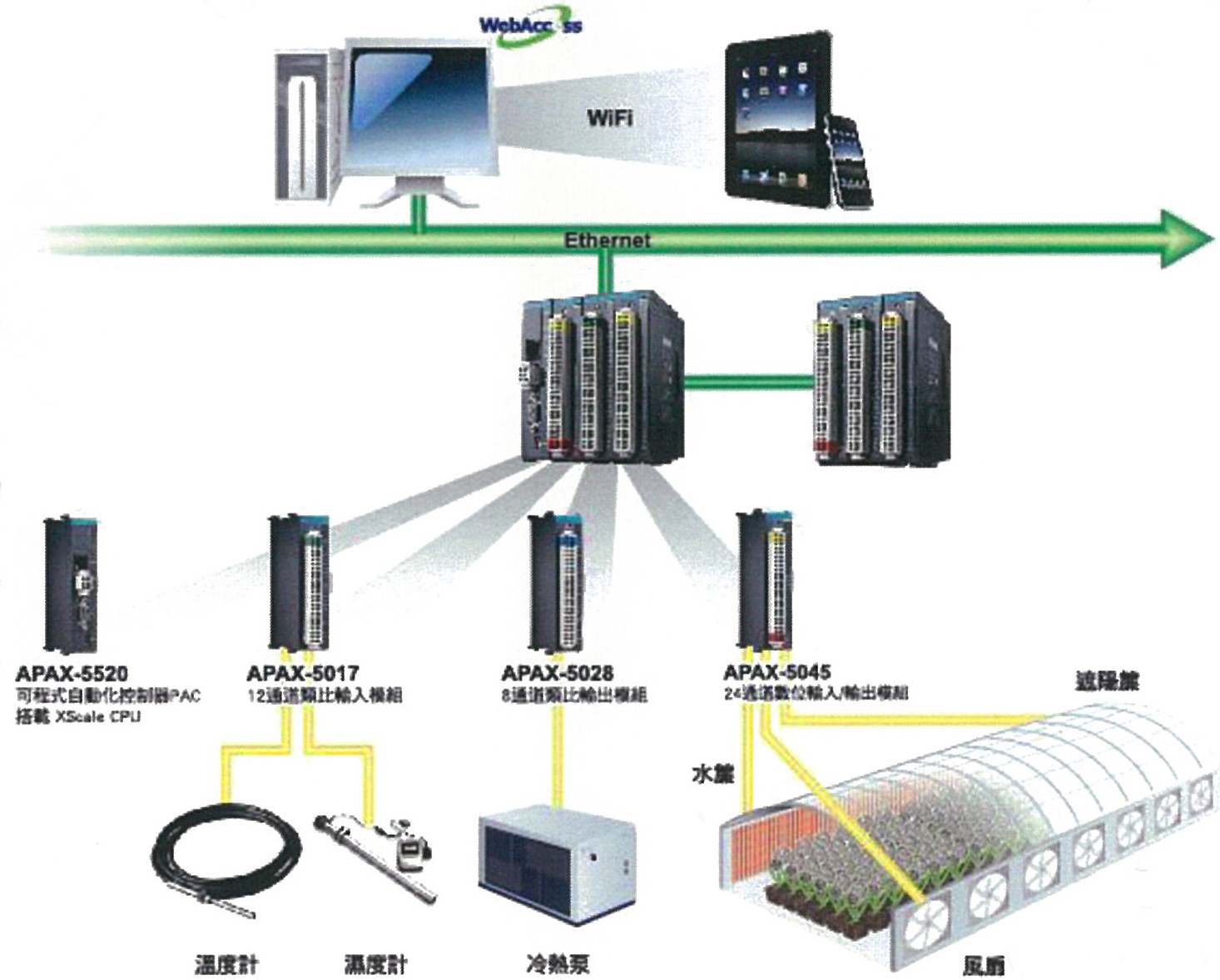 Advantech's intelligent temperature/humidity control system for orchid greenhouses is built around cloud computing technology.
The system uses three Advantech wireless devices: an ADAM-2017Z analog input module, ADAM-2510Z router, and ADAM-2520Z Modbus RTU gateway. The technologies incorporated n these devices allow a greenhouse to be controlled from a room hundreds of meters away.
ArchEnergy Technology, Ltd., which is owned by precision mold parts maker Gallant Precision Machining Co., supplies greenhouses powered by solar panels in addition to LED grow boxes for households and greenhouses for farms. The company has begun operating its own greenhouse farms to cultivate profitable Chinese herbs and flowers.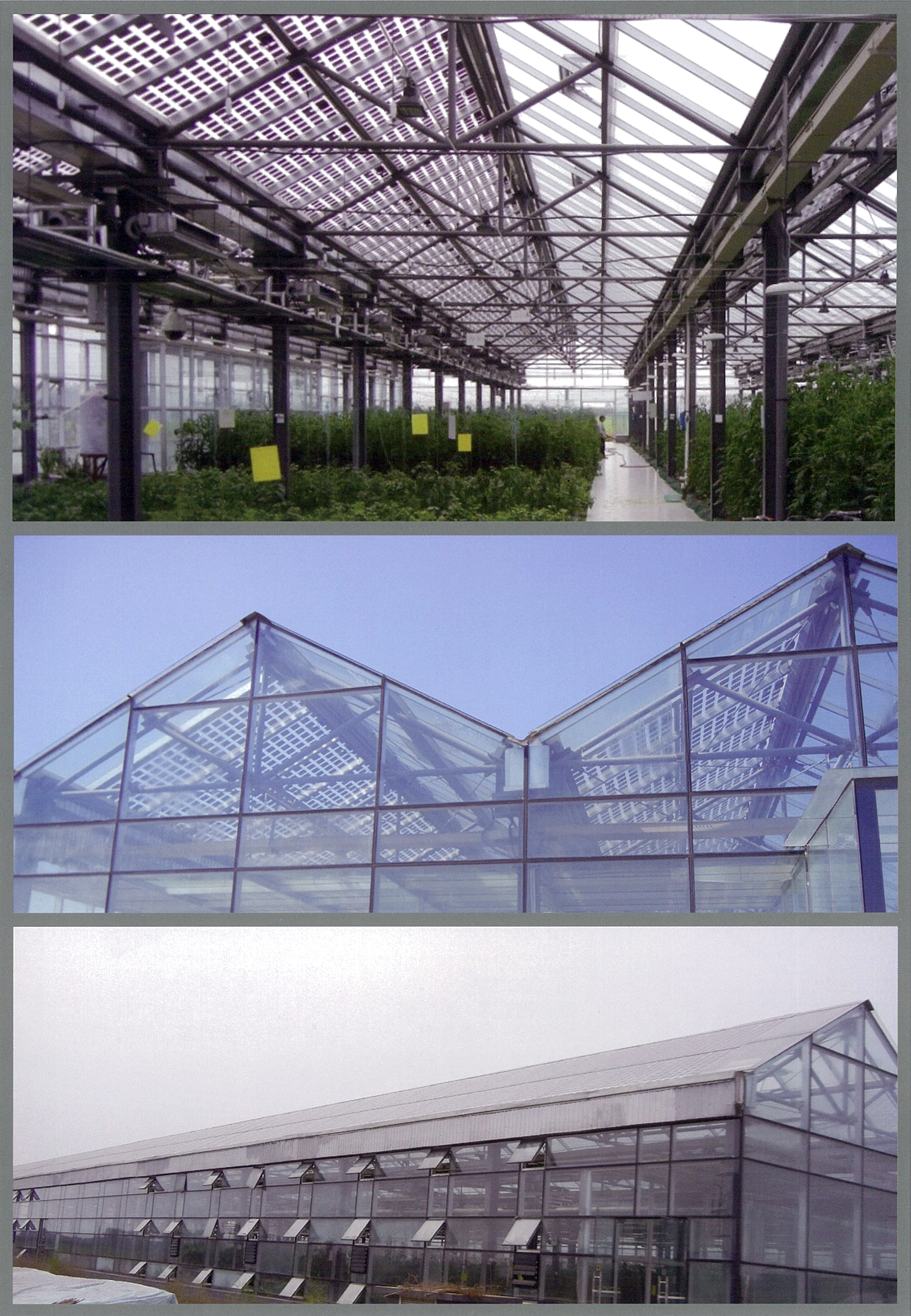 ArchEnergy supplies greenhouses powered by solar panels.
Integrated-production Greenhouses
According to chairman and chief executive officer Jack Wu, the company's greenhouses have integrated production, meaning they handle everything from seed incubating and planting to harvesting and food processing.
Wu reports that his company plans to open 20 greenhouses in Taiwan and mainland China, and has already signed agreements to secure 2,000 acres of land in Jiangsu, Shandong, and Shanxi Provinces. The company's biggest greenhouse in Taiwan covers 3,300 square meters in the northern county of Hsinchu.
The chairman says that ArchEnergy will market mainly greenhouse equipment for herb and flower cultivation in Taiwan and for vegetable cultivation in the mainland. "In the mainland," he comments, "more and more local people distrust locally grown foods after a spate of contaminated food scandals. Besides, the mainland's purchasing power is soaring. So we haven't had much difficulty in promoting our equipment there."
Nice Green Agricultural Technology Co., Ltd. has a team of specialists that design and develop horticultural equipment, in its in-house clean room, in addition to installing plant factories for customers. It also cultivates horticultural vegetables and herbs, in its plant factory in the northern Taiwan county of Taoyuan, for its own restaurants in Taipei city.
The main vegetables cultivated in the plant factory are lettuce and ice plants, which have been verified by SGS to have zero toxins. Imported ice plants, which are native to South Africa, cost around NT$10,000 (US$333) per kilogram--a price that customers are willing to pay because of the plants' allegedly curative effects on diabetes, obesity, arteriosclerosis, and fatty liver disease.
Strawberry Cultivation Chamber
Kson Instrument Technology Co., Ltd. is promoting a programmable temperature and humidity chamber for strawberry horticultural houses and research laboratories. Unlike competing machines that provide only two fixed temperatures each for day and night, Kson's chamber offers eight temperatures, making it better for strawberry cultivation.
The company says that temperature, humidity, and light patterns are programmed into its chambers in accordance with year-long statistics complied by the Central Weather Bureau and the Council of Agriculture.
Starting out in 1983 as a manufacturer of temperature-simulation instruments for testing the reliability of electronics equipment, Kson claims to be Taiwan's first supplier of instruments for simulating outdoor climate.
Vegfab Agriculture Technology Co., Ltd.  has improved its greenhouse equipment by integrating control units directly into grow gears instead of using computers wirelessly connected to the gears. All users have to do is set ambient conditions such as temperature, humidity, nutrition, and lighting on the control unit.

Vegfab integrates a control unit into the grow gears of its greenhouse.
At first the company used its equipment to cultivate lettuce; now, it uses it to grow over 60 types of plants including brassicaceae plants and herbs, not to mention lettuce. Hotels, restaurants, and households are the main buyers of the plants.
Vegfab supplies greenhouses for mass production, boxes for gardening, and plant grow boxes for households, all closed types. The company has won numerous patents, including patents for vertically wall-mounted LED lights and ventilation systems for grow boxes. It will soon add desktop grow lights designed for children's education to its product line.
Three Advantages over Competition
The team of eco-conscious semiconductor specialists knowledgeable about LED materials who founded the company in 2010 claim three advantages over the competition. First, their lamps emit five wavelengths to simulate sunlight. Next, their lamps have a total light output of 10,000-12,000 lux and are positioned 30 centimeters from the plants for optimal brightness and distance. Third, they have five production lines are are highly experienced in installation.
The firm boasts relatively low installation cost—NT$4.5 million (US$155,000) for a house with 630 square meters of cultivation space, around 15% less than the cost of its first-generation greenhouse. Output efficiency is also high; 3,750 heads of Chinese cabbage, for instance, can be harvested daily.
Targeting mainly the Taiwanese and mainland Chinese markets, Vegfab has developed greenhouses specifically for cultivating zero-insecticide leafy vegetables, which it says are often heavily polluted by insecticides.
The company says that it will soon introduce the world's first greenhouse that can put out at least 900 metric tons of plants a year.
Nano Bio Light Technology Co., Ltd. supplies greenhouses for the mass production of plants, and grow boxes for domestic cultivation. Its products are used mostly to grow vanilla, lettuce, Chinese basil, and plantain, with controlled air temperature, humidity, carbon dioxide (CO2), lighting length, water temperature, and pH value of fertilizer.

Nano Bio's greenhouse equipment controls air temperature, humidity, carbon dioxide (CO2), lighting length, water temperature, and the pH value of fertilizer.
The company has worked with local academic institutions for over 10 years in researching LED applications for horticulture, and has published 10 related papers.
The company's LED-lit horticultural equipment is available in different types for research, home use, store demonstrations, installation in condo blocks, and mass production. It has worked with constructions firms on the installation of such equipment in new development projects to inspire residents to grow insecticide-free vegetables and fruits. It has cooperated with the Pacific Construction Co., for instance, to promote greenhouses in a newly completed community in the Wenshan District of Taipei City. At least 10 of Nano Bio's professional greenhouses have been installed around the island.
Horticultural/Aquarium Grow Box
The LED packager Solidlite Corp. recently came up with a horticultural/aquarium grow box with a number of features, including a wideband LED light source, the use of organic substances (mainly peat soil and coconut fiber) as a substitute for chemical fertilizers, and a water circulation system that pumps excrement-containing water from the aquarium to irrigate hydroponic plants and then purifies the irrigation water for reuse in the aquarium. Solidlite is reportedly the first horticultural equipment maker to introduce such organic-based equipment.

Solidlite's horticultural/aquarium grow gears offer unique advantages.
The grow box is divided into two parts, with an upper space for growing plants and a lower space for fish. According to the company, the plant-fish cohabitation box achieves economy by saving water and electricity.
It took Solidlite around two years to develop the wideband LED light source via collaboration with the agricultural science units of several academic and research institutions, including Chiba University and the University of Tokyo of Japan, the Chinese Academy of Agricultural Sciences in mainland China, and Dayeh University and the government-backed Industrial Technology Research Institute (ITRI) in Taiwan.
Simon Tech Inc., another leading LED packager in Taiwan, has developed a series of LED grow lights in cooperation with Prof. C.C. Sun, an optoelectronics scientist at Taiwan's National Central University.
Among its top products is a family of flower grow lights which come into two types depending on the number of blue and red LEDs they use. One light uses eight red LEDs and one blue diode to generate illumination with a wavelengths of 450-660nm, while the other produces the same wavelengths with six red diodes and three blue diodes.
To make fresh vegetables available to people at sea, Simon Tech is experimenting with shipboard vegetable cultivation systems using its grow lights and horticultural technology in cooperation with several local academic institutions.
After winning Taiwanese, Chinese, and Japanese patents on its grow light modules for greenhouses in 2009, the company became the island's first horticultural-equipment maker to successfully cultivate, in cooperation with a number of domestic academic institutions, Hami melons in a greenhouse (in 2012) using its grow lights.
Company executives estimate that revenues of the global plant-factory industry will reach US$75 billion next year.