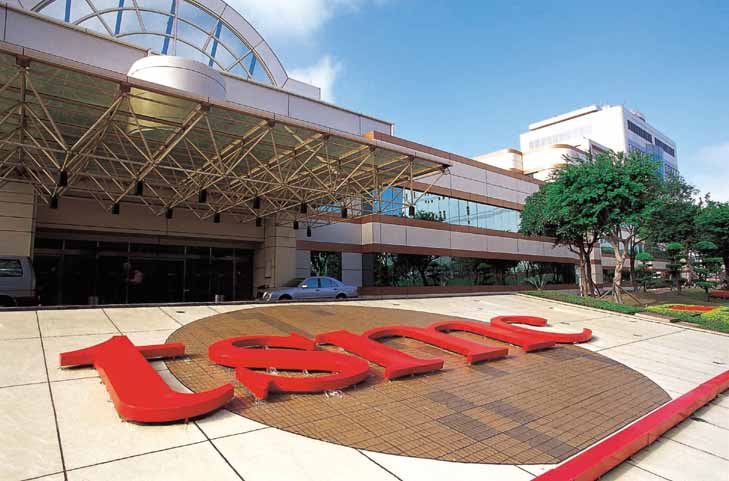 TSMC gains market share in 2013 amid surging global foundry sales. (photo courtesy of TSMC)
Taiwan Semiconductor Manufacturing Co. (TSMC) remained the world's No.1 pure IC foundry supplier in 2013 with market share of 46% and revenue of US$19.8 billion when global sector sales surged 14% year on year to US$42.8 billion, according to market consultant IC Insights.
The growth was eight percentage points more than the 6% increase achieved by the total IC market, shows IC Insights' 2014 IC foundry report.
The sales were generated by pure foundries including GlobalFoundries Inc., United Microelectronics Corp. (UMC), and Semiconductor Manufacturing International Corp. (SMIC), not to mention TSMC, and IDM (integrated device manufacturer) foundries as Samsung Electronics Co., Ltd., International Business Machines Corp. (IBM), and Fujitsu Semiconductor Ltd.
Within the overall IC foundry market, pure-play foundry sales posted a strong growth of 16% to US$36.2 billion in 2013.  IC Insights defines a pure-play foundry as a company that does not offer a significant amount of IC products of its own design, but instead focuses on producing ICs for other companies.
Meanwhile, IDM (integrated device manufacturer) foundry sales increased 2% to US$6.6 billion in 2013.  IDM foundries are defined as those companies that offer foundry services in addition to manufacturing their own-brand ICs.
The market consultant forecasts the pure-play foundry market to grow 14% to US$41.2 billion in 2014 and once again significantly outperform the overall IC market, which is forecast to increase 7%. In the meantime, IDM foundry sales are forecast to grow 3% to US$6.8 billion.
Totally, the top 13 foundries accounted for 91% of total foundry sales in 2013, an increase from 2009's 84% by the 13 excluding Samsung, according to IC Insights. Samsung dramatically ramped up its IC foundry production for Apple in 2009.
Among the top 13 of 2013, only TSMC, Samsung, SMIC, PowerChip Semiconductor Corp. (PSC), and Vanguard International Semiconductor Corp. (VISC) were the only five foundries who outperformed the industry average in terms of annual growth rate. PSC posted the strongest growth rate of the five, at 88%.
PSC announced its complete transition to a dedicated foundry in 2013 with revenue reaching US$1.17 billion, an increase from 2012's US$625 million for a 67% of its total revenue.
With the big growing bigger  already a trend of the industry, TSMC's 2013 sales were 4.6 folds that of second-ranked GlobalFoundries and 10 folds the sales of the fifth-ranked foundry SMIC.
GlobalFoundries had outdone UMC in revenue for a second year in 2013 while Samsung had narrowed its gap with UMC to only US$9 million or so, IC Insights' report shows.
Samsung is expected to compete with UMC for No. 3 place this year using the contracts it has won to make Apple ARM processors, its faster progress in developing 20nm and 28nm processes, and Samsung Group's substantial foundry orders for the world's largest supply of smartphones and tablet PCs.
IC Insights forecasts global foundry revenue to rise to US$64.6 billion by 2018, with compound annual growth rate (CAGR) in the 2013-2018 period posting at 12%, twice the projected 6% CAGR of the total IC industry.
The top 13 IC foundries of 2013
Ranking

Company

Annual revenue

YoY change (%)

2012

2013

1

TSMC

US$16.95bn

US$19.85bn

17

2

GlobalFoundries

US$4.01bn

US$4.26bn

6

3

UMC

US$3.73bn

US$3.95bn

6

4

Samsung

US$3.43bn

US$3.95bn

15

5

SMIC

US$1.54bn

US$1.97bn

28

6

PSC

US$620M

US$1.17bn

88

7

VISC

US$580M

US$710M

23

8

HHGrace

US$670M

US$710M

5

9

Dongbu

US$540M

US$570M

6

10

TowerJazz

US$630M

US$500M

-20

11

IBM

US$430M

US$480M

12

12

MagnaChip

US$400M

US$410M

3

13

Win Semiconductors

US$380M

US$350M

-7

Source: IC Insights