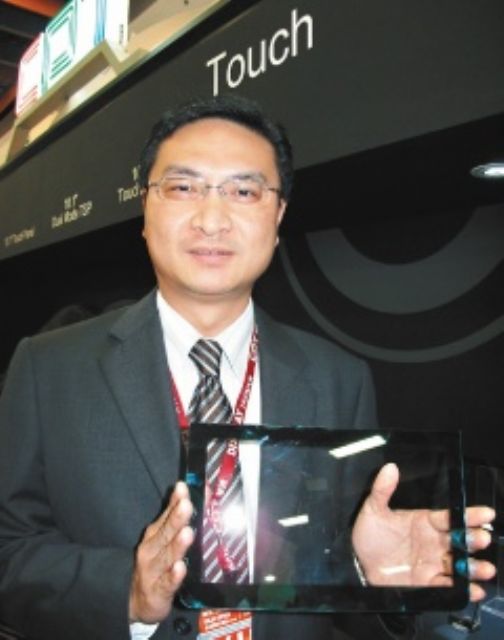 Lin Sheng-chang, CPT's president. (photo from UDN)
Thanks to increasing shipments of automotive-, cellphone- and tablet-application thin film transistor-liquid crystal display (TFT-LCD) panels, Chunghwa Picture Tubes, Ltd. (CPT) successfully turned profitable in the second half of 2013. This year the firm projects shipments of smartphone panels to continue increasing 60%, while that of on-cell touch and automotive panels each to surpass 10 million units, according to president Lin Sheng-chang.
CPT began mass production of on-cell touch panels in Q4, 2013, making it one of the only two suppliers of such products in the world. Currently, the firm's quarterly on-cell panel shipments are about one million units. Lin said that two to three new cellphone customers in China and Europe will likely place on-cell panel orders to CPT this year; while CPT is scheduled to launch some new products of this category in May.
On-cell touch panel can be made into a color filter to achieve even-narrower and -thinner outer edge of panel module, while maintaining high-level light-penetrating ratio of 92% to 94%. By utilizing its technological advantage in on-cell panels, Lin added, CPT has developed rim-less products for cellphone vendors to design 2.5D- or 3D-styling handsets. In June, the president noted, CPT is scheduled to push on-cell panels with high resolution of 400 ppi (pixels per inch), and larger-sizes (6- and 7-inch) on-cell panels for tablet applications.
In the past three years, CPT has been enjoying triple-digit shipment growth in its automotive-application panel products, including some 7.5 million units delivered in 2013. Lin said that his company's automotive panels are supplied to  Japanese automakers, with orders expected from American carmakers this year. CPT will also put more efforts in selling to Chinese vehicle manufacturers, the president said.
This year, automotive panels are expected to account for 5% to 10% of CPT's total panel shipments. To further strengthen such business, the company has set up an automotive-panel business division to focus on product and customer development.
CPT also delivered some 360 million cellphone panels to customers in 2013, but Lin stressed that his company will focus on product-mixture adjustment this year to cut shipments for featured phones while upgrading deliveries for smartphones. This year, Lin added, CPT is expected to ship 60%-more smartphone panels, which feature larger areas, higher specifications, and profit margins.
To meet the upgrading mainstream specs of smartphone panels to HD and Full HD resolutions, CPT will utilize its sixth-generation (6G) panel lines to produce higher-end smartphone panels. The firm also plans to push new smartphone panels featuring super-narrow-rim of only 1.2mm, so as to substitute the entry-level low temperature poly-silicon (LTPS)-TFT products.