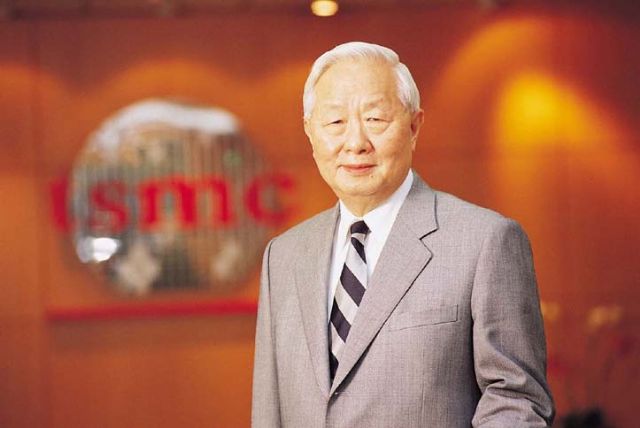 Morris Chang believes IOT and others to be the next window of opportunity for the semiconductor industry. (Photo courtesy of TSMC)
Taiwan Semiconductor Manufacturing Co. Chairman Morris Chang believes the  semiconductor industry's next window of  opportunity lies in Internet of Things (IOT), wearable devices, and intelligent home systems, with such opening only accessible to  manufacturers that have developed three advanced technologies, so he said at a recent meeting held by the Taiwan Semiconductor Industry Association (TSIA).
Chang, whose company is currently the world's No.1 supplier of built-to-order chips, forecasts that Moore's Law, which has been roughly followed by the global semiconductor industry, is losing effect and will be no longer be applicable in five to six years. The law, created by Intel co-founder Gordon E. Moore in 1965, estimates the number of transistors on integrated circuits to double around every 18 months.
Nevertheless, he believes the semiconductor industry will not end because IOT, wearable devices, and intelligent home systems will create new uses of IC chips. However, instead of IC suppliers, companies that can develop  Internet-enabled connections and applications will be the most profitable companies in the next market, he forecasts.
Feeling that Google, Apple, Amazon, and Cisco, as well as China's Alibaba Group, Tencent Holdings Ltd., and Huawei Technologies Co., Ltd. are riding on the next wave, Chang predicts these companies to become the hottest companies over the next five to 10 years.
He says that IC companies eager to venture into IOT, wearable, and intelligent home sectors need to equip themselves with three technologies: advanced packaging technology, technology for integrating micro sensors with micro electro-mechanical system (MEMS), and ultra low energy consumption technology.
With advanced packaging technology, IC packagers can integrate chips using different process into a package with SoC or 3D IC methods. Advanced integration technology will allow IC makers to combine micro sensors for detecting a number of factors as imaging, blood pressure, body temperature, and environment with MEMS. Ultra low energy consumption technology aims to boost conservation efficiency in a variety of electronic devices by 10 folds from current levels, according to Chang.
He stresses that even a heavyweight player like TSMC also needs to have the three technologies to tap the next opportunity.
Chang says now the bread and butter for the semiconductor industry is smart phones and tablet PCs, which are shoring up demand for IC chips, with TSMC, MediaTek Inc., and Qualcomm Inc. able to far outperform the industry as a whole in revenue growth mostly thanks to such devices. (KL)