After four straight years of revenue growth exceeding shipment growth, touch panel revenues are forecast to decline 1% this year, though shipments are predicted to rise 15%, according to NPD DisplaySearch.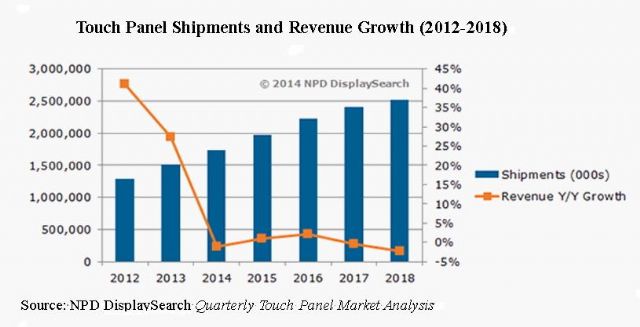 Touch Panel Shipments and Revenue Growth (2012-2018)
Although growth in the global smartphone and tablet PC markets continues to drive demand for touch panels, touch module makers are now facing greater competition, which is leading to revenue declines for the first time in four years, the major international display market research firm said. In 2013, worldwide touch panel shipments increased 17% and revenue surged 27%.
"Increased competition among the growing number of touch-panel makers is causing overall ASP and revenue declines, even as shipment volumes continue their upward trajectory," said Calvin Hsieh, research director for NPD DisplaySearch. "Some touch module makers will not survive the coming shakeout, but others are already preparing for new opportunities, including increasing production of new indium tin oxide (ITO) replacement materials."
Weak demand for touch-enabled notebook PCs and all-in-one PCs has caused an oversupply of large touch modules (especially OGS, One Glass Solution), resulting in a 50% year-on-year (YoY) decline in average selling prices (ASPs) between the first quarter of 2013 and the same period of 2014. Although touch module shipments for notebook PCs grew 362% in 2013, 2014 growth is expected to fall to 22%, as only 15% of notebook PCs are expected to be shipped with touch screens.
"Unless applications for 10-inch and larger screens can grow faster to create a new and growing market, it is inevitable that touch module makers will continue to compete fiercely, which will lower ASPs and revenues in the smartphone and tablet PC markets," said Hsieh. "Windows 8 has not convinced end users to pay the premium for touch screen use."