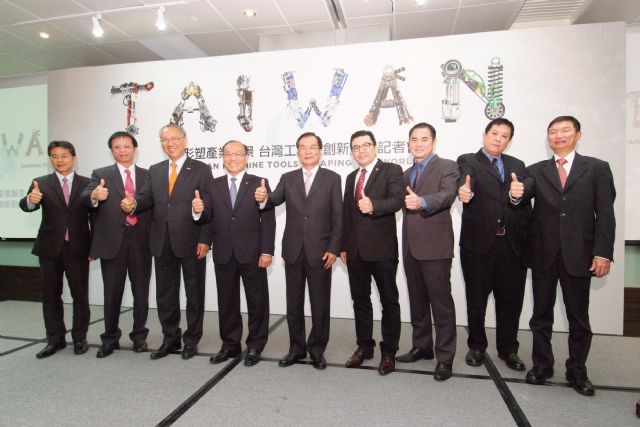 Integrated machine-tool marketing plan is inaugurated by (from left to right) C.H. Wang, a manager of CHMER EDM; TMBA Sectary General J.C. Huang; TMBA Chairman Eric Chuo; TAITRA Secretary General W.R. Huang; TAMI Chairman S.C. Hsu; Penang Foundry & Engineering Industries Association Deputy President Ooi Beng Chong of Malaysia; TAMI Vice Chairman D.L. Chuan; FATEK Automation Technology's manager, C.H. Yen; and TAMI President C.C. Wang.
The semi-official Taiwan External Trade Development Council (TAITRA) and Corporate Synergy Development Center recently co-introduced an integrated marketing plan to boost Taiwan's machinery industry revenue to the NT$1 trillion (US$33.3 billion) milestone and also upgrade the island's global machine-tool exporter ranking to the third place from current No. 4.
The plan focuses on promoting the quality image of Taiwan-made machine tools and components in the 12 foremost markets, namely China, the United States, Russia, Indonesia, Malaysia, Thailand, Mexico, South Africa, Egypt, South Korea, Turkey and Germany.
According to TAITRA, the project has four strategies: to stage customized activities, including press conferences, technology forums, system-application exhibitions, new product release, and industry introduction in the 12 markets based on local market features not to mention gathering market intelligence; posting physical advertising and playing video advertisement using digitized technology at trade fairs or public places; also promoting the quality image of Taiwan's machine-tool industry at crucial machinery shows outside the 12 markets; and posting vivid promotional  contents on social media.
According to market consultant Gardner Publication, Inc., global machine-tool industry had revenue of US$68.6 billion in 2013, including Taiwan's US$4.5 billion. In that year, the Taiwan industry posted US$3.5 billion in exports, accounting for around 7.9% of the US$44.9 billion global exports to make the island globally No.4, after only Germany, Japan, and Italy.
According to the Taiwan Association of Machinery Industry (TAMI), the island's machinery industry as a whole had revenue of NT$950 billion (US$31.6 billion) in 2012.  Association president, C.C. Wang, noted that Taiwan has the world's No.1 concentration of machinery industry, the world's No.2 per capita production value of machinery industry, the world's No. 3 per capita consumption of machinery, and the world's No.4 machinery export.
Eric Chuo, chairman of the Taiwan Machine Tool and Accessory Builders' Association (TMBA), pointed out that machine tool has seen the least out-migration in Taiwan to employ some 300,000 people on the island, and that the world's most complete machine-tool industry cluster has developed in Taichung, in central Taiwan. (KL)