By STEVE CHUANG

The year 2013 was a year of mixed performance by Taiwanese OA furniture parts manufacturers, given that gloomy economies weakened global enterprises' willingness to invest in fixed assets and dampened the sector to some extent. But with economies in the U.S., Japan and Europe showing signs of recovery this year, Taiwanese suppliers are generally optimistic about sales growth.

Several manufacturers in the line shed light on their operations in interviews with CENS.

W.D.F.
Bolstered by QC and R&D capability, Wan Der Ful Co., Ltd. (W.D.F.), established in 1994 in Taiwan's southern metropolis of Tainan, a hub of office furniture makers, is a top-2 local supplier of chair gas springs by capacity and shipment.

With a 33,000-square-meter factory, the company turns out a variety of gas springs, gas lifts, gas cylinders and end-fittings in different specifications for office chairs, as well as hydraulic hinges for doors, damping cartridges for front forks, and so forth, with monthly output of up to 2 million units to lead Taiwanese peers.

W.D.F.'s marketing manager, Eric Shyu, said that following years of development, his company has built distinct presence in overseas markets, mostly in developed countries as the U.S., Germany and Japan, mainly thanks to its excellent quality and market-driven R&D, which enable the maker to survive the growing rivalry from Chinese and Korean competitors over the past years.

In quality control, W.D.F. has set up semi-automated production lines, and strictly assess materials for suitability and randomly checks products in house to attain consistent quality and ensure end-users reliability, safety and prolonged product lifespan. Shyu proudly noted that the company's devotion to quality is also  reflected in various quality certificates it has won, including ISO-9001 by UKAS, TUV, DIN4550 Class4, AFRDI Standard & Australian Standard, ANSI/BIFMA X5.1-2002 and X5.1-1993, FURIFI/CATAS of Italy, LGA/DIN4550 Class3, etc.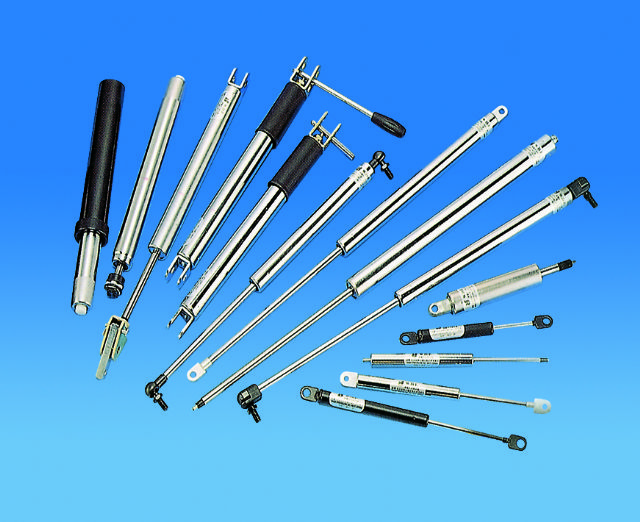 W.D.F. supplies a wide spectrum of gas springs for various applications to lead domestic peers by capacity.
Shyu stressed that W.D.F. is very specialized, and so is able to maintain top quality and precision, through extensive analysis of internal structure, force diagram and types of gas, to keep ahead of emerging rivals in the market, in addition to offering technical supports and helping customers shoot troubles.
In addition to quality control system conducted in house, W.D.F. also takes pride in its market-driven, speedy R&D capability, which is particularly significant when gas spring manufacturing is mostly customized.
Shyu said that the company always develops new products according to market trends and tends to repeatedly improve designs based on real-world feedback. One main factor among others driving W.D.F.'s R&D capability is the workforce of creative, skilled engineers employed, whose know-how and experience are enriched through practice to satisfy customers in most cases.
The competitive advantage spared W.D.F. from the impact of the 2008 global financial meltdown, according to Shyu. "To counter sharply declining market demand then, we drew on our R&D capability to develop more gas springs for different applications to widen customer base within the shortest possible time. That strategy proved successful, as new products had offset the decline of shipment to office furniture makers in those years."
This year, the manager added, the company will launch new functional gas springs for stand-to-work desks to tap growing market trends toward workplace health and saving space. He says that gas springs have wide-ranging applications, so must always meet demand in different sectors, including machinery, hardware, automotive etc. Outstanding R&D ability makes it possible for W.D.F. to explore those segments faster than rivals for the maker is known for being specialized.
Tay Arng
With a history of more than two decades, Tay Arng Co., Ltd., located in Tainan as well, is a veteran manufacturer of office chair parts and components, noted for devotion to quality.
The company offers office chair mechanisms, chair back panels, spring cups, screws, suspension seat bases, pneumatic seat bases, pneumatic plate supports, armrest metal sheets, swivel plates, chair arms, chairs tube connectors, armrests, seat brackets, iron plates for OA chair, adjustable back supporters, etc. In the last decade, about 95% of the maker's annual output has been exported, mostly to North and Latin America.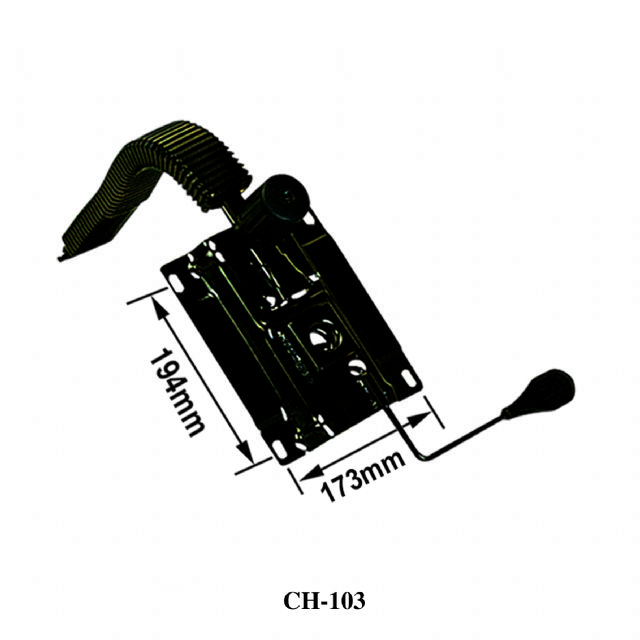 Tay Arng boasts strong molding capability to make office chair parts and components.
Tay Arng's QC manager, C.H. Cheng, said that the company chalked up a 10%-plus revenue increase last year, when most of its counterparts struggled with sluggish growths. "In the year, our monthly shipment reached 3,000 sets on average, mainly sustained by repeat orders from customers in America, such as Mexico, mainly motivated by better quality offered than emerging rivals."
Cheng noted that the company's products all undergo strict quality control throughout production, and impact and bending tests by SGS. Besides, the company is versed at developing on its own various useful measuring apparatus that effectively help workers keep deviations to a minimum during each production process.
To ensure high quality, the company also pays attention to improving structural design and material application, mainly based on its knowledge of metalworking and molding. "Tay Arng began by providing metal processing services, so has  ample expertise not just in metal processing, but also in developing molds, which gives our company strength in quality improvement," Cheng said.
Such design improvement has paid off, Cheng said, for SGS's report shows that Tay Arng's adjustable back supporters, for instance, are structurally strong enough to be bent for over 20,000 times. "Our products are highly regarded among buyers worldwide for proven, stable quality."
Also proving Tay Arng's dedication to quality, Cheng continued, is that the company's consistent use of high-grade materials in production, despite high cost. For example, its chair backs are mostly made of reinforced synthetic mesh with 650 spaced holes, compared to ordinary models with 450-500 holes, primarily for  longer lifespan and better comfort.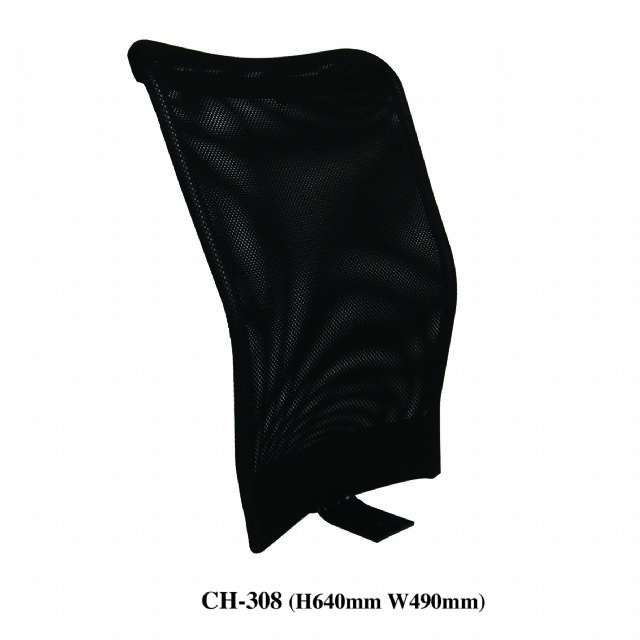 Tay Arng's mesh chair back features better durability than competing models.
"Although it is uncertain if market demand in the second half of this year will remain as strong as in the first half, we are confident Tay Arng will likely see robust growth in the year, mainly because our devotion to quality has gradually lured back old customers over the past few years while also attracting ever more new clients across America," Cheng stressed.
Chern Shing
One supplier succeeding in carving out market niches by developing and manufacturing adjustable lumber supports for OA chairs is Chern Shing Top Co., Ltd., founded in 1987 in Chiayi County, southern Taiwan.
Initially having made auto parts for a decade, Chern Shing later tapped its real-world experience to diversify into adjustable lumber supports and related accessories, which drive sales, with the maker being officially recognized by The Central Trust of China, a unit under Taiwan's Central Bank in charge of government procurement.
Heidy Liu, director of overseas sales at Chern Shing, said that her company, inspired by car seat designs and lumber back supports for car drivers, redesigns products by tweaking functionality to suit OA chair users, and has worked out a series of manual and power  adjustable models.
Made of special nylon and developed with ergonomic considerations, the company's adjustable lumber support provides extremely firm and comfortable support for spine and back. With the nylon materials specially processed for extra durability, the lumber support has been proven by SGS for being able to withstand over 100,000 bends, structurally stronger than competing models, according to Liu.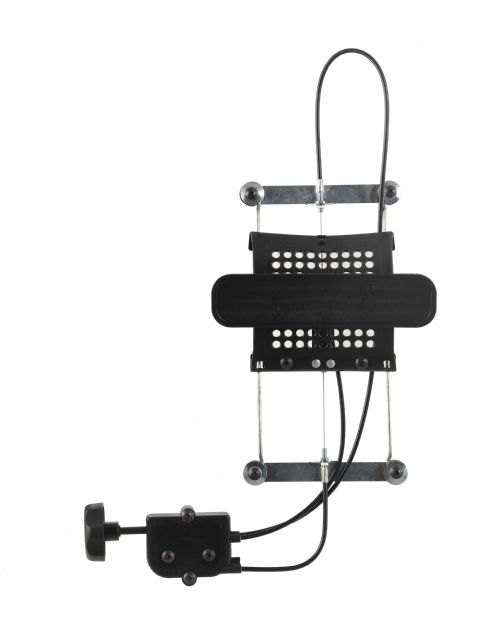 Chern Hsing is known as specialized maker of adjustable lumber supports in the OA chair parts sector.
Among the newest models are SB and CH series 2-in-1 adjustable lumber supports, Liu said. The SB series are for waist support and built with improved mechanism designs inside, which allow height and arc adjustment of the supporting plates by screwing the controller knobs that are copper threaded for  durability and easier operation.
Upgraded from the SB, the CH series also feature height and arc-adjustment and are available in two different types, providing additional support for either neck or sides of  waist, according to Liu. Plus, the company has recently worked out another type that supports thighs.
Because of the specialized adjustable lumber support, Liu said, Chern Shing hasn't felt significant shipment declines over the past years since the global financial tsunami. For OA chair makers, functional accessories add value to products, so market demand for such components is comparatively stable.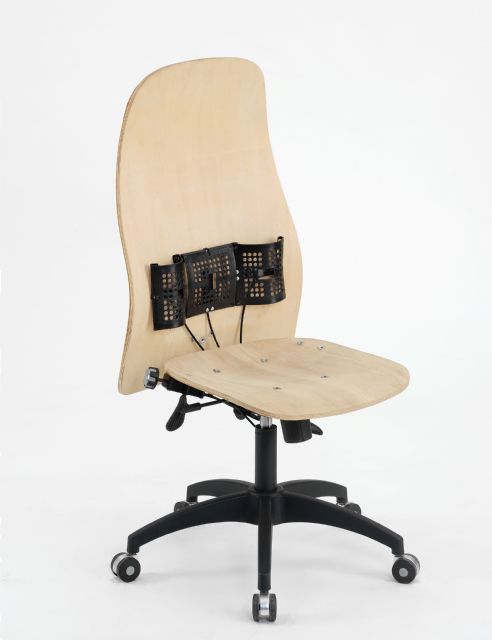 Chern Hsing's CH906 series lumber support.
Tung Yu
Established in 1985 in Chiayi County, Tung Yu O.A. Co., Ltd. is the largest Taiwanese supplier of chair synchronizing mechanism by exports and domestic sales.
Tung Yu operates two production plants each in Taiwan and China, as well as a stamping factory, and contracts several surface treatment companies with global-caliber electroplating lines, to complement its production capability and secure product quality.
Tong Yu's general manager, Johnson Lin, noted that his company, backed by the longtime specialization in the field, supplies a full range of synchronizing mechanism suited for nearly all kinds of OA chairs from low to high end, and that the company's success is attributable to excellent R&D ability.
The SN-8940A2 series chair synchronizing mechanism shows the company's R&D capability, with an improved tilting mechanism built in to allow a maximum tilting angle of 23 degrees between seat and backrest to work quietly.
Also, the series are highlighted with a lateral tension adjustment lever that is women-friendly because they can conveniently adjust spring tension to suit their weight and bodies without worrying about accidental exposure. Besides, the mechanism has a 4-stage position-lock to assure more convenient, secure tilt option than other competing models.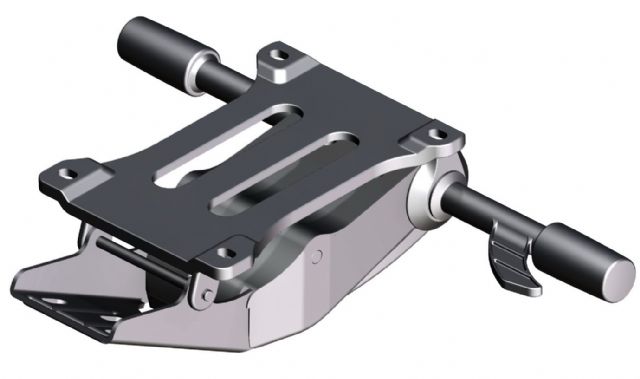 Tong Yu's SN9840A2 series chair synchronizing mechanism is perfectly integrated to achieve functionality and aesthetics.
However, Lin said, the mechanism is a big hit with OA chair makers because of the overall  design integration, with the aluminum alloy housing featuring a silver body, geometric shape and smooth texture to achieve total aesthetic integration of mechanism and OA chair. Aside from functionality, integrated exterior design of synchronizing mechanisms and chairs is a growing trend in the sector.