To develop Taiwan's renewable energy technology, Taiwan's Metal Industries Research & Development Centre (MIRDC), a government-funded R&D institute, has signed a letter of intent (LOI) with CPC Corporation, Taiwan, a state-owned petroleum, natural gas, and gasoline company, to cooperate on carbon dioxide capture, storage and utilization.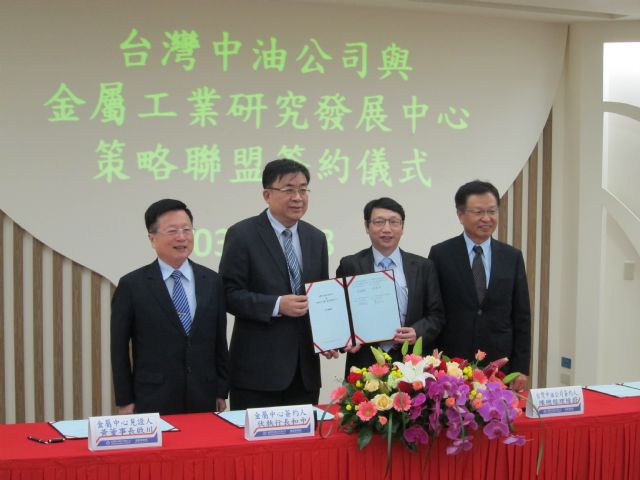 (From left) MIRDC's chairman, C.C. Huang, CEO, H.C. Fu, and CPC's president, Paul Chen, and chairman S.C. Lin, at the LOI signing ceremony in late April.
The LOI was formally signed in late April by MIRDC's CEO, H.C. Fu, and CPC's president, Paul Chen, witnessed by C.C. Huang and S.C. Lin, MIRDC and CPC's chairman. (See the photo)
Huang noted that in recent years, carbon dioxide capture and storage technology has been a growing concern among developed countries, and assessed by IEA (International Energy Agency) as one of the most important means to reduce carbon emission.
Under the scenario, the chairman furthered, MIRDC, which has established ample industrial resources, strong technological advantages and firm partnerships with R&D bodies at home and abroad following decades of development, looks to cooperate closely with CPC and complement each other's competitiveness to jointly build a low-carbon environment in Taiwan.
MIRDC reports that Taiwan is among the top-22 nations in carbon emission volume over the past two decades, so the government is  actively promoting development of carbon capture and storage technology as part of its sustainable energy policy, aiming to cut carbon emission to 260 million tonnes 2016-2020 and to 210 million tonnes in the next decade.
It is imperative for Taiwan to focus more on energy efficiency, carbon reduction and renewable energy, given that national security and sustainability are highly related to energy. So, cooperation between MIRDC and CCP on carbon dioxide capture, storage and utilization technology will help not just secure Taiwan's sustainable development but fuel growth of the sector in the short term. (SC)