To help promote Taiwan's high-quality DIY and home improvement products in the ASEAN (Association of Southeast Asian Nations) market, China Economic News Service (CENS) took part in the Architech Expo 2014 (the 28th ASEAN Building Technology Exposition).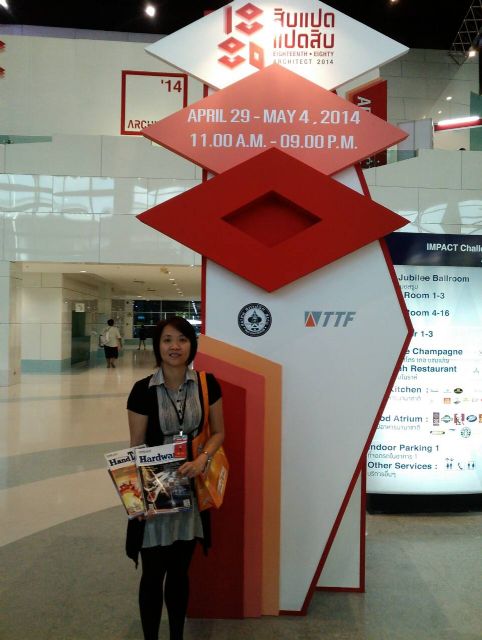 CENS sent a representative to Architech Expo 2014 held April 29-May 4 in Bangkok, Thailand.
Organized by the Association of Siamese Architechs under Royal Patronage and TTF International Co., Ltd., the show took place in the IMPACT Muang Thong Thani convention and exhibition center in Thailand's capital, Bangkok, April 29-May 4.
Since it was inaugurated in 1987, Architech Expo has been creating opportunities for developers, designers, consultants, engineers, contractors etc. to meet global manufacturers and distributors in the building industry, with the annual exhibition having become the center of such trade fairs in the ASEAN bloc to enable foreigners to tap the local home building and improvement markets.
This year's Architech Expo occupied some  75,000 square meters to host around 560 exhibitors from home and abroad such as China, Italy, Japan, Saudi Arabia, Germany, Australia, India and Taiwan, drawing some 349,000 visitors and buyers.
The exhibits were organized into several categories: Construction, Door, Window Roof, Metal & Services, Finishes, Green, Home Builder, International and Lighting AV & IT, New Home, Garden & Lifesyle and Sanitaryware, Kitchen, Tile & Stone; and encompassed various building materials, builders' hardware, paints, plumbing fittings, flooring and materials, windows, molds and dies, ventilation equipment, door phone systems, smart control systems, locks, extrusion profiles, surface finishing instrument, stone and masonry tools, kitchenware, tiles, bathroom fixtures, furniture, lightings, decorative supplies, gardening products and tools, and so forth.
Bright Economic Future, Growing Middle Class
What makes Architech Expo increasingly influential and attractive to global international enterprises is the great growth potential of the home building and improvement market in the ASEAN bloc, mainly driven by bright economic outlook across the 10-nation bloc, and growing local middle class.
International Monetary Fund (IMF) predicts the economic growth in the ASEAN region to slow to 5% this year from the 5.1% expansion achieved in 2013, and then rebound to 5.3% next year, and that the region's economic growth is likely to gain stronger momentum in the short term after China, Japan and South Korea are integrated regionally.
In addition to brisk economies, most market researchers agree that the growing local middle class in the bloc also drives the market for home improvement and DIY products. According to a report by Standard Chartered Research, the middle class (those with daily income of US$5-50) in Thailand and Indonesia, for instance, is forecast to surge from 27 million to 31 million and from 64 million to 90 million people, respectively, at a compound annual growth rate (CAGR) of 2% and 3% during 2010-2020.
The research institute also projects Thailand's nominal GDP per capita to expand from US$4,189 in 2010 to US$11,219 by 2025 at a CAGR of 7%, while Indonesia's to surge from US$2,977 to US$21,400 for a CAGR of 14%.
Worth mentioning is that rapid urbanization in these emerging countries also pushes local market demand for home building and improvement. According to Global Demographics, a Hong Kong-based economic and social researcher, about a half of Indonesians will live in cities in 2025, compared to 41% in 2000, with the Thai rate to reach 37% by 2025.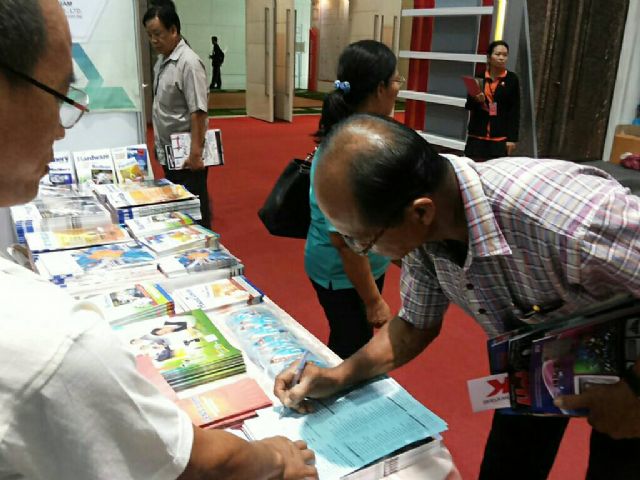 A buyer inquires Taiwan-made home improvement products at CENS's booth.
To help Taiwanese suppliers explore such promising market, CENS occupied a booth at Architech Expo 2014 to circulate its buyer guides and E-book CDs, including
CENS
Hardware, Guidebook to Taiwan Hand Tools, Tools & Equipment Special and Taiwan Industrial Suppliers
, as well as providing real-time matchmaking services to local buyers.
As an established export media from the island, CENS saw ample inquiries from buyers looking for Taiwan's high-quality home building and improvement products, enabling further database building to help Taiwanese suppliers find more potential buyers.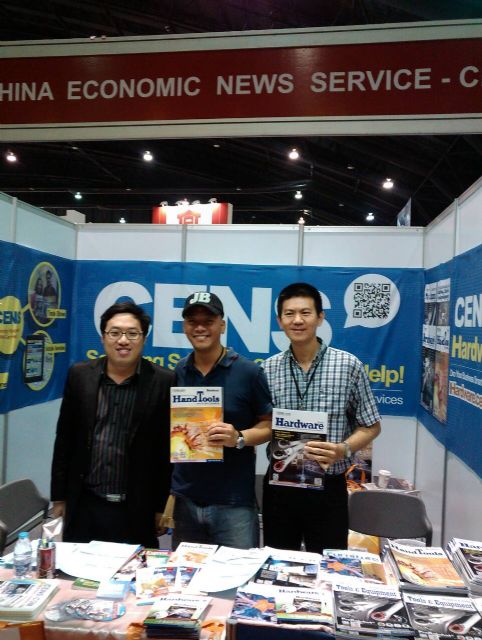 Local buyers look for buyer guides at CENS booth.
The next Architech Expo will be held April 28-  May 3, 2015, at the same venue. (SC)