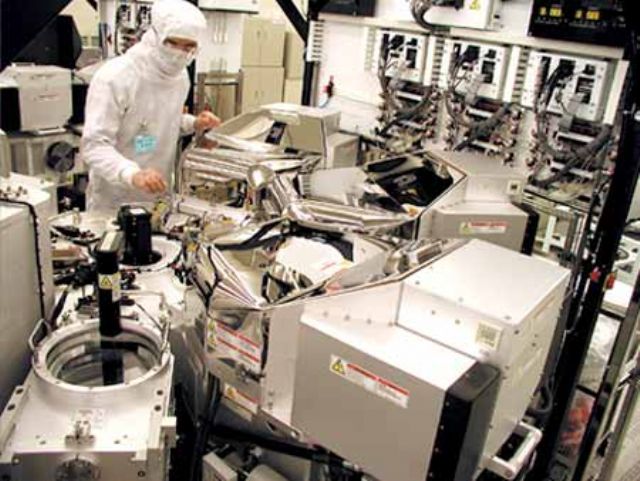 UMC raises capital to boost 28nm process capacity. (Photo courtesy of UMC)
United Microelectronics Corp.'s (UMC) board of directors recently approved NT$25.6 billion (US$854.9 million) of supplementary budget to boost the company's 28nm process capacity and constructing clean rooms at its 300mm Fab 12 A Phase 5 factory in southern Taiwan.
The company's chief financial officer (CFO), C.T. Liu, says that the additional budget will be set next year, without affecting the company's capital expenditure of US$1.1-1.3 billion for this year.
He said although the additional budget is to be set next year, it has to be passed one year ago given that acquiring capital equipment usually takes a chipmaker a year.
Liu added that the company's capital expenditure for next year will be publicized at the end of this year or early next year.
Industry executives estimate the world's No.3 pure silicon foundry will accelerate execution of its 2014 budget after the complementary budget passes. It spent barely US$300 million of the 2014 budget as of the end of the first quarter.
UMC Chairman Stan Hung said in a recent shareholders meeting that although the company's 28nm process project lagged, it won't disappoint shareholders since operations have improved so far this year whether in technological advancement or volume production.
The company's chief executive officer (CEO), P.W. Yen, said the company's 28nm process project emphasizes the high-K metal gate (HKMG) process that enables mobile phone chips better performance efficiency than usual 28nm processes.
UMC projects 28nm process to contribute over 5% of its revenue by the end of this year, up  from the current 1% or so.
It is understood that UMC is around three years behind No.1 player Taiwan Semiconductor Manufacturing Co. (TSMC) in the 28nm process competition, in which TSMC depended on the process for 34% of its revenue in Q1. Currently, TSMC has eight customers of 28nm process foundry service whereas UMC has only one. In the second half, UMC will add Qualcomm and Broadcom to its 28nm foundry customers.
To narrow its technological gap with TSMC, UMC will directly cut into 14nm process development in the second half of this year and begin pilot production on this process in 2015.
Liu says that the company's 14nm process project will take advantage of the company's partnership with IBM in 2012 on 10nm process development. (KL)