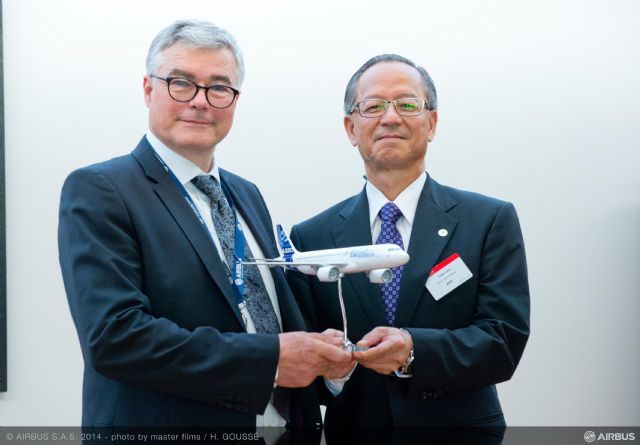 Taiwanese aerospace company AIDC will produce composite panels for A320 aircraft aft belly fairings. Francois Mery (left), Airbus senior vice president, and Tony Liou, AIDC senior vice president, sign the supply contract in France. (photo from Airbus)
Aerospace Industrial Development Corporation (AIDC), a major aerospace company in Taiwan, recently became a tier-one supplier to Airbus of Europe, one of the world's largest aircraft manufacturers. AIDC used to be a major state-run enterprise engaged in military-aircraft development and production, and will go public in late August in Taiwan.
The signing ceremony was held in France and attended by Jason Liu, AIDC's chairman, Tony Liou, AIDC senior vice president, and Francois Mery, Airbus senior vice president aerostructure. The agreement will see AIDC  produce composite panels for A320 aircraft aft belly fairings.
Airbus A320 planes are reportedly the world's best-selling single-aisle jets. As of end of July 2014, the A320 line had accumulated over 10,900 firm orders, with over 6,100 aircrafts delivered. The latest version A320neo, featuring new engines and Sharklets, has already gathered 3,200 orders before even entering service.
To date 83 Airbus aircrafts have been ordered by China Airlines, EVA and TransAsia Airways of Taiwan, with 67 in operation. As a leading aircraft manufacturer, Airbus seeks to explore further collaborations with industries in regional markets and to considerably grow its industrial presence, especially in the fast-growing Asia-Pacific region, Airbus said.
AIDC just completed its second-stage privatization by releasing 115.42 million shares to the market and will go public on August 25. Some 304,961 applications are in line to buy AIDC shares. The Ministry of Economic Affairs (MOEA) originally held a 99.71% stake in AIDC, but has released 54% of its  shareholdings to privatize the aircraft maker, albeit still holds 45% to be the largest shareholder. In its two-stage share-releases, AIDC contributed NT$6.22 billion (US$207.3 million) to the national treasury to make its privatization the largest of its kind in 10 years.