CENS (China Economic News Service), the established Taipei-based export media, will bring the island's biggest exhibitor delegation of 230 firms to  Automechanika Frankfurt 2014, held September 16-20 in Germany, to show global visitors Taiwan's world-caliber manufacturing capabilities in auto parts and car-repair tools at the world's largest trade fair for the automotive industry.

For decades Automechanika Frankfurt, organized by Messe Frankfurt, has been renowned as the world's most successful trade fair of its kind by gathering a large number of global exhibitors biennially to present the entire supply chain in the automotive aftermarket, with exhibits ranging from parts, systems, tuning accessories, workshop equipment, bodywork and paintwork, car wash and repair equipment, IT and management solutions and the latest automotive services.

In 2012, the show hosted 4,597 exhibitors from 74 countries, over 80% from abroad, and attracted  147,715 visitors from 176 nations, 95% of whom agreed their participation was worthwhile in the survey by the organizer. Also notable was that over 60% of foreign exhibitors confirmed post-show orders would further confirm the event's business potential.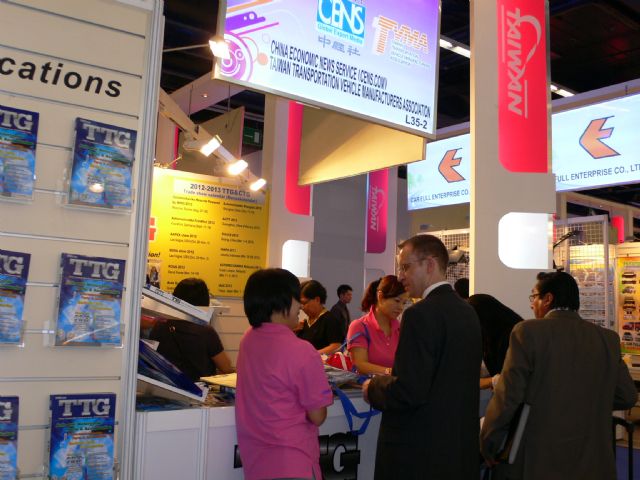 CENS's booth crowded with foreign buyers looking for high-quality auto parts from Taiwan at Automechanika Frankfurt 2012.
The show's development is absolutely related to growth of the global car market. According to IHS Automotive, a global car market researcher, global demand for new cars is estimated to have reached 83 million units in 2013, and is forecast to grow 3.6% to 85 million units this year. Mostly driven by strong demand in emerging countries, IHS Automotive predicts, the figure will surge to 100 million units by 2018.
Gradually rallying from a persistent downturn in the aftermath of the debt crisis, European countries have also generally seen car sales turn around this year. According to Taiwan's Automotive Research & Testing Center (ARTC), a government-funded research institute, car production and sales in Europe both have steadily recovered, to 9.78 million and 9.27 million units, respectively, as of the end of H1, 2014, after declining to 18.66 million and 17.78 million units in 2013, compared to 19.83 million and 18.07 million units in 2012.
As for sales in the top-5 markets in Europe, ARTC indicates that Germany, the U.K., France and Italy all witnessed rising car sales during the period, except Russia's 7.74% yearly drop.
With the market showing increasing promise, this year's Automechanika Frankfurt is expected to generate more business opportunities among exhibitors and visitors. Additionally, the show will also feature various supplemental  events to enhance depth, such as ZEIT Automotive Conference,  one-day conference to cover  automotive digitization, alternative power-train systems, energy efficiency and battery technology; the Connected Car, a themed daylong event entitled "1+1 = 3 – the advantages of internal and external linkages for automobiles" to discover application of digital technology in cars; E-mobility, a seminar with the topics as electro- traction at Volkswagen, aspects of energy-storage technology and the use of hybrid drive systems in commercial vehicles; and Car Wash City, an alfresco seminar with lectures on efficient, safe and clean car washing.
To continue its eco-conscious cause and keep visitors informed on the latest innovations and eco- sustainable technologies, the show will again honor winners of the 2014 Automechanika Innovation Awards and announce 25 exhibitors for achievements in enhancing eco-protection and  sustainable use of resources.
For decades, CENS has promoted Taiwanese auto parts and repair tools at the show by organizing exhibitor groups, circulating buyer guides, including the
Taiwan Transportation Equipment Guide (TTG) and the Guidebook to Taiwan Hand Tools,
to have built high profile among Taiwanese firms and foreign buyers.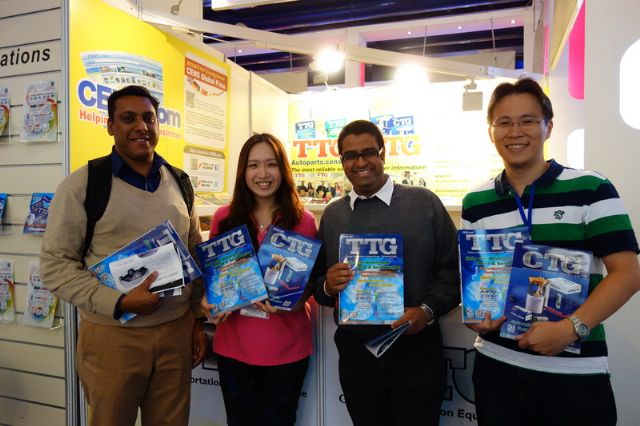 CENS's TTG is widely recognized by foreign buyers of auto parts.
CENS's proven name is reflected by the obvious loyalty among its clients, 230 of whom will be led by CENS as the biggest group to this year's Automechanika Frankfurt, out of nearly 470 exhibitors from Taiwan at the event. Many of Taiwan's best-known suppliers of auto parts, such as Tong Yang Industry Co. (car body parts) and Depo Auto Parts Ind. Co., Ltd. (auto headlamps), are in the CENS's exhibitor group.
CENS will serve global buyers in  three booths (L35 and N65 in Hall 4.2 and G20 in Hall 9.2) to not just circulate buyer guides, but also arrange on-site meetings with Taiwanese exhibitors and real-time business matchmaking. (SC)