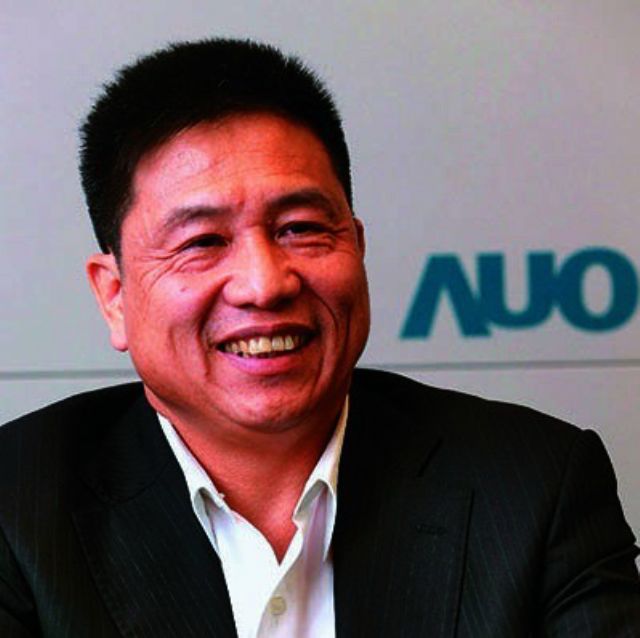 Caption 1: AUO's president Paul Peng. (photo from UDN)
AU Optronics Corp. (AUO), a major maker of thin film transistor-liquid crystal display (TFT-LCD) panels in Taiwan, plans to set up a low temperature poly-silicon (LTPS) TFT factory in Kunshan, Jiangsu Province of China in 2016 to further build capacity for high-resolution and -end smartphone panels.
Innolux Display Corp., another major TFT-LCD maker on the island, however, believes the existing amorphous silicon (a-si) technology already achieves high-resolution, with such aggressive investments in LTPS factories  expected to cause oversupply.
Paul Peng, president of AUO, recently pointed out that his company has solid cooperation with Chinese cellphone vendors of LTPS, and so plans to set up a sixth-generation (6G) LTPS factory in Kunshan, a joint venture with the Kunshan Municipal Government.
Peng said a-si technology achieves high resolution similar to that of LTPS panel without being easily replaced due to its advantages in energy-efficiency, narrow bezel, and extra-high resolution, and that steady demand always exists for high-end LTPS panels. Regarding Chinese counterparts' aggressive LTPS production-capacity expansions, Peng said such high-level technology requires longer learning processes and considerable supply-chain integration, hence keeping safe AUO's lead from easy reach of rivals.
AUO operates a 3.5G LTPS factory with monthly capacity of  20,000-plus substrates, and another 4.5G with 30,000-plus substrates. LTPS panels are used to produce QHD (Quarter High-Definition, 640 x 360 pixels) cellphone panels, or back-plates for active matrix organic light-emit diode (AMOLED) panels.
Wang Jhy-chau, president of Innolux, added that in 2014 the resolution requirement for mainstream 5- and 5.5-inch smartphone panels is HD, which is likely to be upgraded to Full HD (FHD) by 2015, and then QHD. Existing a-si technology already mass-produces 5.5-inch FHD cellphone panels to obviate LTPS technology for now.
An increasing number of companies are betting on LTPS factories to turn out high-end and -resolution smartphone panels, Wang continued, which will likely cause oversupply and underselling competition against a-si FHD panels. Another possibility, Wang said, is excess LTPS production capacity might be used to produce notebook PC panels, to repeat  history as seen a few years ago.
In the wake of LTPS technology, Wang said, Oxide TFT will likely  be adopted to produce high-resolution panels at lower cost than LTPS counterpart to weaken competitiveness of LTPS technology.
New Smartphones to Drive Demand
In 2014 Apple and Chinese brands are expected to purchase nearly three-quarters (73%) of all high-resolution LCDs using LTPS and oxide TFT technologies for smartphones, according to a recent report released by NPD DisplaySearch.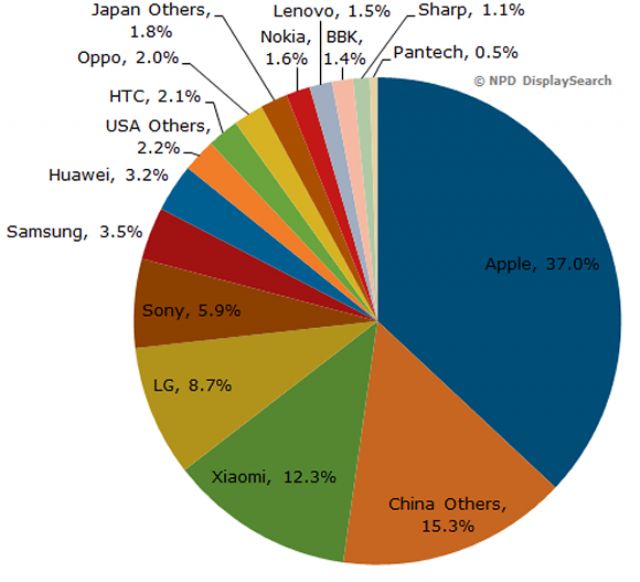 LTPS Oxide Smartphone Panel Procurement Share Source: Quarterly Mobile Phone Display Shipment and Forecast Report, NPD DisplaySerach
LTPS and oxide TFT LCDs will comprise 26% of all cellphone panel shipments this year, an increase of eight percentage points from 2013, while a-Si LCD is expected to continue losing share. Overall, 467 million LTPS and 42 million oxide LCD panels are forecast to ship this year, the research firm said.
Apple is expected to debut the new iPhone 6 in September, which will create additional demand for LTPS LCDs, said a senior researcher NPD DisplaySearch. In fact, he added, Apple's iPhone and China's emerging smartphone brands are the most important forces driving the rise in LTPS and oxide LCD shipments.
Apple's iPhones use only LTPS LCDs, making the company the largest user of this high resolution form of TFT-LCD. The company is expected to purchase 96 million iPhone 5 panels and 98 million iPhone 6 panels in 2014, accounting for 37% of all LTPS and oxide smartphone LCDs.
In addition to Apple's use of LTPS LCDs, Chinese brands have expanded the manufacturing of FHD resolution smartphones, which has also helped to increase LTPS LCD volumes. Xiaomi, Huawei, Oppo, Lenovo, BBK, and other Chinese brands make up 36% of all LTPS and oxide LCD panel shipments, NPD DisplaySearch said.
On the supply side, Sharp has begun to ship oxide LCDs for smartphones to the Chinese market, particularly to brands like Xiaomi. JDI of Japan, through its subsidiary Taiwan Display Inc. (TDI), has become fully operational in Taiwan and is now targeting the Chinese market. Taiwanese panel makers AUO and Innolux are also expanding LTPS LCD shipments.