Metal Industries Research & Development Centre (MIRDC), a Taiwanese government-funded R&D institute, signed a memorandum of understanding (MOU) with Zelenograd, a scientific industrial district in Moscow, Russia, to enhance bilateral cooperation on development of the semiconductor equipment industry.

The MOU was signed by MIRDC's CEO, H.C. Fu, and Zelenograd's representative, Dr.  Anna Brusnitsyna, witnessed by participants at the Taiwan-Russia Semiconductor Equipment Technology and Industry Forum, held September 4 as part of the Semicon Taiwan 2014, an exhibition held September 3-5 for semiconductor and related industries in the TWTC Nangang Exhibition Hall.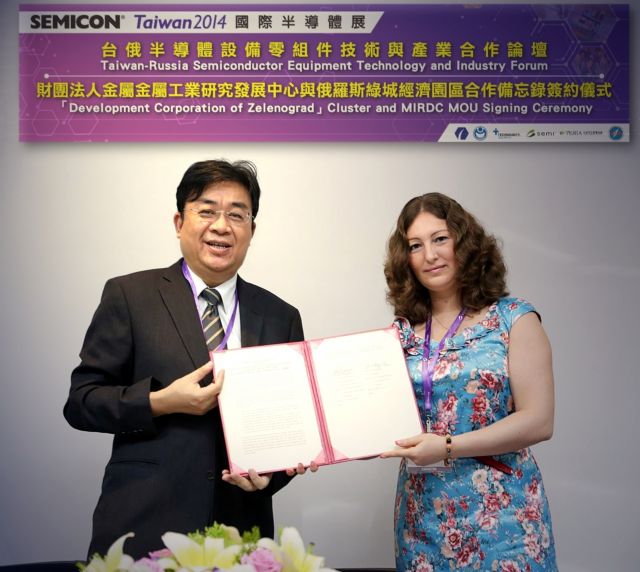 MIRDC's CEO, H.C. Fu (left), and Zelenograd's representative, Dr. Anna Brusnitsyna, signed MOU at the Taiwan-Russia Semiconductor Equipment Technology and Industry Forum in Taiwan on September 4.
Focused on industrial exchange and business opportunity exploration between the participants, the forum attracted 70 industry insiders and experts from 18 companies, including Taiwan's C Sun Mfg. Ltd. (laminators and exposure systems), Shuz Tung Machinery Industrial Co., Ltd. (PWB bonders, display panel unloaders, LCM module line equipment, etc.), Marketech International Corp. (system solutions and production and inspection equipment), and Hanbell Precise Machinery Co. Ltd. (helical screw compressors); and Russia's ESTO-Vacuum, a subsidiary of the country's biggest domestic semiconductor technology group, ESTO-Group, and Design Center KM211 Ltd, an IC designer, as well as the country's leading R&D institutes as Research and Manufacturing Complex Technological Centre of National Research University of Electronic Technology and Research Institute of Precision Machine Manufacturing.
In fact, MIRDC reports, the MOU, aiming to boost bilateral cooperation between Taiwan and Russia's semiconductor and optoelectronic equipment industry, is a positive result from a project to nurture the development of Taiwan's semiconductor and parts industries, initiated by the Ministry of Economic Affairs after MIRDC sent an exhibitor delegation of 28 Taiwanese firms to Expo Electronica, an international trade fair for electronic components, PCBs and electronic production equipment in Moscow, this April.
MIRDC's CEO indicated at the MOU signing that Russia has emerged as one of world's most promising markets ever since becoming a WTO member, mostly due to its vast population and considerable growth potential of the local consumer market. With its current average tariff already drifting down from 10.3% to 7.1%, and local light and daily commodities industries rapidly developing, the country has seen its domestic market for semiconductor equipment explosively grow over the past years, and will likely create tremendous business chances for Taiwanese firms.
MIRDC emphasizes that closer cooperation between Taiwan and Russia on the semiconductor industry will hopefully be symbiotic for competitiveness, given that Taiwan has excellent capabilities in supplying turnkey plants and automated production lines, while Russia boasts world-class schools in semiconductor technology. (SC)