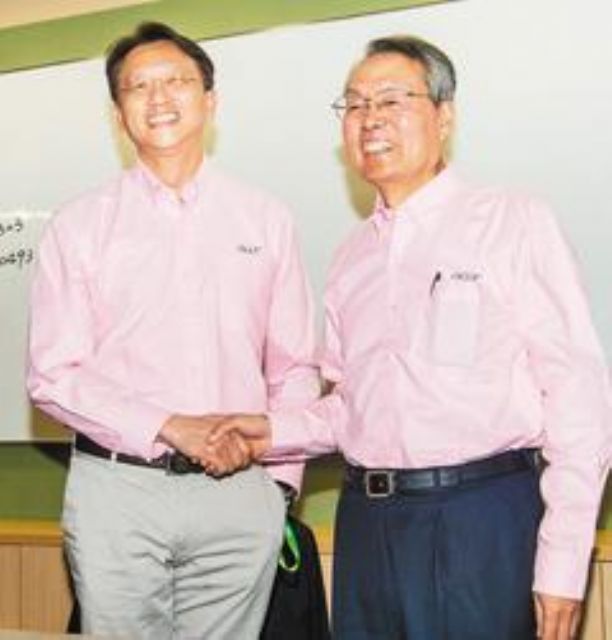 Acer's new CEO Jason Chen (left) and founder/chairman Stan Shih. (photo from UDN)
Acer Inc. of Taiwan, a major global personal computer (PC) vendor, recently announced registered consolidated revenue of NT$29.85 billion (US$995.1 million) in Augusts, up 18.9% from the previous month, or month-on-month (MoM).
Some institutional investors forecast Acer's monthly revenues for the remainder of 2014 could still challenge new highs, driven by stronger demand due to back-to-school purchase and the sales peak in early October in China.
Acer attributes its MoM revenue growth in August to smooth sales near the end of the summer-vacation especially in Europe, despite the monthly figure being a 2.64% decline year-on-year (YoY).
In the first eight months, Acer had cumulative consolidated revenue of NT$213 billion (US$7.1 billion), down 11.43% YoY.
The company says that its market analysis shows 10%-plus demand excess in the Chromebook market segment in Q3, especially in  educational applications. Acer reportedly has internal goal to keep its leading market share in the Chromebook segment for the second consecutive year in 2014.
Acer expressed its optimism toward sales in Q3, and says that its Liquid series smartphone models are being promoted in Southeast Asia and other emerging markets. Regarding its notebook PC sales, Acer says that the U.S. and European markets are expected to stay balanced in supply-and-demand, with  shipments in the two major markets expected to rise quarter by quarter.
Acer launched its first Chromebook in 2011, and statistics compiled by NPD DisplaySearch shows that the Taiwanese brand was the No. 1 in the U.S. Chromebook segment in Q1, 2014. Research report from Gartner Inc., an information technology research company, shows that Acer is the world's No. 2 Chromebook vendor in Q1.
The Taiwanese PC vendor's new CEO Jason Chen says that, once the maker recovers from deficit, the company will continue to develop business with its wide range from 1- to 100-inch products. On the other hand, Chen adds, Acer is accelerating the development of its Build Your Own Cloud (BYOC) business, which enables consumers to build  their own clouds on their own devices wirelessly and simultaneously, to provide access to digital life anytime, anywhere.