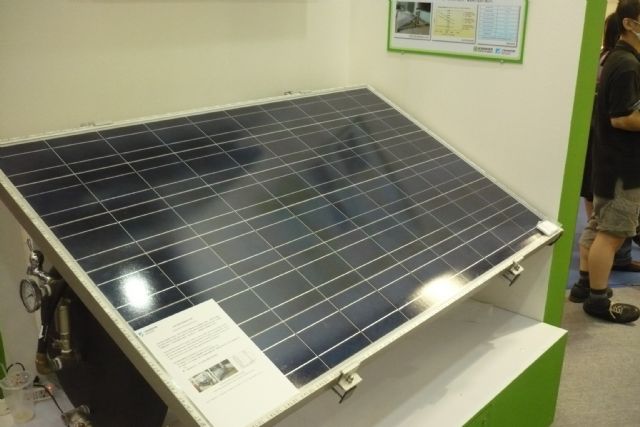 Taiwan's solar-product makers stay optimistic about market outlook despite anemic August revenues. (solar panel shown)
Regardless of steep sales decrease in August, Taiwan's photovoltaic manufacturers remain upbeat about market outlook in the fourth quarter (Q4) of 2014.
Most of the island's solar-cell makers saw revenues drop to nearly one-year low this August due to increased inventory backlogs caused by American imposition of antidumping tariff on exports of solar cells from Taiwan and China.
Gintech Energy Corp.'s revenue for August dropped 11.6% from the previous month, to NT$868 million (US$28.9 million). Motech Industries, Inc.'s August revenue dropped 6.6% to an 18-month low of NT$1.1 billion (US$37.2 million) while Neo Solar Power Corp.'s shed 8.8% to a 15-month low of NT$1.8 billion (US$62.3 million).
E-Ton Solar Tech Co., Ltd. had consolidated revenue of NT$290 million (US$9.6 million) in August, for  a new low in nearly a year and the steepest 18.35% month-on-month contraction rate for Taiwan's solar-cell industry.
Industry executives say the median capacity utilization rate at Taiwan's solar-cell makers declined to 30-50% in August after the American antidumping ruling, to have dissuaded American buyers from ordering from Taiwanese suppliers.
Backlog pressure at solar-cell makers has also wreaked havoc on materials makers. The crystalline silicon wafer maker, Gigastorage Corp., saw  consolidated revenue for August drop 10% to a nine-month low of NT$919 million (US$30.6 million). Its Taiwanese peer, Sino-America Silicon Products Inc., in the meantime had consolidated revenue that slipped 1.45% from July thanks to revenue from other businesses and an acquisition.
Giga Solar Materials Corp., the solar conductive paste maker, had revenue of NT$762 million (US$25.4 million) in August, sinking 7.63% from a month earlier albeit surging 107.4% year on year, but still missed expectations that the company's August revenue would hit a new high.
In spite of disappointing August results, Taiwanese manufacturers remain optimistic about market future in Q4, believing orders to begin recovery in October and business to surge in the normally low season in Q4.
Industry executives say Taiwan's photovoltaic-product makers will see revenue for September stabilize thanks to revised orders from buyers, and that European and Japanese buyers will place more orders with Taiwan in October.
Motech executives say that the American government has cut the rate of the antidumping tax on the company to 20.86-27.59%, without impacting profitability of solar modules that use the company's cells.
Giga Store executives note that orders received by the company have risen and production at the island's solar-cell makers will stay about 80% in September, predicting the company's revenue for September to hit a new high partly thanks to increased demand from China, where renewable energy resources are being developed. (KL)