To help Taiwanese manufacturers, exporters and traders explore world markets, CENS attended two global exhibitions in August, including MIMS Automechanika Moscow and Spoga + Gafa Cologne.

MIMS Automechanika Moscow
MIMS (Moscow International Motor Show), held alongside Automechanika Moscow, is Russia's leading international trade fair for the automotive industry targeting trade visitors from Russia and the CIS.

The two-in-one event this year, held Aug. 25-28 in Moscow, presented wide- ranging spare parts, auto components and car maintenance equipment. While  this year has been tough for the Russian economy due to fallout from the Ukraine encroachment and ensuing sanctions, the show still attracted 1,300 exhibitors from 39 countries with top players of the world's aftermarket including BMW Group Russia, Bosch, Mercedes-Benz, Brembo, Brisk, Carvile, Delphi, Denso, Finwhale, Hola, KYB, Magneti Marelli, Optibeli, Tenneco, etc.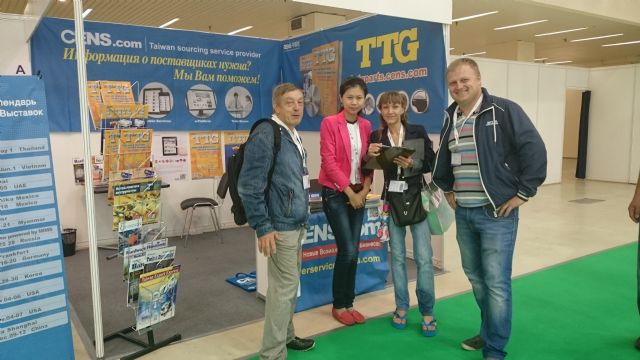 CENS representative (second from left) with visitors at MIMS Automechanika Moscow.
Companies from Italy, Spain, Turkey, Singapore, South Korea, Armenia, Taiwan, Croatia and the Czech Republic showed products and technology developments in national pavilions. In addition, companies from Germany displayed products, services and technologies in a special German area. The total exhibition area over 50,000 square meters covered five pavilions and also featured an outdoor exposition.
Following successful launch in the previous edition, MIMS drove Automechanika Moscow 2014 to feature "Truck Competence" to highlight the range of products and services for commercial vehicles, which continue to be special interest to trade visitors as well as for the industry in general.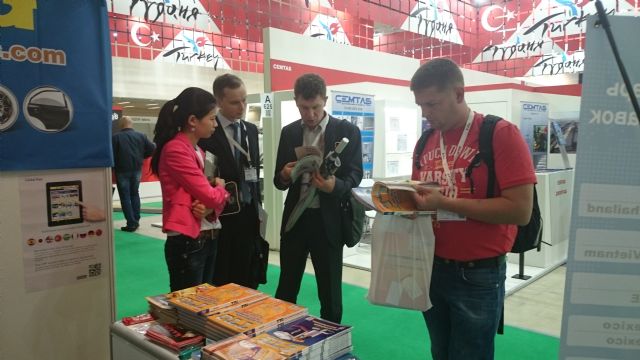 Buyers browse CENS publications at MIMS Automechanika Moscow.
CENS displayed a variety of buyer guides at the show, with
Taiwan Transportation Equipment Guide
(TTG) and
China Transportation Equipment Guide
(CTG) being the most popular among visitors and buyers.
Spoga + Gafa Cologne 2014
Spoga + Gafa Cologne is regarded as a leading international trade fair for the leisure and garden sector. Held Aug. 31-Sept. 2 at Koelnmesse, Cologne, Germany, the show this year drew 2,012 exhibitors from 56 countries and regions to display products across  241,000 square meters.
The number of exhibitors rose an annual 10.7% to total 1,613 exhibitors, with 16 companies from abroad and 363 exhibitors plus 19 additionally represented companies from Germany.
The three-day event attracted some 36,800 visitors from over 100 countries and regions, with 58% being foreign visitors. "The overall attendance in 2014 was stable and the abundance of innovations and the expansion of the range of exhibits raised the event up to top level. Besides, the quality of the visitors also underlined the fact that the Spoga+Gafa is the leading international garden trade fair," said Katharina C. Hamma, chief operating officer of Koelnmesse GmbH.
The show area was divided into five zones including 'garden creation', 'garden living', 'garden care', 'garden unique', and 'garden basic'. Moreover the theme 'living green' was featured,  with the range of exhibits having been significantly extended to include for example the introduction of the "Plant Plant" and "Landgard Plant Ordering Days," both first-time at the show.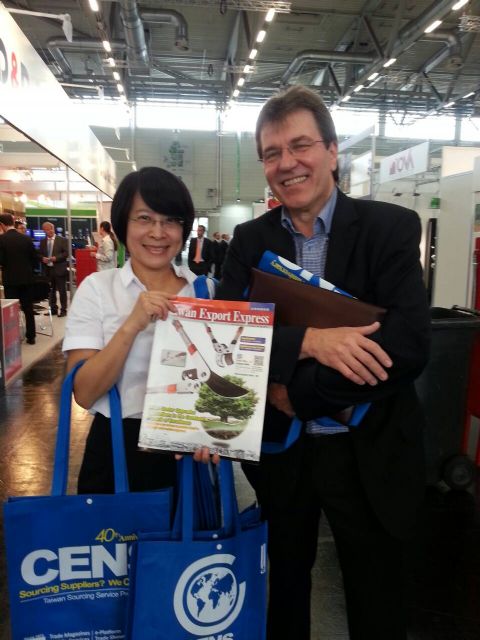 CENS representative (left) with a buyer at Spoga+Gafa Cologne.
"The Spoga+Gafa has been an important component for the performance of the significant garden and outdoor lifestyle assortments for the building and DIY markets over the past years, which also applies for this year too," indicated Peter O. Wust, managing director of the BHB—Retailers' Association for Building, Home Improvement e.V.
As usual, CENS sent a local representative to promote buyer guides, with
CENS Hardware
,
Guidebook to Taiwan Hand Tools
and
Taiwan Industrial Suppliers
gaining considerable attention. (JL)