A total of 530 exhibitors showcased their newest products and machines in 2,670 booths at this year's Taipei International Plastics & Rubber Industry Show (TaipeiPlas), held on Sept. 26-30 at the TWTC Nangang Exhibition Hall. This retained the position of TaipeiPlas as the biggest trade fair of its kind in Asia.

Organized by the Taiwan External Trade Development Council (TAITRA), a government-backed export promoter, in association with the Taiwan Association of Machinery Industry (TAMI), the island's only industrial federation of machinery suppliers, the biennial show was expected to attract over 2,600 foreign buyers and 13,900 domestic visitors during its five-day run.

At the opening ceremony, San Gee, TAITRA's vice chairman, noted that following more than 50 years of development, Taiwan's rubber and plastic industry has gained a high reputation worldwide for offering an excellent balance of quality and prices, custom designs, flexible production, and thoughtful services.

Thanks to that achievement, San added, TaipeiPlas has developed into a great one-stop shopping platform for domestic and foreign buyers by attracting a wide range of displays by suppliers from the upstream, midstream, and downstream sectors of the industry, thereby presenting the complete value chain and inducing exhibitors from all over the world to take advantage of the show to unveil their most advanced materials, machinery, plastic and rubber products, and related peripherals.

In his address at the opening ceremony, Taiwan's vice president, Wu Den-Yih, confirmed that the government will complete construction of the TWTC Nangang Exhibition Hall 2 by the end of 2016 to accommodate participation in the show by an increasing number of exhibitors.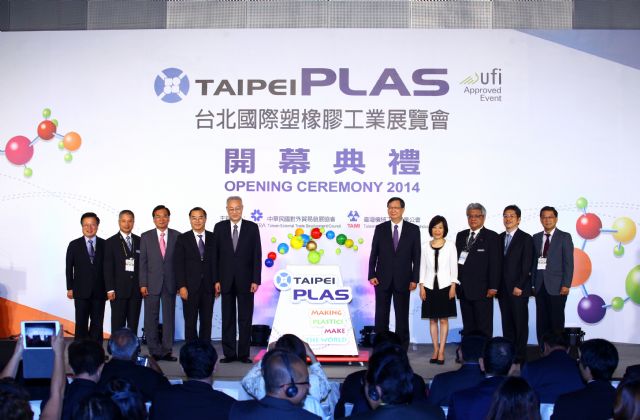 Dignitaries attending the TaipeiPlas opening ceremony (from second left): David Wu, chairman of TAMI's Plastics & Rubber Machinery Committee; H.T. Hsu, TAMI's chairman; San Gee, TAITRA's vice chairman; Wu Dun-Yih, Taiwan's vice president; and S.C. Cho, vice minister of economic affairs.
This year's TaipeiPlas divided its exhibits into a number of categories: Plastic & Rubber Processing Machinery, Injection Molding Machinery, Blow Molding Machinery, Extruders, Printing Machinery, Auxiliary Equipment, Molds & Dies, Parts & Accessories, Raw Materials, and Semi-Finished & Finished Products.
Among the top Taiwanese suppliers at the show were Nan Ya Plastics, Kung Hsing Plastic Machinery, Fu Chun Shin Machinery Manufacture, Haurong Plastic Machinery, Multiplas Enginery, Jon Wai Machinery Works, Victor Taichung Machinery Works, Avita Machinery, Diin Kuen Plastics Machinery, New Power Team Technology, Jenn Chong Plastics Machinery, Lien Fa Injection Machinery, Ye I Machinery Factory, Hyplas Machinery, Chuan Lih Fa Machinery Works, Queen's Machinery, and many others.
A total of 14 foreign exhibitors came from Austria, Italy, Germany, Ireland, the U.S., Japan, India, Indonesia, Turkey, Malaysia, and Vietnam.
TAITRA reports that over 2,000 foreign buyers from 95 different countries were invited to meet exhibitors at the show, including such heavyweights as Kanematsu KGK Corp. of Japan, Intermas Nets S.A. of Spain, Altin Ates Kimya of Turkey, and Kanaflex S.A. Industrial De Plasticos of Brazil, each of which has annual turnover in excess of US$90 million. There were also buyer groups from the Middle East, Europe, and Asia.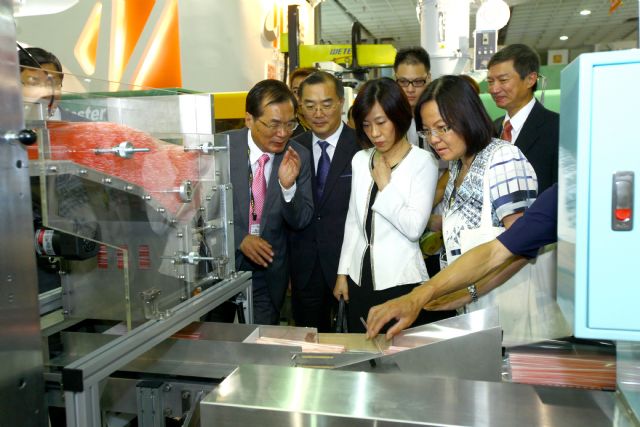 TaipeiPlas 2014 offered business opportunities for suppliers and buyers worldwide.
TaipeiPlas 2014 did not just generate considerable business opportunities between exhibitors and buyers through various show-related events, including 210 one-on-one meetings, but also offered valuable educational opportunities for visitors through 24 seminars and workshops  led by experts and industry-leading firms such as Moldex3D.
To help promote the finest Taiwan has to offer in plastic and rubber machinery, CENS (the China Economic News Service) occupied booth No. M1360 at the show, where it distributed its industrial magazines, including
Taiwan Machinery
and
Plastic & Rubber, Packaging and Printing Machinery Special
, and provided professional business matchmaking services for foreign buyers. (SC)