King Liu, a Taiwanese bicycle tycoon and chairman of the Giant Manufacturing Co., the world's largest bicycle manufacturer, has been a witness to and driver of the development and transformation of his industry in Taiwan. Today he is very happy that the island's role in the global division-of-labor has reached a new frontier.

"Taiwan's bicycle industry has undergone substantial structural changes, from striving to win orders and pursuing increasing production volume to becoming the information center for new global trends," said Liu. "Now, all major international bicycle brands have to come to the island to develop cooperative ties--something that I have never seen before."

Giant produced and sold 6.31 million assembled bicycles around the world in 2013, generating consolidated revenues of NT$54.39 billion (US$1.81 billion). Taiwan's bicycle industry as a whole, Liu explained, has a long lifespan, with Taiwanese companies constantly advancing by locking onto fashion trends and the daily needs of consumer, and as a result the island has become the global center of bicycle development.

Future Prospects
"Before we moved into the bicycle industry," the chairman explained. "we seriously and intensively evaluated the industry's prospects, hoping that it would not fall by the wayside like the local abacus, electric fan, and other industries. The bicycle industry has existed for more than 200 years and the uses of bicycles have evolved from being luxury products for European nobles in the early stage to today's wide-ranging applications including commuting, sports, racing, leisure, and health."

Throughout the history of bicycle development, different regions and countries have held world-leading positions in bicycle manufacture and export, from Europe and the U.S. to Japan, Liu commended. Now the leading position is firmly held by Taiwanese players, and they are pursuing design and functionality in line with the diversified development of bicycle applications.

As the global trend-setting center for the bicycle industry, Liu continued, Taiwanese companies have been devoting substantial resources to product development and innovation so as to keep exploring the future potential of bicycles. Their vigorous efforts have drawn all major bicycle vendors to set up cooperative ties with Taiwanese partners.

Market
In the first half of 2014, according to Liu, demand from Europe and the U.S. turned stronger, while that from China weakened. China is a very important market for high-end bicycles; but the serious air-pollution problems there, together with the Chinese government's anti-luxury policy, has led to lessened demand. However, Liu continued, "Giant is very optimistic about the ongoing stable growth in Chinese bicycle market, and our company's direct sales channels are expected to greatly help us further expand our sales."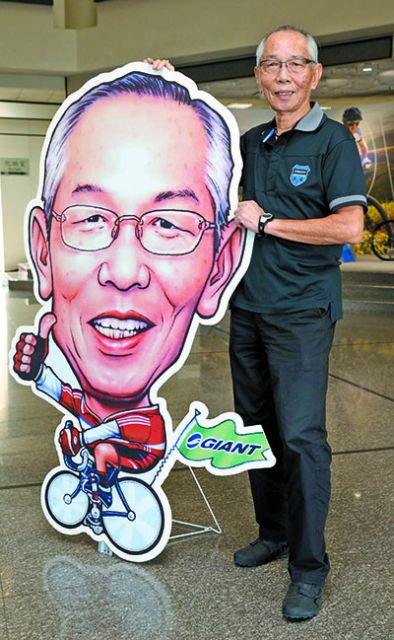 Liu: "Giant always does something others never think of." (photo courtesy UDN)
New R&D Center
Giant plans to set up its global R&D center in the Central Taiwan Science Park (CTSP), a cluster of high-tech companies, reflecting the bicycle maker's strong desire to continue leading the global industry.
Liu said that he spotted the window of opportunity for Taiwan's bicycle industry more than 10 years ago, when China opened its market and immediately attracted almost all local bicycle and parts makers to invest there to take advantage of the huge demand and lower manufacturing costs available. "I was reluctant to see the exodus of local talent, capital, and technology," he recalled, "so Giant and Merida decided to temporarily put our competition aside and jointly establish the 'A-Team' industrial alliance."
The establishment of the A-Team was the turning point in the transformation of the local bicycle industry, helping it to climb onto the global stage and play a key role in the development and manufacturing of high-end products. A total of 21 Taiwanese companies drew know-how and expertise from the Toyota Production Management (TPM) system, learned from Kuozui Motors Ltd., the local assembler of Toyota vehicles, and after two years of continuous efforts all the alliance's initial members developed the abilities needed to assure the best quality.
"At the same time," Liu recalled, "we tried to turn the bicycle from mainly a transportation vehicle into an important tool for leisure activities in Taiwan. Through the big-scale government-sponsored 'Cycling Island' project, we successfully changed the fixed image that Taiwanese consumers had of two-wheel vehicles. We well knew that the conceptual change needed a cultural change at the outset, so our employees began pedaling their own bicycles every day to gain new ideas and user experiences, while our R&D department used its own know-how, rather than that of global OEM customers, to develop newer and better bicycle models."
Giant plans to pour about NT$1 billion (US$333.3 million) into its new R&D center in the CTSP, Liu reported, saying that the goal is to further strengthen the company's development capability. "Now we dare to do many things others don't; we pour much effort and many resources into R&D and marketing, and we are eyeing the further integration of the latest information technology (IT) with bicycles," Liu explained. "Giant is headquartered in Dajia, in central Taiwan's Taichung City, and that relatively rural location has been hampering our recruitment of talented professionals. So we decided to set up our global R&D center in the high-tech CTSP in order to attract more young and innovative personnel to help us develop bicycles with more new-culture elements, higher recognition from consumers, and more warm feelings and surprises."
After 42 years, Liu said, ceaseless change and transformation are still driving the company's ever-stronger global competitiveness.
A top-end carbon bike made by Giant, the global pioneer in the use of carbon-frame bicycles 27 years ago and now the world's largest supplier of carbon bikes. (photo courtesy Giant)
Most Meaningful: Ubike
In Taiwan's capital city of Taipei you see Ubikes everywhere, ridden by short-distance commuters or international tourists. The Ubike is one of the most successful public-bicycle systems in the world; in the two years to the end of September, it had chalked up some 30 million rides. More and more major cities on the island have similar public-bike systems in operating or in planning.
When Giant became involved in the Taipei public-bike project, Liu persuaded his company to set a stop-loss limit of NT$268 million (US$8.9 million) for it. The high pressure from the possibility of loss made all of the company's ranking officials reluctant to take charge of this new business, forcing Liu himself to carry out the plan at the head of an eight-person team that included design, procurement, and administration staff. In 2013, Giant paid about NT$18 million (US$600,000) in "feedback" (according to its agreement with the Taipei Municipal Government, Giant has to pay "feedback if annual revenue tops NT$70 million, or US$2.33 million), and still reported net earnings of NT$12 million (US$400,000). Liu said that the whole Ubike project is a build-operate-transfer (BOT) scheme, and Giant will turn all of the related software and hardware over to Taipei's government in about seven and a half years.
Liu pointed out that other cities in Taiwan, including Taichung and Changhua, have begun developing Ubike systems, and that cities in Brazil and Australia have also come to Giant for quotations on its uniquely designed public bikes. All the Ubikes used in Taiwan are made by Giant on the island at a cost of about NT$12,300 (US$410) each. Liu said that the average daily use of each Ubike is now 10.5 times, the highest figure among all the world's public bike systems. To avoid malfunctions, a maintenance team works during the night to check each bike, Liu said. One highly pleasant effect is that many users take good care of Ubikes because they consider the vehicles a common asset.
Deciding the Future Today
"Giant always does something others never think of, and it is these unimagined things that make our success," Liu said proudly. "Giant devotes a lot of labor, effort, time, and R&D money to our business, which our counterparts do not match. So we always know something about bicycles that others don't."
Giant did many unprecedented things at different times, keeping it constantly ahead of its competitors. For example, it was the first Taiwanese bicycle maker to transform from OEM production to own-branding, and some 27 years ago it led the world in adopting all-carbon bicycle frames. Today Giant is the world's largest vendor of carbon-frame bicycles. When Taiwan's bicycle industry faced the challenge of moving upmarket, Giant led a team that worked to boost the average FOB (free on board) price of Taiwan-made bicycles from US$103 some 10 years ago to about US$450 now. That achievement, Liu commented, is a result of the joint efforts of all parties in the local bicycle industry.
Giant was also ahead of other bicycle vendors in establishing the world's only female-specific bicycle brand, "Liv." The chairman explained that females account for half of the global population, and that if there are good products to encourage more female cyclists, the size of the global bicycle market will double. As a result, Giant rethought the needs of female cyclists, and designed the new models accordingly.
Giant's Operating Results (2009 to First-half 2014)



2009

2010

2011

2012

2013

H1, 2014

Revenue

NT$39.04 billion

NT$44.22 billion

NT$47.38 billion

NT$54.04 billion

NT$54.39 billion

NT$29.34 billion

EPS

NT$6.69

NT$7.16

NT$8.04

NT$8.02

NT$9.34

NT$5.12

Source: Market Observation Post System (MOPS), Taiwan Stock Exchange

Regional Shares of Giant's Global Sales

North America

25%

Europe

22%

China

27%

Japan

6%

Taiwan

4%

Others

10%

Source: Giant