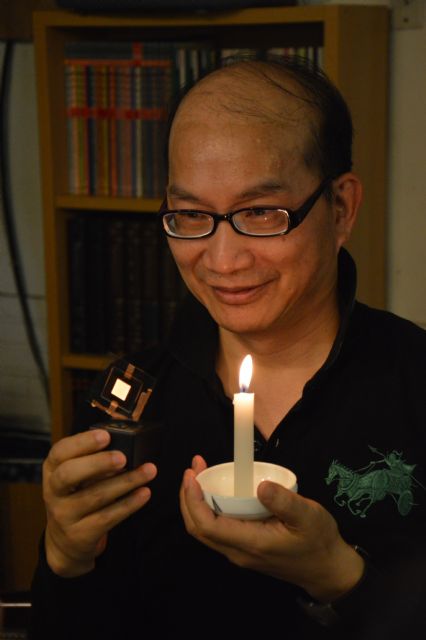 Pro. Jwo-huei Jou compares the OLED (left) with a candle.
WiseChip Semiconductor Inc., reportedly the world's No.2 manufacturer of passive matrix organic light emitting diode (PMOLED), has recently diversified into manufacturing OLED lights emitting a candle in color rendering index (CRI) and correlated color temperature (CCT).
Licensing the lighting technology to WiseChip, materials scientist prof. Jwo-huei Jou of National Tsing-Hua University stressed that the OLED light does not emit high Kelvin blue light which is hazardous to eyes and carcinogenic. The OLED light has 93 CRI, narrowly lagging the benchmark of 100 for a candle, and emits much vision-friendly CCT than candle's 1,914 Kelvin.
WiseChip Chairman K.H. Lin says although LED is promoted as energy-saving lighting, the diode emits very high-energy blue light, and that the OLED from Jou's team is 90%-plus similar to natural light in CRI, hence  preventing macular degeneration.
Medical findings show high Kelvin lighting is more carcinogenic than low K lighting because the former or whiter light impedes melatonin production relative to low K light. So people who work night shifts and are exposed to whiter light as nurses, telephone operators and fight attendants have higher risk of cancers, said Lin.
According to Lin, the company will begin volume production of OLED lamps with nearly natural candle light late this year or early next year to boost its revenue and earnings.
Prior to the OLED lighting, the company branched out into  manufacturing OLED screen for flexible smart wearable wrist devices, providing screens to the brand name supplier of smart wearable devices Fitbit Inc. Industry executives estimate OLED lighting and smart wearable devices to become the company's two major growth drivers in the years to come.
Capitalized at NT$357 million (US$11.9 million), WiseChip is in  the southern campus of the Hsinchu Science Park and plans  initial public offering (IPO) in Q1, 2015 on Taiwan's Over-the-Counter (OTC) market.
In the first half this year, it made NT$44.3 million (US$1.4 million), or NT$1.26 per share, in after-tax net income, compared with NT$0.13 per share in the same half last year.
In September, it had revenue of NT$84.1 million (US$2.8 million), roughly on par with the previous month and rising 19.4% YoY. In  Jan.-Sept., it had total revenue of NT$714 million (US$23.8 million), up 11.7% year on year. (KL)