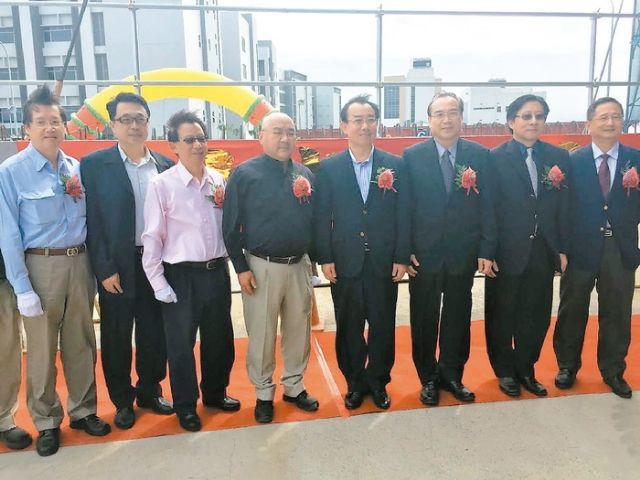 Ruentex Group chairman Samuel Yin (fourth from left) and Stanley Chang (fifth), chairman and CEO of MBC. (photo from UDN)
Ruentex Group of Taiwan, a major construction conglomerate on the island also engaged in healthcare, textile and garment, finance etc., recently said that it has reached consensus with Taiwan's Medigen Biotech Corp. (MBC) to export turnkey vaccine plant.
Established in 1999, MBC has gradually grown into a comprehensive biopharmaceutical corporation engaged in new drug development, drug innovation, molecular diagnostics, vaccine, and generic drugs.
Ruentex and MBC say they may set up a joint venture to export turnkey vaccine-making plants to global customers, and that they have been in talks with potential customers in Malaysia, Thailand, Israel, and the Middle East, with the first export project expected to be completed in the next two years.
Stanley Chang, chairman and CEO of MBC, says that partners in the said project include Ruentex Engineering & Construction Co., Ltd., China Ecotek Corp., MBC of Taiwan, and NNE Pharmaplan of Denmark, all of which offers  wide ranging consulting and engineering services to help pharmaceutical and biotech customers develop, establish and improve manufacturing.
The turnkey plant team will offer integrated services, from factory design, construction to manufacturing equipment installation and key-technology transfer, with each project to cost  NT$1 billion to NT$1.2 billion (US$33.3 million to US$40 million). Chang says the team also plans to swap technology-transfer for about 30% stake in an export project with global customers.
While many governments have been in talks with the team and after MBC receives the Pharmaceutical Inspection Cooperation Scheme (PIC/S) GMP certification, the team will soon kick off turnkey plant export projects, Chang says.
MBC kicked off construction of a  vaccine plant in Taiwan early 2014, which is to be completed in 2016 as a PIC/S GMP-approved pharmaceutical plant with initial annual production capacity of three million vaccines. The factory will also be the first of its kind in Asia (including Japan) with full capacity to produce cell-cultivating vaccines and five-year technical lead ahead of Japan.
The four-story building is designed by NNE Pharmaplan, constructed by Ruentex, and maintained by China Ecotek during construction.
The plant is scheduled to be licensed by mid-March 2015, and PIC/S GMP certified by end of 2015, having already made three batches of enterovirus vaccines for official inspection, Chang says.
MBC's EV71 enterovirus vaccine has been approved by Taiwan's  Food and Drug Administration (TFDA), Ministry of Health and Welfare to enter into second-phase clinical trials, the company says.