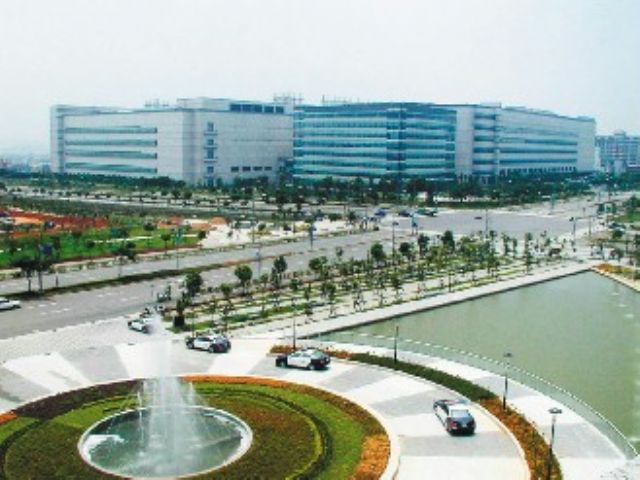 A bird-eye view of the CTSP, one of Taiwan's top-three science parks. (photo courtesy UDN)
Strong global demand for newer and higher-standard electronic products helped boost the January-August revenues generated by companies in the Central Taiwan Science Park (CTSP) by 12.1% year-on-year (YoY), to an eye-popping NT$330.2 billion (US$11 billion).
Y.C. Wang, director-general of the CTSP Administration, said that with large enterprises continuously moving in, the CTSP, one of Taiwan's top-3 science parks, is likely to challenge an all-time high of NT$500 billion (US$16.6 billion) in annual revenues this year.
Wang pointed out that new 28-nanometer production lines installed by the Taiwan Semiconductor Manufacturing Co. (TSMC), the world's largest dedicated semiconductor foundry, gave an added boost to the CTSP's overall revenue performance in the first eight months.
IC-related companies registered total revenues of NT$175.9 billion (US$5.86 billion) in the first eight months, accounting for 53.3% of the CTSP's overall revenue for the period; optoelectronics firms accounted for about 42%, with total revenues of NT$137.3 billion (US$4.58 billion); and precision-machinery makers made up about 4% with NT$13.2 billion (US$440 million), the CTSP Administration reported.
The CTSP's accumulated trade value in the first nine months of the year amounted to NT$221.3 billion (US$7.38 billion), a 22.1% YoY, the Administration said, including an export value of NT$156.6 billion (US$5.22 billion) and an import value of NT$64.7 billion (US$2.16 billion). In September alone, the administration continued, the park's export value increased 55% to NT$18.8 billion (US$625 million).
The science park's statistics show that in the first nine months the biggest export markets for its companies included, in descending order, China, Hong Kong, and Singapore; while its biggest import sources were Japan, the U.S., and the Netherlands.
During its 11 years of development the CTSP has approved 165 enterprises, startups, and R&D institutes from Taiwan and abroad as resident organizations and has attracted a total of NT$2.07 trillion (US$69 billion) in investment. Globally known residents include the TSMC, AU Optronics Corp. (thin film transistor-liquid crystal displays, or TFT-LCDs), NexPower Technology Corp. (solar panels), and Corning Inc. (specialty glass and ceramics), among others.
The CTSP accepted applications for residency by new firms in the first half of this year. These firms will add NT$1.08 billion (US$35.96 million) to the park's investment, strengthening its growth momentum even further.