Global shipments of TV thin film transistor-liquid crystal display (TFT-LCD) panels are expected to rise to 257 million units in 2015, a paltry 3% gain over the forecasted 249 million units to be sold this year, according to David Hsieh, vice president of NPD DisplaySearch Greater China.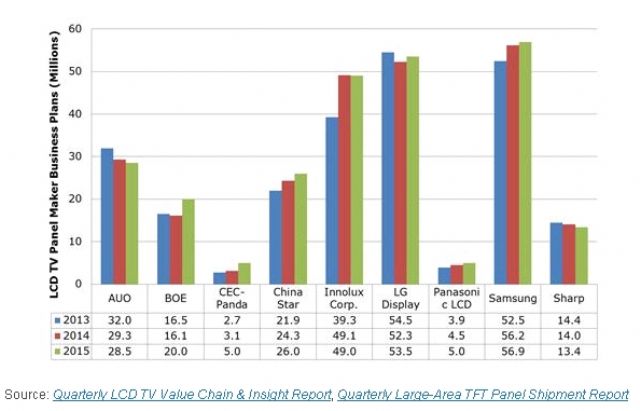 LCD Panel Maker Business Plans (2013-2015)
Hsieh recently issued the forecast on the NPD DisplaySerach blog based on the business plans of TV panel makers. However he said that large TV panel shipments should grow substantially.
Panel makers such as Taiwan-based AU Optronics Corp. (AUO) and Sharp of Japan have hit capacity limits and are focusing on selling larger panels, rather than just boosting unit numbers, Hsieh said. For example, AUO plans to decrease output of 39-inch panels and increase production of 50- and 55-inch panels in 2015. AUO is also planning to increase its eight-generation (8G) capacity on the order of 15,000 input sheets per month, enabling it to increase production of larger panels. Sharp also plans to increase its 60-inch panel production in 2015, and develop ultra-large sizes in the 120-inch range.
Innolux Display Corp., the largest TFT-LCD panel maker in Taiwan has not built any new factories for the past three years, constraining output. The company expects to keep shipments flat at 49 million units in 2015. However, it plans to increase its capacity of its existing 6G, 7G and 8G lines, Hsieh said. In addition, Innolux will invest in its 8G plant to better utilize production space and equipment.
LG Display of South Korea is converting some of its 8G capacity to oxide backplane to manufacture organic light-emit diode (OLED) TV panels. At the same time, it is expanding 8G capacity in Guangzhou, Guangdong Province of China. The incremental increase planned for 2015 will be in larger sizes such as 43-, 49- and 65-inch panels, the vice president explained.
Samsung Display, another Korean panel supplier, is likewise expanding its 8G capacity in Suzhou, Jiangsu Province of China. Samsung Display plans to decrease 32-inch production and increase output of panels in 40-, 48-, 55- and 65-inch and larger sizes.
Chinese panel maker BOE is planning on 24% growth in 2015 based on its increasing capacity, especially at its 8G factory.
Another Chinese player ChinaStar is planning to expand its capacity at its second 8G line at the end of 2015. It expects to turn out 26 million TV panels in 2015, with growth mainly in the 55-inch segment.
While CEC-Panda expects growth to be mainly in the 32-inch segment. The Chinese producer also plans to start 65-inch panel production in 2015.

Output sizes up in the global TV-panel market (2013-2015)
Hsieh said that 32-inch panels remain the mainstream specification for first-time LCD TV purchases, especially in developing countries. Panels of this size can also be made efficiently at 6G, 7G and 8G lines, attracting makers' continued interest in the segment. Hsieh noted that there is steady demand for smaller LCD TV sizes, especially in developing markets like South America. Demand for televisions in the 26-inch and smaller range, especially 23.6-/24-inch models, is expected to hold at 26 million in 2015.