To further invigorate its sales during the year-end peak season in Taiwan, Acer Inc., a major personal computer vendor, recently announced that it would kick off sales of 15 new products during Information Technology Month (IT Month), which is running from from Nov. 29, 2014 to early January 2015.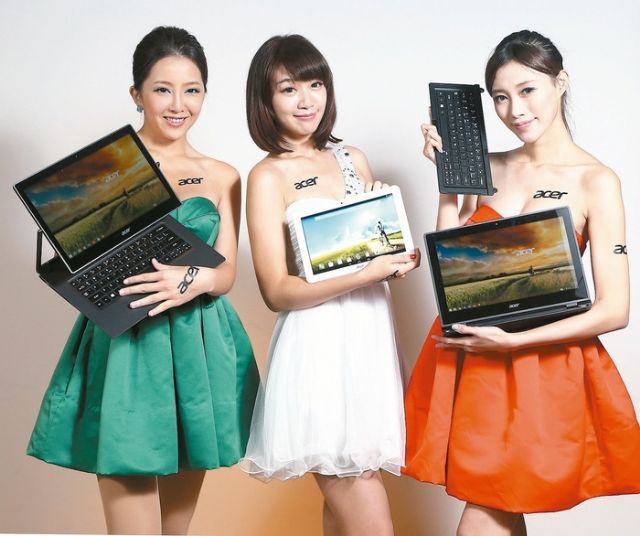 Acer recently launched 15 new products at once to take advantage of sales opportunities during Taiwan's IT Month. (photo from Acer)
Some of the new models are attracting a lot of consumer attention, including the affordable 4G LTE tablet phone (with dual SIM cards) priced at less than NT$8,000 (US$267 and two-in-one tablet/notebook PC models. Other new offerings include notebook PC and monitors.
Some institutional investors forecast that in the fourth quarter, a traditional peak season for 3C (computer, communications, and consumer electronics) sales in Europe and the U.S., Acer's sales in overseas markets and Taiwan will get an added boost from the new-product effect. They predict that Acer's fourth-quarter consolidated revenue will be between NT$89.96 billion (US$2.99 billion) and NT$92.54 billion (US$3.08 billion), representing a 5% to 8% quarter-on-quarter (QoQ) increase. The investors also expect the company's overall operation in 2014 to return to profitability.
Acer achieved a 40% QoQ sales growth in domestic sales in the third quarter, and the company anticipates that growth will continue in the fourth quarter. A senior Acer official said he is confident that another wave of strong demand in the local market will emerge after Taiwan's elections in late November.
Acer is optimistic about sales of its multi-format notebook PC models. The Aspire Switch 12, for example, can take on five different shapes with the help of a flexible kickstand and detachable wireless keyboard. Like other convertible PCs, the Aspire Switch 12 can be used as a traditional clamshell laptop or a tablet, but its 360-degree hinge and kickstand allow it to take on three other shapes with different viewing angles: display, tent, and desktop.
The first batch of Acer's Chromebook 11 and 13 were sold out in less than two weeks after hitting the shelves, and the company is preparing to sell the second batch IT Month.
Acer has shown a strong desire to further develop tablet sales in Taiwan by doubling the number of new models launched this year. Models in the vendor's Iconia series tablet PCs target different price levels and consumer groups; these include the Iconia Tab 10 for multimedia entertainment, Talk S for 4G telecom, and One 8/7 for entry-level customers. In Taiwan, Acer's new tablet models are priced between NT$4,000 and NT$8,490 (US$133.3 to US$283).