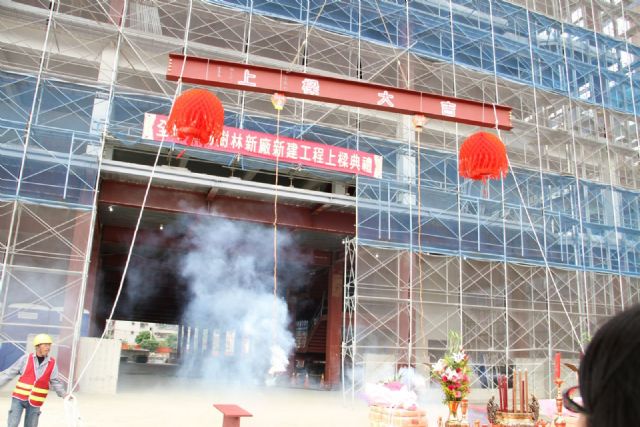 TBI Motion's Sulin plant to drive yearly revenue after startup.
TBI Motion Technology Co., Ltd. Chairman C.K. Lee says the company, one of Taiwan's leading manufacturers of linear motion systems for precision machinery, will generate consolidated revenue of up to NT$6 billion (US$193.54 million) yearly soon after its new plant in Sulin, northern Taiwan, starts volume production in Q2,  2015.
The company has invested NT$3 billion (US$96.77 million) in the plant which is projected to add NT$4.5 billion (US$145.16 million) to revenue yearly by producing screws, linear guides, ball splines, single axis robot, linear ball bearings, couplings and support units, which are crucial to automatic controlling machines, industrial robots, semiconductor machines, industrial machines, medical equipment, solar-energy equipment, machine tools, and parking systems.
In 2013 the company had revenue of NT$1.57 billion (US$52.56 million). In the first 10 months this year, the company scored consolidated revenue of NT$1.40 billon (US$46.83 million), up around 6.7% year on year mostly thanks to recovering car and aircraft building industries in the United State, China and Europe.  Over NT$1.5 billion (US$48.38 million) of orders remain undelivered to last through Q1, 2015.
The company plans to go public in Taiwan in Q3, 2015 to be another  homegrown maker of linear motion systems to list after Hiwin Technologies Corp. and Cheiftek Precision Co., Ltd.
Industry executives say their IPOs suggest the island's machine-tool industry has developed complete supply-chain composed of motion system, spindle, motor, and controller sectors to target evolving ever larger.
Lee, whose company is a major  manufacturer of linear motion systems in northern Taiwan, says  the Sulin site, including operating headquarters, will foster the development of industrial cluster in northern Taiwan by linking with nearby subcontractors, to help upgrade the island's clean-energy, medical, and automation industries.
According to Lee, ball splines are a special type of linear motion bearings that enable drivers to transmit torque linearly virtually  without friction. Its sturdier structure handles heavy-duty work to be ideal for robots and airplane wings.
The company has recently introduced the third generation  precision rotary ball splines with  slim design in cooperation with the robotic-arm maker, TOYO Automation Co., Ltd. of Taiwan, with the bearings being crucial to robot arms.
TBI has landed over NT$300 million (US$9.67 million) of orders for robotic components from several heavyweights including TOYO and Foxconn Technology Group, to drive  TBI's revenue and earnings for 2015 upon delivery.
Lee says the company has an edge in making high-end components including rotary ball splines based on efficient cost and solid technological foundation, and that in addition to making individual components the company plans to expand into system integration.
Its system integrations may include ball spline sets incorporating individual ball screw, which has  simplified assembly, reduced operating space and time, thereby being more efficient than linear guide ways and suitable for wider range of processing and  workpieces.
Lee notes that its design-to-development lead time is three to four weeks, compared with the average of two to four months  thanks to cooperation with customers from the outset. (KL)