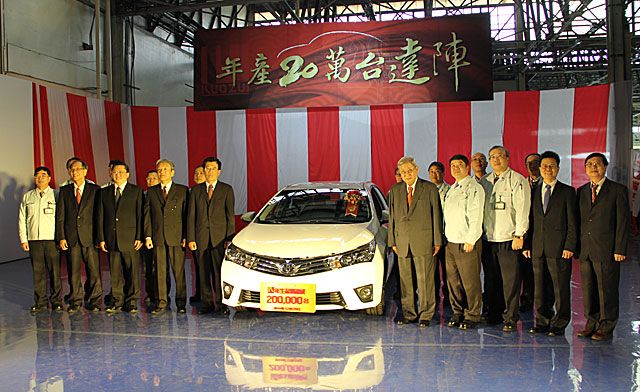 Kuozui chairman Su Yann-huei (fifth from right) and president Haruaki Hoshino (fourth from right) with Hotai chairman Huang Kuan-nan (sixth from right), and other company employees at the ceremony celebrating the production of the 200,000th car at Kuozui in 2014. (Photo from U-car)
Kuozui Motors Ltd. held a ceremony in late December to celebrate the production of its 200,000th Toyota car in 2014, making it the first local automaker to turn out more than 200,000 vehicles in a year.
Kuozui, a joint venture between Toyota Japan (with a 70% ownership share) and Hotai Motor Co. Ltd. of Taiwan, is the local assembler of Toyota cars and Taiwan's largest automaker. It also is the local agent of Toyota and a major car seller in Taiwan.
The 200,000-unit production mark was crossed Just few months after the company's 30th anniversary. Kuozui chairman Su Yann-huei and president Haruaki Hoshino, Hotai's chairman Huang Kuan-nan, and other company employees watched as the record-setting vehicle, a Corolla Altis, passed through the production line.
Recalling Kuozui's early days, Su said that the company applied six times for permission to set up a major automobile manufacturing plant in Taiwan. Kuozui was finally founded in 1984 to assemble Hino heavy-duty trucks and began producing Toyota passenger cars in 1986.
Su said that the turning point for Kuozui came in 2009, when the company joined Toyota's global division-of-labor production scheme as local assembler of the Toyota Corolla Altis sedans. The company also started to export the Altis to the Middle East at that time. Steadily rising sales in both the domestic and export markets helped Kuozui to rise as the top Taiwanese automaker with annual production of more than 200,000 units, he said.
Kuozui president Hoshino said that his company has set many records in Taiwan's automotive industry, including the recent annual production crown. The company is also the first local producer of hybrid cars (the Toyota Camry hybrid), produces the highest volume of a single car model (more than 100,000 Corolla Altis sedans per year), the longest record at Taiwan's top-selling automaker(for 13 consecutive years), and the largest assembled-car exporter (for six years in a row).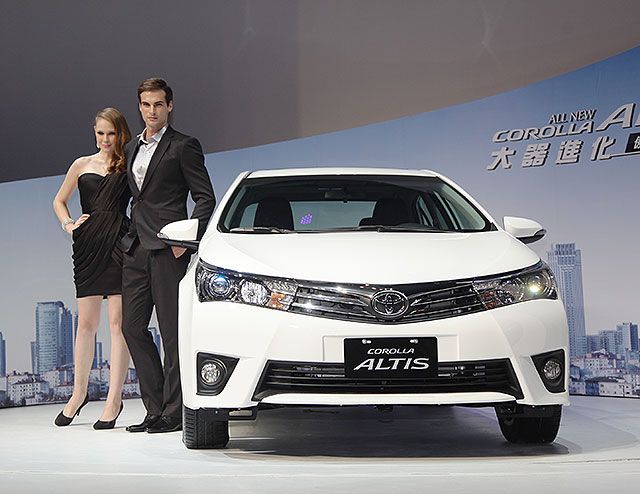 Kuozui assembles more than 100,000 Corolla Altis sedans in Taiwan each year. (Photo from the Internet)
Among the more than 200,000 cars Kuozui produced in 2014, a record 93,000 units or so were exported through Toyota's sales channel to the Middle East. Between 2009 and 2014, Kuozui exported more than 320,000 units.
Kuozui is confident that its annual production volume will remain relatively steady in 2015 at about 200,000 units and that its production lines will operate at full capacity throughout the year.
Kuozui's Auto Production and Exports (2007-2014)



2007

2008

2009

2010

2011

2012

2013

2014*

Annual Production

100,300

67,900

93,300

122,313

156,917

173,619

174,791

200,000

Export Volume

--

--

7,017

30,445

50,625

66,946

81,045

92,517

Source: Kuozui