After scoring encouraging results in Q4, 2014, HTC Corp., a Taiwan-based maker of  smartphones, finished the whole year with EPS (earnings per share) of NT$1.81 (US$0.057) to go from red to black, according to its latest financial statement published on January 6.

In Q4, the firm posted NT$47.87 billion (US$1.51 billion) in revenue, growing 14.4% quarter-on-quarter (QoQ), and scored net profits of NT$470 million (US$14.82 million), or NT$0.57 per share, with operating profits of NT$180 million (US$5.67 million), up 14.6% QoQ. In December alone, its revenue totaled NT$15.19 billion (US$479.17 million) for a 22.1% surge over a year ago.

Although HTC's annual revenue slid 7.6% year-on-year to NT$187.9 billion (US$5.92 billion) in 2014, the company still turned profitable, boding well for its comeback in the increasingly competitive smartphone market.

HTC is widely regarded locally as the "Taiwanese Apple" whose share price many years ago actually rocketed enviably, but has in recent years plummeted to irk many investors.

Institutional investors ascribe HTC's profit results for 2014 mainly to better-than-expected performance in Q4, when it regained considerable growth momentum in overseas sales, including India, the U.S, Indonesia and China, coupled with solid shipments of non-smartphone products, including HTC RE cameras and Nexus 9 tablets, to help fuel overall revenue.

Since suffering losses the first time in 2013, HTC has managed to stage a comeback by improving operational efficiency, broadening product lineup to cover more mid-range smartphones, and enhancing cooperation with ODM (original design manufacturers) to raise flexibility in production and achieve product diversification, which have proven effective as shown by its profitability since Q2, 2014.

Having to cope with rising Chinese underselling rivals as Xiaomi, Huawei and Lenovo, which have rocked the global smartphone market to some extent, HTC plans to not just launch more smartphone models targeting the mid-range segment, but to expand into tablets and wearable electronics, so as to maintain growth into 2015.

Noteworthy is that HTC just unveiled its mid-range flagship smartphone, Desire 826, at the International CES 2015 (January 6-9 in Las Vegas), which is scheduled to hit the Asia-Pacific market at the end of the month to further drive sales in Q1.
(SC)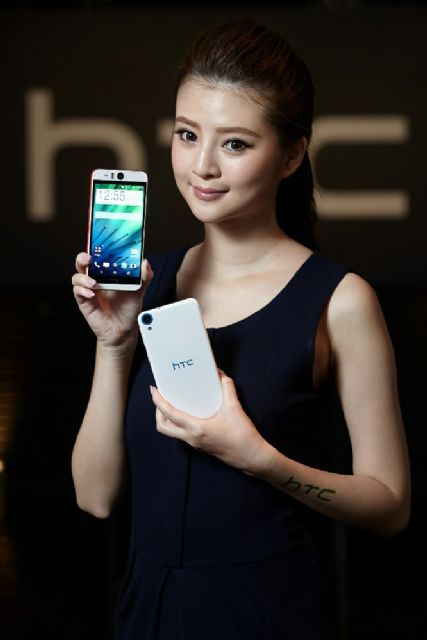 HTC explores mid-range segment of global smartphone market with Desire line.(photo courtesy of UDN.com).
HTC's Profits in 2014 by Quarter
Quarter

Net Profits

YoY Growth Rate

Q1

- NT$1.881 Bn.

Turning unprofitable

Q2

NT$2.257 Bn.

80.66%

Q3

NT$640.683 M.

Turning profitable

Q4

NT$470.0 M.

49.2%

Source: Market Observation Post System