Compiled by STEVE CHUANG

Responding to a downward trend of international steel prices, China Steel Corp. (CSC), Taiwan's largest steelmaker by size, has decided to continue reduce its nominal prices of domestically sold steels by 2.27 percent, or NT$425 (US$13.49) per tonne, on average, in line with similar reductions  applied during January and February, a move that has delighted local downstream manufacturers.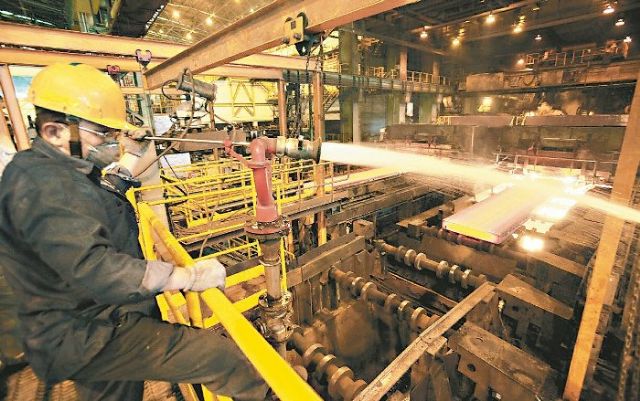 CSC sold over 9.47 million tonnes of carbon steels in 2014, and is forecast to produce over 3 million tonnes in Q1, 2015. (photo courtesy of EDN.com)
With international prices of raw materials having remained sluggish since Q4, 2014, CSC has just cut its nominal prices for January and February by 1.71 percent relative to those applied in December 2014. Except hot-dip galvanized steels and electromagnetic steel sheets, the firm's steels are being sold for an average of NT$352 (US$11.17) less than in December 2014 per tonne.
However persistent drops in international steel prices recently have forced CSC to keep cutting  nominal prices. For example, prices reported by Russian and Chinese steelmakers for hot-rolled steels have contracted to only US$475-480 per tonne (as of January 17), down US$20-30 than a month earlier.
To stay in line with continuously declining international prices, CSC therefore announced in mid-January a further cut of its nominal prices of domestically sold steels for March. According to the firm, its cold-rolled steels will undergo the deepest price cut of NT$842 (US$26.73) per tonne among other products, with prices for hot-rolled steels, galvanized and hot-dip galvanized steel coils, and electromagnetic steel sheets to be NT$622 (US$19.74), NT$600 (US$19.04) and NT$504 (US$16.0), respectively, lower than in January-February.
Windfall for Downstream Manufacturers
Amid continuous depreciation of Asian currencies as Japanese yen, Korean won and NT-dollar against the greenback, CSC's further price cut of  steels supplied domestically is widely regarded by institutional investors as windfall for local downstream manufacturers, from re-rolling firms, steel processing companies and steel piping makers to fastener, hand-tool makers and shipbuilders, who are then better positioned to sharpen global competitiveness. In the wake of CSC's latest price adjustment, some market observers even believe  domestic steel prices may have bottomed.
Amid bearish trend in international steel prices,  steel processing companies in Taiwan generally hail CSC's price cut for March, not just because of relatively deeper reductions, but also because the possibility to normalize and revive the domestic steel market, in which real prices are unreasonably higher than CSC's nominal prices to cause pervasive disinterest among buyers.
Having been plagued by persistently diving export prices, caused partly by underselling competition amid Japanese, Korean, Russian and Chinese rivals, Taiwanese re-rolling mills are also galvanized by CSC's sustained reduction in steel prices, which will help enhance cost competitiveness to attract global buyers, especially significant when international prices of re-rolled steels are expected to keep sliding in February.
With more Taiwanese steel piping makers focus on supplying oil well casing pipes to the U.S. since the country started to impose antidumping duties on Chinese and Korean suppliers in the market, cheaper nominal prices offered by CSC will help enhance profitability in the business.
With CSC also cutting prices of shipbuilding steel sheets by NT$500 (US$15.87) per tonne for March, Taiwanese ship and yacht builders should  see brighter prospects in Q1, 2015, especially CSBC Corp. of Taiwan, the island's biggest shipbuilder by size, whose major shipyards have been fully-loaded since the beginning of Q4, 2014 to fill deferred orders for container vessels, hence driving its December revenue to a 2-year high of NT$2.59 billion (US$82.22 million), up 10.2 percent month on month, or 7.7% year on year (YoY).
CSBC indicates that its order book is filled with  two 4,600-TEU (twenty equivalent unit) container ships for Yang Ming Marine, a Taiwan-based shipping firm, three 8,500-TEU vessels for  Evergreen Marine, a globally known shipping company headquartered in Taiwan, and six 1,800-TEU vessels for a Chinese shipping line, most of which will be delivered during Q1, 2015. Accordingly, the shipbuilder is optimistic about banner profits for the first quarter, to be achieved with CSC's lower-priced shipbuilding steel sheets.
Q1 Performance Remain Robust
Despite reductions in nominal prices in recent months to dampen CSC's revenue to some extent for Q1, the steelmaker's overall performance will remain robust in the quarter for a couple of reasons.
Firstly, CSC will likely reach its quarterly goal of landing orders for 3.118 million tonnes of steel, 4 percent more than 3 million tonnes achieved in Q4, 2014, mostly thanks to its steadily cheaper  nominal prices during Q1, as well as continuously sliding prices of iron ore and coking coal to help sustain its profitability.
Secondly, China's cancellation of tax refund on exports is additional good news for CSC beset by the souring Asian market resulting from oversupply of China-made steels. Last year, China's steel industry exported around 90 million tonnes, surging about 50 percent YoY to an all-time high, 30-40 percent of which qualifying for 9-13 percent tax refunds. With the Chinese government scrapping such incentive, steel exports from China are forecast to plummet 40 percent  this year, which will help normalize Asia's steel market and buoy steel prices as result.
Prospects for 2015 are also generally promising for CSC except for potential fallout from Greece's renegotiating its debt and talk of its exit from the euro, as well as economic growth slowdown in China.  The American economy is widely seen as recovering and on a steady footing with the Fed reportedly considering an interest rate hike, indicative of an improving economy. And the  ECB (European Central Bank) has recently announced quantitative easing that will spur lending to pump growth momentum into local economies across the EU bloc. Such global scenario bodes well for steel markets to drive  bullishness among suppliers the rest of this year.
CSC reported annual revenue of NT$366.524 billion (US$11.63 billion) for 2014, including NT$30.16 billion (US$957.46 million) in December, up 2 percent MoM, with pretax profits of NT$23.27 billion (US$738.73 million), or about NT$1.5 per share. The firm's overall sales of carbon steels totaled around 9.47 million tonnes, 65 percent of which sold domestically.
CSC's Performance in 2014 by Quarter


Q1

Q2

Q3

Q4

Consolidated Revenue

NT$92.415 Bn.

NT$92.162 Bn.

NT$92.268 Bn.

NT$89.679 Bn.

Net Profits

NT$3.628 Bn.

NT$5.152 Bn.

NT$6.620 Bn.

Not publicized yet

YoY Growth Rate
(for Net Profits)

-4.33%

5.47%

75.20%

Not publicized yet

Source: Market Observation Post System