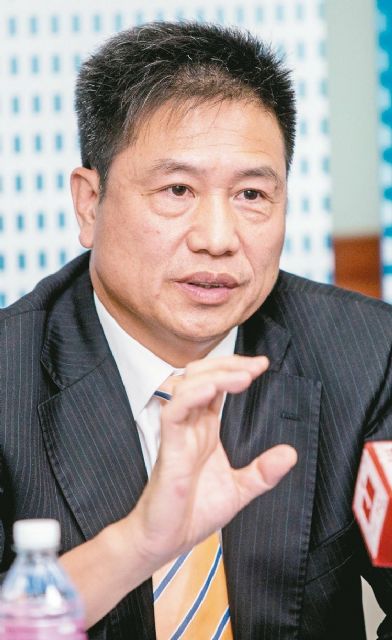 Paul Peng, president of AUO, recognized as the second-largest TFT-LCD panel maker in Taiwan that reported a six-year earnings high in 2014. (photo from UDN)
AU Optronics Corp. (AUO), recognized as the second-largest maker of thin film transistor-liquid crystal display (TFT-LCD) panels in Taiwan, recently announced unaudited consolidated financial results for Q4, fiscal 2014.
It had consolidated revenue in Q4, 2014 of  NT$105.45 billion (US$3.52 billion), down 1.3% sequentially, or quarter-on-quarter (QoQ), with operating profit of NT$8.82 billion (US$294 million), operating margin of 8.4 percent, net profit of NT$6.57 billion (US$219 million), for EPS of NT$0.62 (US$0.02).
For fiscal 2014, AUO's unaudited consolidated revenue totaled NT$408.18 billion (US$13.61 billion), a decrease of 2.0 percent from the previous year. Net profits were  NT$18.06 billion (US$60.2 million), a six-year high for the company, for EPS of NT$1.83 (US$0.06).
In Q4, 2014, AUO's shipments of large-sized (larger than 10-inch)  panel exceeded 29.40 million units, down slightly by 0.3 percent QoQ, with shipments of small-and-medium-sized panels  surpassing 42.71 million units, down by 11.4 percent QoQ. For 2014, large-sized panel shipments totaled around 116.92 million units, roughly flat from the previous year, with small- and medium-sized panel shipments of around 170.71 million units, up by 11.9 percent year-on-year (YoY).
Looking back at the fourth quarter, AUO said, although information technology (IT) and small-and-medium-sized panels were under seasonal adjustment, demand for TV panels remained strong thanks to stocking up ahead of the Chinese Lunar New Year. Thanks to the depreciation of the NT Dollar and appropriate cost control by the company, AUO's operating and EBITDA (earnings before interest, taxes, depreciation, and amortization) margin in the fourth quarter reached 8.4 percent and 21.2 percent, respectively, with  inventory also at healthy 36 days.
AUO claimed that it closed 2014 with net profits of NT$18.06 billion (US$60.2 million), up as much as 324.7 percent YoY to the highest in six years. The management also improved AUO's financial structure to result in total debt being reduced by NT$42.02 billion (US$1.4 billion) for the full year, with net debt to equity ratio lowered considerably to 30.3 percent, the lowest in four years.
Looking ahead to 2015, AUO said it will enhance high-quality production capacity through appropriate investments, and to continuously develop products with high cost-performance (C/P) ratio to achieve win-win with customers. Furthermore, the company will proactively upgrade existing technology base with a view to maintain technological lead globally, and to continuously create positive cycle with long-term profitability.