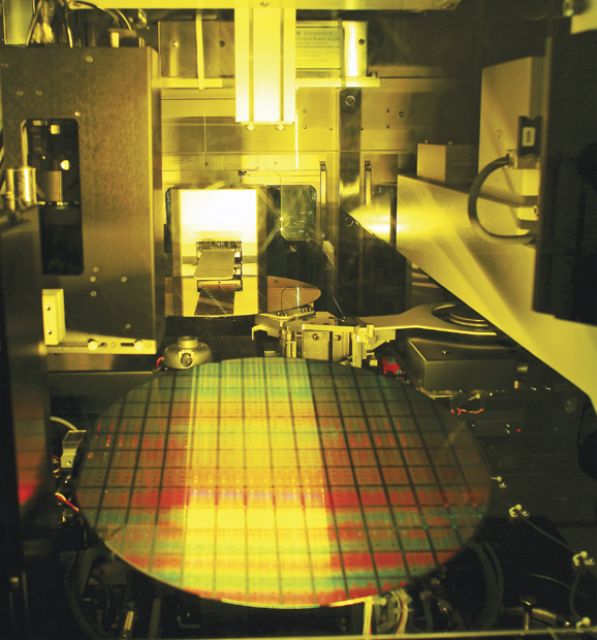 China's aggressive IC policy threatens Taiwan's IC industry. (Photo courtesy of TSMC)
MediaTek Inc., reportedly Taiwan's most profitable IC design house also recognized as mainland China's biggest wireless-chip supplier, earned after-tax net income of sub-NT$5 per share in the first quarter, its worst profit result in eight quarters, due to underselling competition from China's homegrown wireless-chip suppliers financed by Chinese authorities.
Taiwan's IC assemblers will likely be steam-rolled by underselling Chinese rivals who are winning more orders from IC design houses on Taiwan and the mainland. Without technological superiority, Chinese suppliers have little option but to compete on price. While Chinese manufacturers of all kinds are blamed for upsetting market order by underselling, its IC industry is no match against Taiwan's without government financing.
In 2014, Beijing set up a fund exceeding RMB120 billion (US$19.35 billion) to specifically foster its IC industry, which heavily depends on imported ICs in spite of its massive demand globally.
Acquiring some RMB30 billion (US$4.83 billion) from such government fund and banks, Spreadtrum Communications Inc. has been cutting prices in the mainland's wireless-chip market, bringing down the prices of 3G wireless chips to sub-US$5 apiece in the first quarter from US$7-8 seen last year.
Irresistibly lower prices simply enhance competitiveness of doing business. So, IC design houses on the mainland and some on Taiwan are placing low-end contracts with the mainland's homegrown assemblers, whose assembly services are offered at 10 percent discount or so relative to typical rates.
According to Taiwanese IC design houses, they outsource to the mainland's assemblers to cut cost and maintain connection with the mainland's authorities and supply chains, while most of the mainland's IC assemblers have improved defect free rate of low-end manufacturing processes.
Ingenic Semiconductor Co., Ltd., the mainland's biggest IC design house traded as "HiSilicon", MediaTek and many of Taiwan's leading design houses specializing in network-connectivity chips have increased contracts to Chinese assemblers.
Taiwan's industry executives predict such outsourcing to become more significant this year to threaten Taiwan's second-tier IC assemblers. They say that it is logical for consumer-electronics manufacturers to choose cheaper component suppliers when prices, profitability of many consumer products, like mobile computing devices and wearable devices, continue to fall.
In contrast, Taiwan's silicon foundries are less vulnerable to underselling rivalry from China. Industry executives feel that the mainland's homegrown foundries are no match in the short term against the quality and technological sophistication of Taiwanese competitors.
The Industrial Economics and Knowledge Center (IEK), a Taiwan government-backed think tank, suggests that Taiwan's semiconductor manufacturers should keep vigilant of the mainland's aggressive IC industry policy and set up a foothold in China as soon as possible to avoid being marginalized or shut out the mainland market.
Amid mounting difficulty to enter the mainland's IC market, Taiwan's leading chip companies are moving to set up production in China. United Microelectronics Corp. (UMC), recognized as the world's No.2 silicon foundry, has invested in a 12-inch wafer factory in Xiamen, southern China, while the No.1 Taiwan Semiconductor Manufacturing Co. (TSMC) says it will open 12-inch factories in China; while assemblers Advanced Semiconductor Engineering Inc. (ASE), Siliconware Precision Industry Co., Ltd., and King Yuan Electronics Co., Ltd. are accelerating investment plans in China.
According to China's "National Guidelines for Development and Promotion of the IC Industry", the mainland's IC industry sales revenue will likely reach US$143 billion by 2020, double 2015's projected RMB350 billion (US$56.45 billion) and 3.5 folds the US$40.5 billion in 2013 as a result of sustained compound annual growth rate (CAGR) of more than 20 percent.