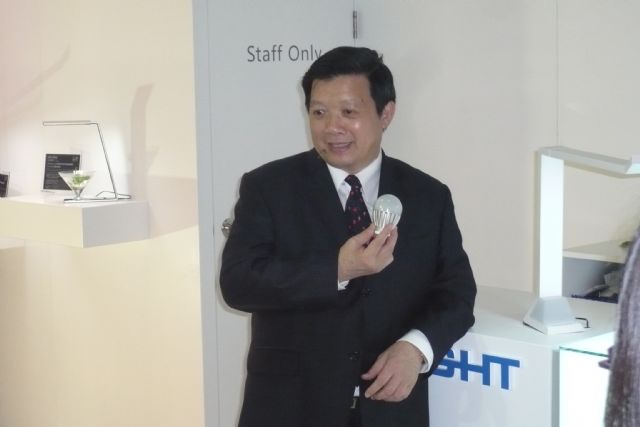 Everlight chairman Robert Yeh announces 3-year expansion plan.
Everlight Electronic Co., Ltd. Chairman Robert Yeh has announced having raised NT$5 billion (US$161.29 million) as the initial capital for a 3-year expansion plan that calls for some NT$10 billion (US$322.58 million).
To raise such initial capital for the expansion, the company issued convertible bonds at NT$80 per share, at a 110 percent premium. The expansion is seen as the biggest in the island's light emitting diode (LED) industry. Justifying his expansion plan, Yeh says the only way to compete against mainland Chinese manufacturers is to beat them on scale.
Yeh stresses that LED is an industry with tremendous growth potential because of huge demand, further justifying the company's aggressive expansion plan. His company plans capital expenditure of NT$2.5 billion (US$80.64 million) for this year.
He expressed optimism towards the company's sales in the American market, especially after the company has won a patent lawsuit against Nichia of Japan in an American court. The victory, Yeh says, is pivotal to the company's marketing effort, having removed a major hurdle to enable the company to continue boosting market share in the U.S. for LED lighting and LED backlight.
Everlight, the world's biggest LED packager by volume, was an exhibitor this year at Lightfair International, which was held May 4-10 in New York City. The company's executives say the volume of inquiries obviously rose at the trade show after the litigation win had been announced.
Yeh says that after a series of legal battles against Nichia, the Japanese LED maker's patent coverage has narrowed since many of earlier recognized claims have been annulled by the courts.
But, to be on the safe side and avoid direct confrontation with Nichia on the Japanese market, Everlight will replace all its products involved in the patent disputes with undisputed counterparts. Yeh expects Everlight to achieve sale success on the Japanese market soon.
The chairman looks to improved prospects for the industry in the second half of this year than in the first, as well as a better second quarter from the first quarter, also forecasting corporate earnings for this year to outperform that of last year.