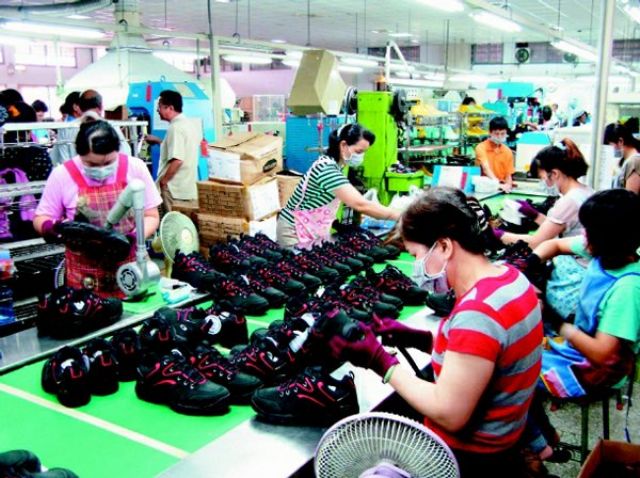 Pou Chen's footwear production at its central Taiwan factory. (photo courtesy of UDN.com)
With major high-profile brands as Adidas, Nike and Under Armor continuing to pump ample  dollars into star-studded promotions, with the former two brands also selling various sports-leisure wear, as well as steadily growing popularity of outdoor recreation globally, demand for sports and leisure shoes continues to rise. Taiwan-based Pou Chen Corp., reportedly world's biggest contract maker of footwear by shipment, saw consolidated revenue in April surge 13 percent year on year (YoY) to NT$23.17 billion (US$735.55 million), a single-month, all-time high, according to the firm's latest financial report.
The report says that the phenomenal April revenue was mostly from sales by Pou Chen's subsidiary Yue Yuen Industrial (Holdings) Ltd., a Hong Kong-listed footwear maker and retail chain operator which is 49.98 percent held by Pou Chen, that posted US$745 million in revenue in the month, up 10.1 percent YoY.
For the first four months of this year, Pou Chen scored cumulative revenue of NT$85.444 billion (US$2.71 billion) for a 11.9 percent increase compared to the same period of last year, while Yue Yuen posted US$2.712 billion for an 8 percent growth, as shown by the report.
As to outlook in the second half, Pou Chen says it will secure new growth momentum from its new manufacturing base in Myanmar, which is scheduled to start up beginning in Q3 after first-phase construction will have been completed. Spread over 16 hectares, the base cost about  US$100 million in investment for construction over five years, with Pou Chen having so far put aside US$50 million for the project. After full completion, the base will boast maximum monthly output of 300,000 pairs of sports shoes.
Pou Chen's Taiwanese counterpart, Feng Tay Enterprises Co., Ltd., reported April revenue of NT$4.391 billion (US$139.39 million) for a 15.9 percent yearly increase, also driven by global popularity of outdoor recreation to have resulted in steady orders from its branded customers, including Nike. The firm finished the first four months of this year with consolidated revenue of NT$16.729 billion (US$531.07 million), soaring by 19.2 percent YoY, and forecasts its Q2 output and shipment at 21.8 million and 23.1 million pairs, respectively, surging 14 percent and 10 percent yearly.
Also Taiwan's top-3 contract footwear maker, Fulgent Sun Group reported April revenue of NT$585 million (US$18.57 million), representing a 23.6 percent decline from a year ago, and cumulative revenue of NT$3.125 billion (US$99.20 million) for January through April, up 12.5 percent YoY. Institutional investors believe new orders from customers, including Timberland, will pump growth momentum into Fulgent Sun's performance in the short term.
Performance by Taiwan's Top 3 Contract Footwear Makers in Apr., 2015
Company

Apr. Revenue

YoY Growth Rate

Jan.-Apr. Revenue

YoY Growth Rate

Pou Chen Corp.

NT$23.170 Bn.

13.0%

NT$85.444 Bn.

11.9%

Feng Tay Enterprises Co., Ltd.

NT$4.391 Bn.

15.9%

NT$16.729 Bn.

19.2%

Fulgent Sun Group

NT$585 M.

-23.6%

NT$3.125 Bn.

12.5%

Source: Market Observation Post System