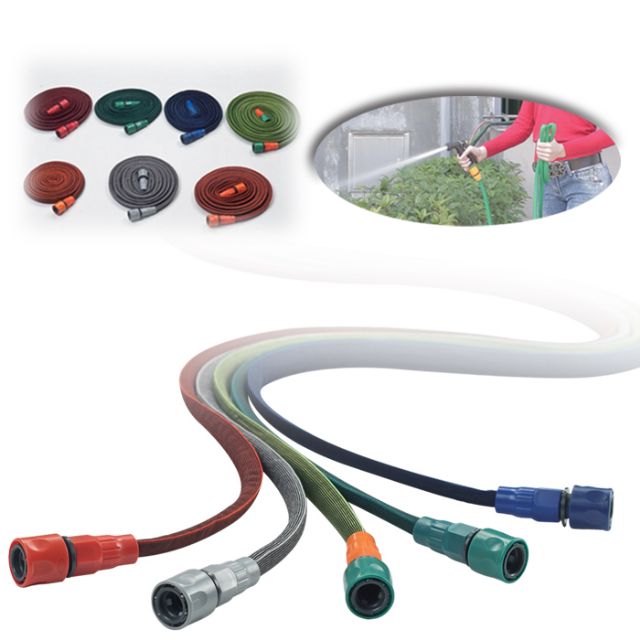 Taiwan has a large number of professional manufacturers of watering and irrigation supplies and accessories (photo courtesy of Cheng Yeau).
With occasional reports of food shortage resulting from climate change and tainted foods as well as people more aware of the importance of healthy lifestyle and food, edible gardening or growing one's own fruits and vegetables has emerged as a focal point for consumers and backyard  gardeners in developed countries, a trend confirmed by not just market observers, but also European governments.
For instance, CBI (Centre for the Promotion of Imports from Developing Countries), an agency under the Netherlands's Ministry of Foreign Affairs, issued a report two years ago to indicate a significant trend for growing one's own food, including vegetables and herbs that are seen as a more sustainable and healthier option than going to the grocery store, across the euro bloc. Health consideration aside, the sense of satisfaction and bragging rights with  presenting one's homegrown crops at the table is also among incentives for  consumers inclined to be backyard farmers.
Consumers' tendency for growing own food in their gardens, backyards and even balconies has gained popularity in the U.S. over the past few years as well. According to a report by Garden Media Group, an estimated 47 million Americans had plans to growing edibles in 2013, up 3 percent from 2012. Consumers' participation in growing crops at home is expected to further increase in the coming few years, given that 73 percent of polled consumers in Garden Media Group's survey agree "Growing Your Own Food" assures better taste, nutrition and quality, the substantial elements of a healthy, enjoyable lifestyle. This will lay a solid foundation for promising growth of the segment for watering and irrigation supplies, in addition to conventional lawn maintenance.
For suppliers of those products, the rise of greenhouse food production is equally important to the trend mentioned above. With steadily surging global population, along with climatic instability, raising  concern about crop production, greenhouse equipment, including watering equipment and related accessories, has created a lucrative market segment worthy of the suppliers to pay attention to and develop.
Meanwhile well-informed buyers can attest to the large number of suppliers of watering and irrigation supplies and accessories in Taiwan, such as Cheng Yeau and Kenswell Tube (hoses), Newbud Industrial (sprinklers and hose fittings), Rong Lih (hose reels and hangers), Gui Yo (water wands, nozzles, sprinklers, timers, etc.), and Ruey Ryh (spray nozzles, sprinklers, etc.).