SEMAT firefighting motorcycle, SEMAT DC firefighting system, firefighting equipment and accessories, etc.
After several years of research and development, Yu Siang Shun Co., Ltd., a firefighting equipment developer and manufacturer in Taiwan, recently said that it has successfully developed two new, innovative firefighting products, including the SEMAT firefighting motorcycle and SEMAT DC firefighting system. The former is a specially-developed scooter designed to carry the SEMAT DC firefighting system for superior mobility.

The two new products, according to Yu Siang Shun, are able to spray foam with water to simulate nano-mist to put out fires. The firm explains that spraying the foam and mist creates a barrier between the air and burning objects to not only cool the temperature of burning objects, but also block air intake that is critical to combustion, which extinguishes the fire and prevents rekindling.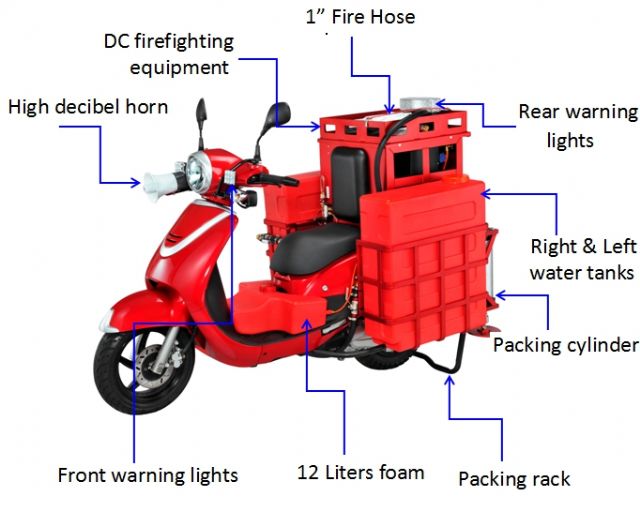 The SEMAT Firefighting Motorcycle (Model YMJ809), a revolutionary scooter with firefighting equipment developed by Yu Siang Shun.
The SEMAT firefighting system features many outstanding advantages over typical counterparts:
1. Quickly extinguishes fire: The SEMAT firefighting agent is safe as water, being able to very quick extinguish fires in forests, vehicles, homes, plastic and rubber products.
2. Blocks oxygen: The SEMAT firefighting foam is similar to nano-foam that is adhesive and has vertical structure, being able to remain effective for a long time to cut off oxygen to flames to prevent recombustion. 
3. Non-corrosive: SEMAT firefighting equipment does not contain nitrates and other additives to achieve high anti-corrosion.
4. No environmental impact: SEMAT firefighting agent is harmless for being environmentally-friendly and totally biodegradable.
5. Certifications: The system is certified to different standards, including EN1568-1, EN1568-2, and EN1682-2 (Class IIIC, ISO 7203-2); NAVY: French Inspection Bureau recognized; and UL: NFPA 18.
And the company provides 10-year warranty on the system in its original packaging (storage temperature -30°C to +60°C), which is equipped with lithium-iron phosphate batteries backed by 10-year warranty.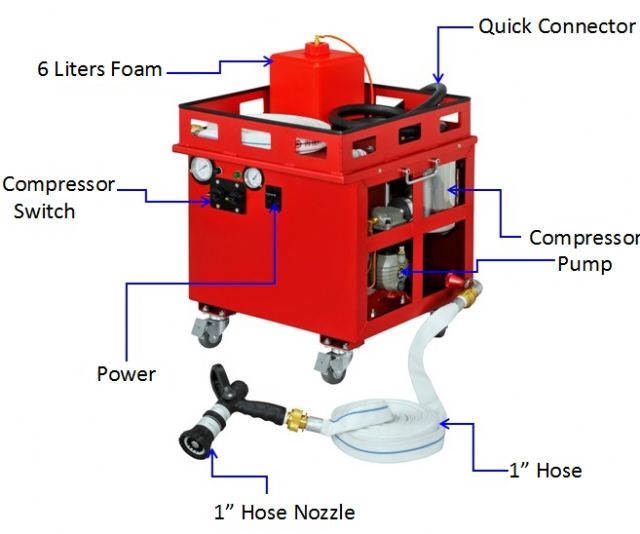 Another new, innovative product, the SEMAT DC Firefighting System (Model YMJ808).
Yu Siang Shun's senior management takes pride to announce to global customers that the SEMAT firefighting motorcycle and SEMAT DC firefighting equipment are very effective, and more importantly can really help protect lives and property. They also stress that the firefighting agent adopted in the system is harmless due to being eco-friendly and totally biodegradable; while its motto is to develop products to extinguish fires in minimal time and extend shelf life of the firefighting foam to protect life and property effectively and economically. 
There are so many firefighting equipment manufacturers in the world, Yu Siang Shun says, but most of them still have not overcome some basic problems. For example, traditional firefighting equipment just try to lower temperature of fires, but in fact one-fourth of fires cannot be put out by water because combustible materials will float on water; while some dry powder and foam can be used for only few minutes to put out fires.
Bucking the trend, Yu Siang Shun has developed and produced the SEMAT firefighting equipment to put out fires rapidly with innovative technology to overcome the usual weaknesses in traditional firefighting equipment.
Yu Siang Shun became ISO9001: 2008-certified in 2012, and all its products are certified to international safety standards like UL, CE and others. The firm offers a wide range of firefighting products, including the said SEMAT firefighting motorcycle and SEMAT DC firefighting system; bag-type fire extinguishing system; and other firefighting accessories such as firemen's coats, firemen's helmets, firemen's rubber boots, firemen's gloves, firemen's hoods, radio communication systems, and escape equipment.
Yu Siang Shun Co., Ltd.
No.821, Zhongshan Rd., Shengang Dist., Taichung 429, Taiwan
Tel: 886-4-2561-0051
Fax: 886-4-2563-4720
Website: www.semat.com.tw
E-mail: danny@semat.com.tw