Led by declining thin-film-transistor liquid-crystal display (TFT-LCD) revenues, revenue in the global flat panel display (FPD) industry is forecast to fall 2% from US$131.4 billion in 2014 to US$129.0 billion in 2015, according to IHS Inc., a leading global source of critical information and insight.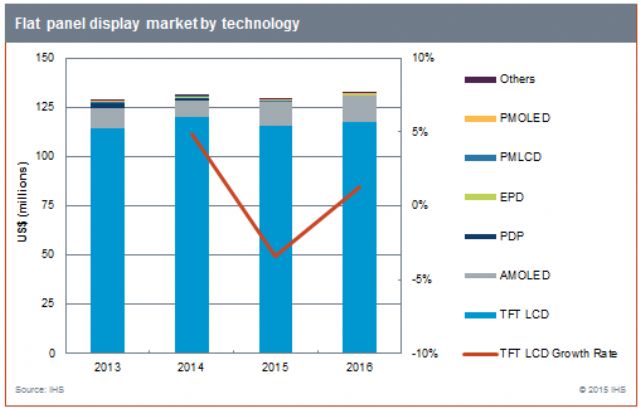 Flat Panel Display Market by Technology (Source: IHS)
Dwindling TFT LCD display revenue, declining panel demand in the personal computer (PC) sector, along with ongoing panel-price erosion are the primary reasons for overall FPD revenue declines this year, the research firm explained.
After growing last year, global TFT-LCD display revenue is expected to decline 3%, from US$120 billion in 2014 to US$115.8 billion this year. However, IHS expects TFT-LCD revenue to turn upward in 2016. Plasma, cathode-ray tube (CRT), passive-matrix liquid crystal display (LCD) and electronic paper display (EPD) are also facing revenue declines, as some technologies become obsolete and others lack new applications, IHS said. Organic light-emitting diode (OLED), however, is the only display technology expected to grow in 2015.
The research firm said TFT-LCD display revenues grew 5% last year, from US$114.4 billion to US$120.0 billion, due mainly to strong growth in LCD TV panel shipments and higher panel prices. However this year the TFT LCD market is expected to decline for the following reasons:
Falling demand for panels used in tablets, notebooks and desktop monitors
Price erosion for smartphone panels in 2015, due to sharp increases in production for low-temperature polysilicon (LTPS) TFT-LCD panels, which provide higher resolution and lower power consumption
Falling prices of open-cell LCD TV panels, including 4K UHD TV panels
Area Demand Up
Even as revenues decline in 2015, area demand for TFT-LCD is still expected to grow nearly 4%, from 165.5 million square meters in 2014 to 172 million square meters in 2015. This shows that the revenue decline is being driven by average selling price (ASP) erosion.
"Panel prices are eroding for several reasons, including the swing in LCD TV panel inventory from limited supply to over-supply, which began in the second quarter of this year," said David Hsieh, senior director of display research for IHS. "Other reasons include falling demand in the PC sector, and panel-capacity expansion pressure on smartphone displays, especially in LTPS panels. The entire FPD supply chain now must shift focus from growth to cost reduction, in order to maintain profitability."
Active-matrix OLED (AMOLED) display revenue is projected to reach US$11.8 billion in 2015, up 36% from 2014. Passive-matrix OLED (PMOLED) revenue is forecast to reach US$450 million this year, up 22% from last year.
"AMOLED growth is based on several factors, including soaring smartphone OLED display shipments, growth in OLED TV panel shipments, the expansion of OLED into tablet PCs and increased use in wearable devices, like Apple Watch. Flexible OLED is a key feature driving AMOLED revenues, especially given its higher ASP, attractive features and great value," Hsieh said.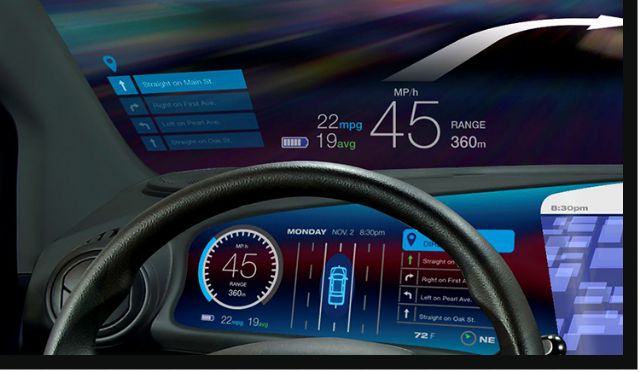 IHS says newer automotive displays, smart watches, public displays and other new applications will also add to TFT-LCD revenue growth in 2016. (Photo from the Internet)
IHS said that TFT-LCD revenues in 2016 are expected to grow just over 1% year over year, to reach US$117.4 billion. The main reasons for the growth are further expansion of LCD TV features, such as larger display size, wider color gamut and further penetration of 4K UHD TV. These features will keep ASP rising; meanwhile, the emergence of the 4K displays for tablets, smartphones and desktop monitors will further increase ASP. Newer automotive displays, smart watches, public displays and other new applications will also add to TFT-LCD revenue growth in 2016.