The Taiwan's top-2 display panel maker continues investing in trend-setting technology to retain lead
Facing unprecedented competition from Korean and Chinese rivals due to free trade agreements, relatively deeper currency devaluation and rising self-content ratios, Taiwanese makers of thin film transistor-liquid crystal display (TFT-LCD) panels have been trying to find niches to better weather such onslaught.

One of the best examples is AU Optronics Corp. (AUO), who led global counterparts to debut 4K2K, or UHD (Ultra High Definition), TV panels in 2013, and has been steadily pouring resources into development of new product and technology.

At the recently ended International Touch Panel & Optical Film Expo (Touch Taiwan) 2015, billed as the world's largest integrated trade show for touch-panel and optical-film products, AUO announced several new and innovative products and technologies at the event that was held in its hometown of Taipei from August 26 to 29. The firm's exhibits included displays for wearable devices, UHD 4K displays for smartphones and notebook PCs, oTP-Lite (on-cell touch panel) supporting professional graphic stylus, in-cell touch panels, a complete series of ultra high-resolution car displays, etc., all of which were highlights of Touch Taiwan 2015.

Wearable-device Panels
AUO leverages the features of active matrix organic light-emit diode (AMOLED) and transflective LCD technologies to develop various ultra-slim and -light displays with low power consumption for wearable devices, which satisfy user demands for wearable devices to be energy-efficient, trendy in appearance, highly readable when used outdoors, and easy, comfortable to use.

The company's 1.5- and 1.6-inch square AMOLED displays employ glass-thinning method to trim the panel thickness down to just 0.45 mm. Such ultra-thin feature enhances smartwatches to look even more stylish and sophisticated. The gender-specific watches are designed for men and women to come in two sizes to better fit users' wrists.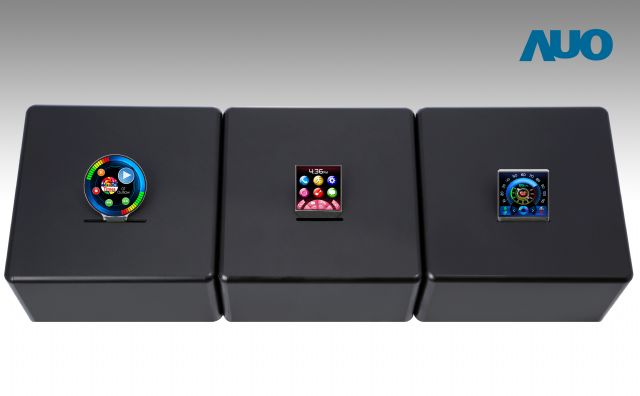 AUO's slim, light and power-saving displays for wearable devices, including 1.4-inch full-circle AMOLED display, and 1.5- and 1.6-inch square AMOLED displays shown at Touch Taiwan 2015.
The 1.4-inch full-circle AMOLED display, having garnered both Gold Panel Awards 2015 and 2015 SID (Society for Information Display) Best in Show Award, features smooth, full circular contour combined with high resolution, being ultra-slim, -light with wide color gamut and low power consumption to combine technology in a classic wristwatch.
For outdoor reading under direct sunlight, AUO presented the 1.3-inch transflective LTPS display adopting Memory-in-Pixel technology, enabling images to be legible under sunlight while saving more power. When static images are displayed, the panel requires less than 1 percent of the power consumed by conventional TFT-LCDs. The wearable devices could, as result, last for longer duration, being suitable for long trips or outdoor activities such as mountain climbing.
4K Image Quality for Mobile Devices
AUO extends the UHD 4K technology from large-sized TVs to smartphone and notebook PC applications to provide consumers with improved viewing experience, and sets the bar for UHD 4K screens to be applied on high-end mobile devices.
AUO's 6-inch UHD 4K ultra-high-resolution smartphone display has an ultra-high pixel density of 737 PPI, capable of achieving images in remarkably sharp details and depth, to be able to define even one thread of hair. With high brightness and wide color gamut, the display exhibits brighter, higher saturated colors with high contrast.
AUO's 17.3-inch UHD 4K ultra high resolution display for notebook PC has pixel density of 255 PPI and high color saturation of 100-percent Adobe RGB to deliver improved color precision and exquisite image depth. Equipped with the AHVA (Advanced Hyper-Viewing Angle) technology, the display retains its exceptional image quality when viewed from different angles, AUO said.
Integrated Touch Solutions
AUO noted that it offers a complete portfolio of integrated touch solutions for all kinds of mobile devices. In terms of notebook PC applications, AUO showcased 12.5-inch and 14-inch oTP-Lite. Without the presence of the cover lens, the devices are lighter for users to carry around more easily. In particular, the 14-inch oTP-Lite is capable of supporting professional graphic stylus. Users can write, draw or mark smoothly and with precision, making operation more intuitive. AUO also presented in-cell touch panels for smartphones, including the 5-inch self-capacitance in-cell touch panel employing a-Si TFT-LCD and 5.2-inch Full HD in-cell touch panel adopting LTPS process technology.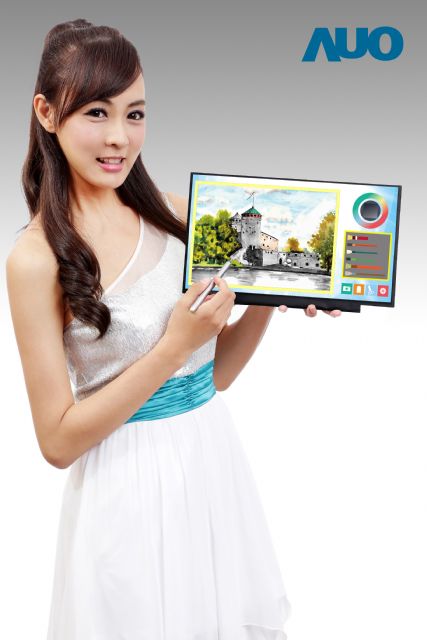 AUO's 14-inch oTP-Lite is capable of supporting professional graphic stylus.
High Performance Car Displays
AUO has developed a full lineup of car displays with high resolution, wide color gamut, wide viewing angle and high weather tolerance, meeting tough specifications of the automotive pre-market applications.
AUO exhibited 12.3-inch LCD for instrument cluster with the world's highest resolution; 8- to 10.1-inch high resolution LCD panels for center information display; and 8-inch oTP (on-cell touch panel). AUO said that it is capable of supporting all kinds of vehicle telematics and advanced driver assistance systems with its full array of car display solutions, so that drivers can easily retrieve all sorts of car information to significantly increase safety, and passengers can also enjoy a variety of entertainment systems with ease.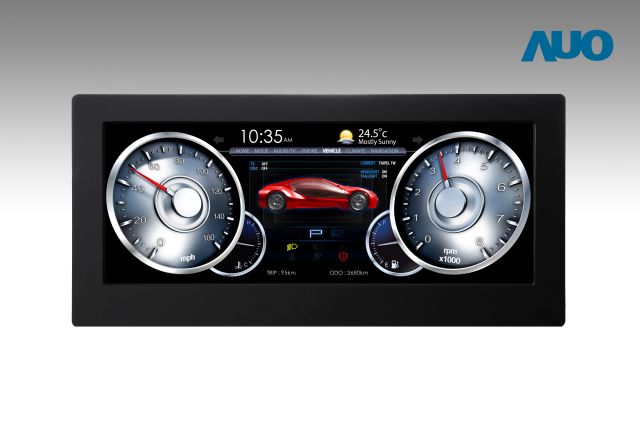 AUO's 12.3-inch LCD for vehicle instrument cluster with high resolution, wide color gamut, and wide viewing angle.