"Asian Wireless Power Transmission Week" will be held on December 16-18 at the Howard Civil Service International House in Taipei. The event will have representatives from the Institute of Electronics, Information and Communication Engineers, AirFuel Alliance, Taiwan Electromagnetic Industry-Academia Consortium, Industrial Technology Research Institute, and National Chung Hsing University. The topics cover the key concepts of wireless charging technology, industry development trends, and business opportunities, regarded as the next driver of the Asia-Pacific Eco-innovation and new applications.

The "Asian Wireless Power Transmission Week" is the most important international forum in wireless power transmission and energy harvesting. It held large-scale international conferences in Taiwan, Japan, and South Korea in the past seven years. Several Taiwanese manufacturers jointly exhibited new wireless charging applications at this forum. Among them, Speed Tech, Mvictory, and JJPlus jointly exhibited the "Electric Scooter Green Energy Wireless Charging System" powered by a solar energy storage system.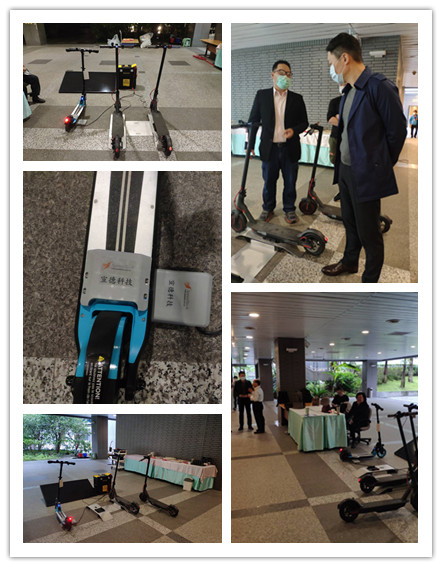 In "Asian Wireless Power Transmission Week" held on 12/16-12/18, Speed ​​tech, Mvictory and jjPlus cooperated to exhibit the "Electric Scooter Green Energy Wireless Charging System" powered by solar energy storage system, is one of the highlight in the exhibition. Reporter/Photographer
Compared to most people's impression of wireless charging, placing a mobile phone on the wireless charger, this product is impressive by the special design combined with Taiwan's multiple competitive industries.
In the past three years, electric scooters have been the most popular transport in Europe, America, and South Korea. Businesses have quickly deployed electric scooters everywhere in the city, which is deeply loved by consumers. The big problem for all these companies is what they should do if the scooter is out of power?
Look back to the "Green Energy Wireless Charging System for Electric Scooters Driven by Solar Energy Storage Cabinets" exhibited at this forum, by the thorough system design, making electric scooters as easy to manage as U-bike, and can be automatically charged when parked, needn't worry about tripping by the "wires." Besides, this electricity comes from green energy, allowing users to meet their mobile needs, conserve energy, reduce carbon emission, and concern for the earth.
The organizer stated that Taiwan is the global manufacturing base of high-quality electric scooters, with a complete industrial chain. Through "wireless" connecting innovative software and hardware technologies, Taiwan can sell products to the world, creating a new blue ocean in the wave of light personal electric vehicles.
Looking back in 2017, after Apple released mobile phones with wireless charging functions, it strongly drove the wireless charging market. Apple opened up wireless charging business opportunities for drones, automated guided vehicles, electric scooters, electric bicycles, robots, 5G, and IoT devices. With the continuous development of technology, academia and industry have become more interested in wireless power transmission technology.
jjPlus general manager Jeff Shu (1st left), marketing director Jack Chen (3rd left), Mvictory managing director Andy Lin (right), Speed tech marketing manager Jefferson Lin (2nd left) in"Asian Wireless Power Transmission Week". Reporter/Photographer