By Emily Ho, Economic Daily News

Taiwan Functional Textiles (TFT) Certification Facilitates Global Trade
Lifestyle has taken a dramatic turn in the post-pandemic era. Fashion is no longer the sole focus when it comes to the purchase of clothes and home decorations. Instead, consumers place more value on quality and stress the importance of ergonomic design and functionality. Clothes emphasizing comfort, safety and health has emerged as a consumer trend. The development of functional textiles and smart apparel has long become the rage in advanced countries to satisfy completely different demand from the new normal.

In recent years, the effects of research and development on functional textiles by Taiwanese companies have become apparent. Not only has the production process successfully progressed to be smarter and more sustainable, but numerous innovative products are also introduced. At present, Taiwan textile industry accounts for 70% of the global functional textile volume. Besides playing a crucial role in the global supply chain, we are important partners to world-renowned sportswear brands. More than just having a place in the global market, we lead the global trend.

Since the strengths of functional textiles can only be felt through wearing instead of being seen or felt by touch, buyers and consumers can hardly make judgement from the appearance or texture of the products. Consequently, the market is in dire need of an authoritative and independent certification institution to provide a set of objective certification services. In addition to facilitating marketing and business expansion, the certification would allow buyers and consumers both at home and abroad to determine the quality of functional textiles.

In light of this, Taiwan Textile Federation (TTF) actively devises and promotes TFT certification with support from the Ministry of Economic Affairs. So far, 23 categories have been established, certifying products from TFT manufacturers and sellers and satisfying the demand for different functions of quality products. This certification mechanism has already been registered in Taiwan, the U.S., EU, Japan, China, etc. For many years, TTF has assisted small and medium enterprises with quality certification and global market expansion where functional products are concerned. It leverages the brand image and quality assurance of products made in Taiwan to align with the world and expand business opportunities, and achieved outstanding results.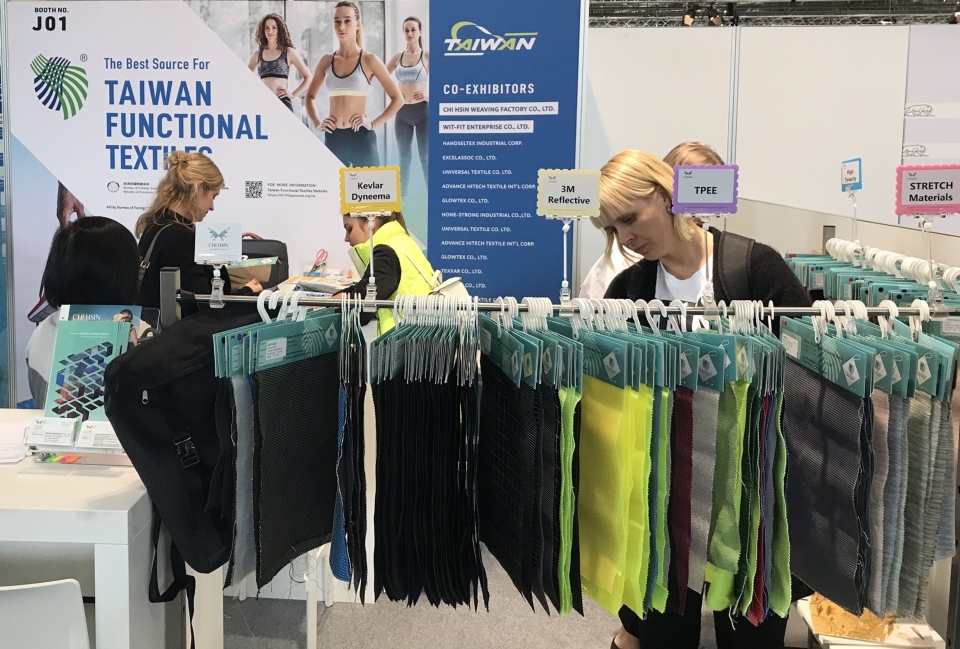 TTF launched the TFT certification in 2000. For many years they have assisted small and medium enterprises with quality certification and global market expansion, which achieved outstanding results. The photo showcases buyers at the Performance Days Functional Fabric Fair Munich. (Photo credit: TTF)
Transform a weaving OEM to take on international trade
The Taiwan Functional Textiles Promotion Project organized by TTF solves the problem of insufficient global trade resources encountered by small and medium enterprises. Chi Hsin Weaving Factory Co., Ltd. (Chi Hsin) was established in 1979. It started out as a family business producing nylon linings at the early stage of textile industry in Taiwan. In the interim stage, it imported power looms from Europe to improve production efficiency and fabric quality. These rapier looms could produce special fabrics for lady shoes, sports shoes and other products.
In 2014, Chi Hsin established an international marketing department. Assisted by the project organized by TTF, the second generation of the founder led a professional team of sales and R&D to successfully exploit the US and European markets. Meanwhile, older machines are gradually replaced with advanced equipment from Europe to provide customers with superior product designs. A consistent practice is adopted for the entire process starting from the strict selection of raw materials, beam warping, and weaving to inspection. Chi Hsin has acquired the ISO9001:2000 certification and received the Global Recycled Standard (GRS) in September this year. Starting out as a pure OEM, Chi Hsin has forged ahead to design R&D and marketing, taking aggressive steps towards international markets.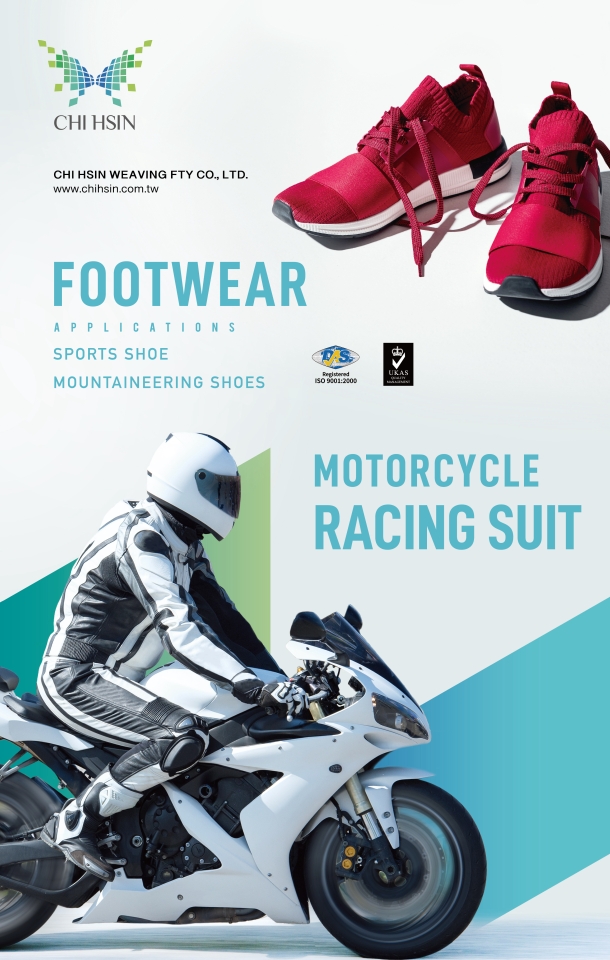 Chi Hsin imported power looms from Europe to produce special fabrics for sports shoes, motorcycle racing suits, bag luggage, baby stroller, and other products. They had acquired the ISO9001:2000 certification and received the Global Recycled Standard (GRS). (Photo credit: TTF)
Embark on a new textile brand with defiance and make global presence
The TFT certified textile company, Camangi Corporation (Camangi), turns fish scales into raw materials and introduces UMORFIL® Beauty Fiber® fabric. The product has acquired Halal certificate and successfully become part of the supply chain in 14 countries including Japan, South Korea, Vietnam, Italy, Turkey and Pakistan. Bobson jeans in Taiwan has also adopted the material for several quarters in their popular zero-friction series.
UMORFIL® is a textile material brand upholding the spirit of circular economy. The peptide amino acid added to the bionic fiber series comes from fish scale waste of aquaculture. By upgrading and converting waste to skin-friendly and soft fabric, Camangi not only realizes sustainability but also contributes to eliminating environmental issues. Articles written by Dr. James Hou, the creator of UMORFIL® technology and the president of Camangi, have been published on academic journals with a Q1 ranking. Instead of coating or nanotechnology, this manufacturing process adopts the patented supramolecular technology. Thus, features brought on by peptide amino acid will not diminish with time. Ever since the debut and participation in the Milan Expo in 2015, UMORFIL® has been adopted by many global brands. It continues to create value worldwide and be the pride of Taiwan.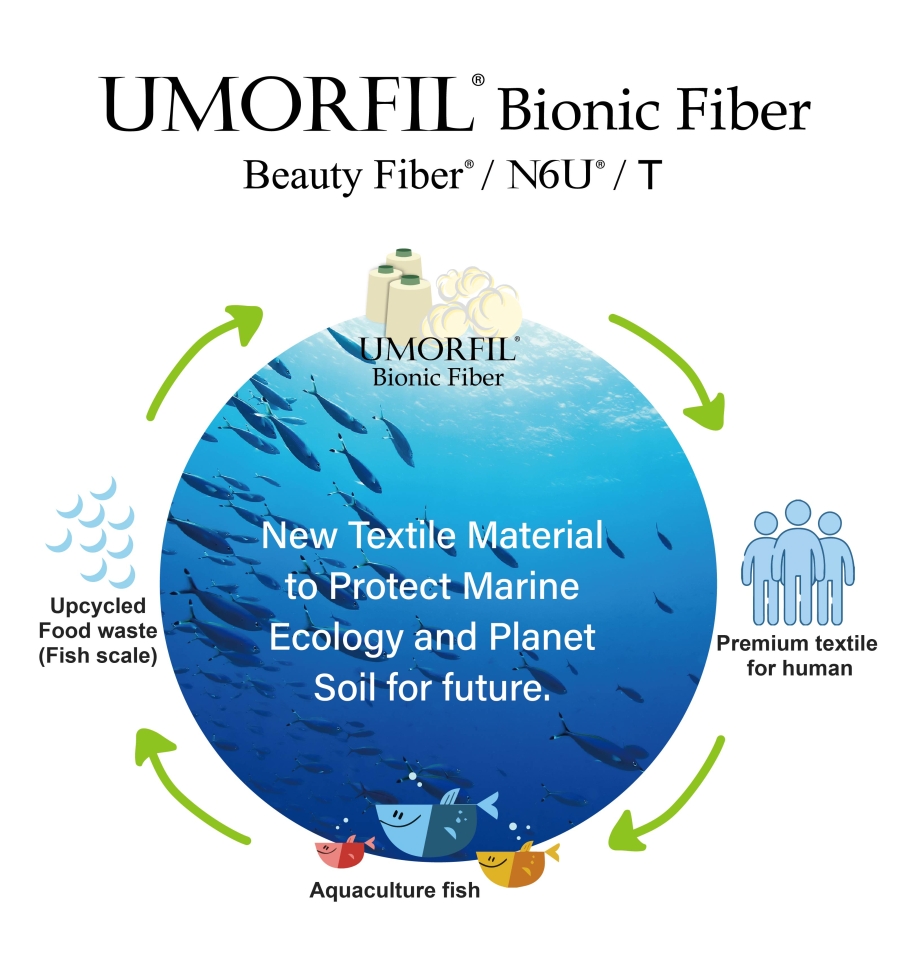 Upholding the spirit of circular economy, UMORFIL® upgraded and converted waste to skin-friendly and soft fabric in the bionic fiber series, contributes to sustainability, and continues to create value worldwide and be the pride of Taiwan. (Photo credit: Camagi)
In response to the disruption caused by the pandemic, TTF works towards integrating the marketing and promotion of certified products through online and offline measures to explore new business opportunities worldwide. Textile companies are more than welcome to utilize these marketing resources. Details on certified products and certification are available on TTF's TFT certification website at http://tft.ttfapproved.org.tw. We welcome industry players to apply for the certification services.
AD by Bureau of Foreign Trade