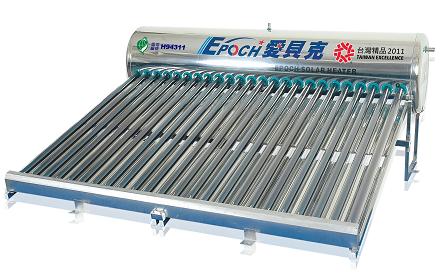 Solar Water Heater SEP-260
Model:

SEP-260

Country of Origin:

Taiwan
Detail Specifications / Descriptions
1.Convenient and suitable new choice
All our vacuum glass tubes are made of an exclusive 47mm size diameter, which are rust-free、corrosion proof、dirt free. Totally different from the conventional heaters which are subject to disturbing conditions, such as fluctuations in water pressure and unstable temperatures that are caused by clogged pipes.
2.Safe, power-saving new environmental concept
Our EPOCH solar water heater collects heat through vacuum pipes efficiently. The water is heated without using gas, which not only saves on the monthly gas bills, but also protects users from the danger of gas explosions or accidental poisoning. Our non-toxic and noise free solar heater will not produce the pollutants that conventional heaters produce.
3.The installation of safety glass ensures safety. (Ten-year durability guarantee)
The vacuum heat collecting tubes are made from borosilicate glass with a 90% absorption rate, and can withstand the direct impact of 25mm diameter hail. Tempered glass covers all vacuum tubes to ensure safety and durability. Compact in size, easy installation, which can eliminate troublesome water tower installation procedures. Save on time and labor.