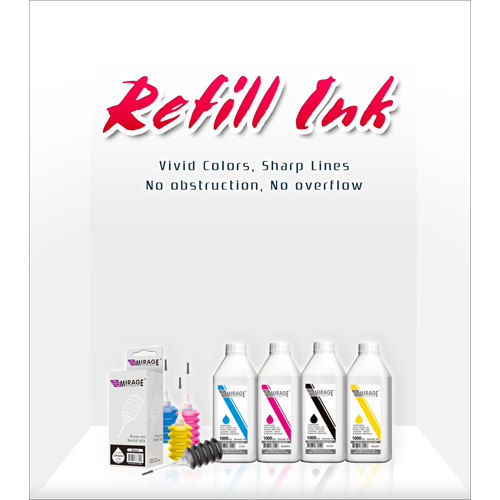 Refill inks
Model:

UFB...,UPE...,USE...

Country of Origin:

China

Material:

ink
Detail Specifications / Descriptions
ink can be divided into three different categories by character and usage, they are dye, pigment, and sublimation.
Dye ink is used mainly on regular inkjet printers or plotters on the market, performing well with standard office / print / copy paper, photo paper, and transfer paper (for cotton fabric). Vivid colors (suitable for photo printing) and no jams are its strong points. Plus the price is very good, which is the lowest of the three. Non-waterproof.
Pigment ink is used in the same way as dye, but the performance of color-intensity and waterproofing is even better. Besides, in printing there is no overflow of ink, which makes the lines precisely sharp. Because the designs of print heads from different brands differ a lot, colored ink (including black) can be used only with Epson printers; black ink can be used with printers of other brnads, such as HP, Canon, Brother, etc.
Sublimation ink is designed for sublimation transfer, being able to transfer images or photos onto T-shirts (made of wicking material like polyester or nylon), mugs, caps, and so on. Due to the different compositions of ink and principle of transfer, using sublimation ink and sublimation transfer paper for transferring is more widespread in usage than cotton transfer paper with dye or pigment ink. Plus, because of the steam transfer (of ink), it will create better feel as there is no background polymer window. However, sublimation ink itself is a little paler than the other two types, we suggest using it only onto light color fabrics. And for the same factor of different designs of print heads, sublimation ink is suitable for just Epson printers. Regarding cotton, there would be much better performance with exclusive cotton transfer paper.
We supply universal ink or exclusive ink for the main brands and models on the market. Using exclusive ink on specific printers gives better performance; a bit paler withuniversal ink but it's not restricted. And we have different volumes for bottles or even drums, you can pick what you need.