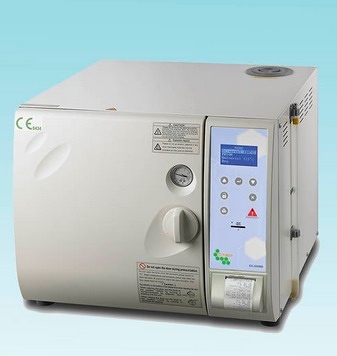 Sturdy - Super Deluxe Tabletop Autoclave Sterilizer Class B 24 Liter
Model:

SA-260MB

Country of Origin:

Taiwan
Detail Specifications / Descriptions
Sturdy - Super Deluxe Tabletop Autoclave Sterilizer to meet all your sterilization needs.

Model: SA-260MB

Microprocessor Control System
Class B Autoclave Sterilizer EN13060
LCD Panel
Sterilization Temp: 121° / 134°, Customization 105°~135°
Data Recorder (SD card) and Printer
Pre Vacuum and Post Vacuum
Preset Program: Prion Preset Program
Test Program: Leakage, Helix, B.D. Diagnostics
Dry Time: 1~60 minutes
Chamber Size: 260 (Dia.) *450(Dep.)/mm
Chamber Capacity: 24 Liter
Water Tank: 4.2 Liter (Tank can be filled manually or piped-in)(Filtered water)
Accessories: Plate Set (Mesh Tray*3, Frame*1, Tray Holder*1), Heater Cover*1

Safety Devices:
Overheat Protection
Process Evaluation System
Pressure Auto Door Lock
Emergency Stop Button
Pressure Overload Protection

Lifetime: 7 years

Made in Taiwan.