Fwu Yih Brass Enterprise Co., Ltd. started out by making copper ball valves and copper ball cooks in 1989 in Changhua County, central Taiwan, and has evolved its production into a variety of industrial parts on an OEM (original equipment manufacturing) basis.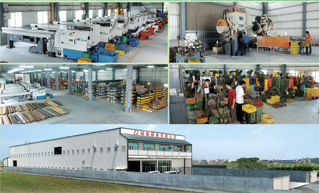 Presently, Fwu Yih offers a wide range of copper parts, including copper ball valves, copper ball cooks, E-type simple copper attachments, needle valves, fast brass connectors, PU (polyurethane), PE (polyethylene) and nylon-made tubes, trumpet brass connectors for brass tubes, labor-saving quick joints, quick couplers, air pressure components, steel-made parts series, sprayers and brass connector-elbows with threads conforming to U.S.'s NPT and NPTF standards.
To boost its production capability, Fwu Yih has regularly introduced quite a few advanced manufacturing machines since 2000, including CNC (computerized numerically controlled) machines, machining centers and high-precision lathes. Unsurprisingly, the company can produce a slate of automotive, gas, water and electronics parts with over thousands of specifications. (SC)
Fwu Yih Brass Enterprise Co., Ltd.
No. 191, Lutsao Rd., Sec. 2, Haipu Li, Lukang Town, Changhua County, Taiwan
Tel: 886-4-774-8520
Fax: 886-4-774-4570
Email: et200131@seed.net.tw