More than just the biggest maker in Taiwan of high-end performance motorcycle and scooter parts, Tong Yah Electronic Technology Co. is also known in the sector by global buyers for its house-brand KOSO, which is widely regarded as a name to be trusted for quality performance parts and accessories that are on a par to even a small group of standard-setters from Japan and Italy.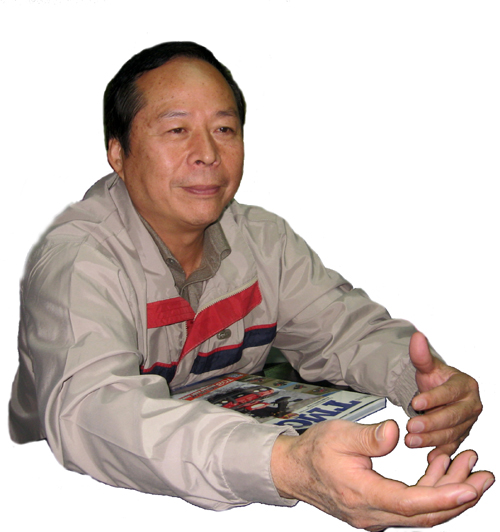 Shih-hsiung Wu, Tong Yah`s general manager.
Knowing well that the only way to achieve sustainable operation and prevail over typical rivals who rely on being OEM contractors is to develop in-house R&D to design, build innovative products, Tong Yah, an ISO/TS 16949 certified company established in 1981, began drastically transforming its business strategy over 10 years ago. It stepped up R&D investment and effort, as well as adopting top-grade manufacturing equipment, including a cutting-edge surface-mount technology (SMT) production line, in a bid to evolve into a world-class player to realize its ambitious goal.
After considerable investment in product development and diversification, Tong Yah now supplies a very wide range of performance parts and accessories for scooters, motorcycles, and ATVs. Among key products are digital liquid crystal display (LCD) speedometers, performance exhaust systems, magnesium-alloy wheels, heated grips, auto-folding side mirrors (for both cars and motorcycles), and accessories, all featuring state-of-the-art design.
Sharpened Expertise
Shih-hsiung Wu, company general manager, takes pride in his company's expertise and world-class design and development capacity to turn out some of the finest performance motorcycle and scooter parts anywhere. "Having accumulated massive know-how and skills in performance parts over the past 20 years, Tong Yah boasts core competitiveness in not only its capacity to produce stylish, trendy parts, but also and more importantly its ability to design, build highly functional items with excellent performance relative to those supplied by typical rivals."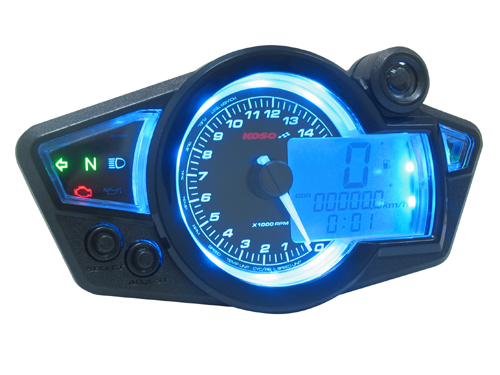 High-end PTW tuning items globally marketed under its famous KOSO brand.
The company's finely-tuned originality and creativity have gradually made its KOSO-branded performance items some of the most popular in major markets, including Europe, the U.S. and Japan. Started as a supplier in the aftermarket (AM) performance parts segment, Tong Yah has successfully built a solid reputation in the field, so much that the firm now receives increasing invitations to engage in joint projects from auto and motorcycle makers worldwide.
Living up to its corporate philosophy, the firm, according to Wu, has a 25-member in-house R&D team, which is even bigger and stronger than those at many makers of assembled vehicles in Taiwan. "In addition, I strongly believe that each of our R&D technicians is more professional and experienced than most counterparts at assembled-vehicle makers. As such, we impress global customers with our fast response, cost-effectiveness, and professionalism."
Tong Yah, in fact, does not limit its R&D budget, which often exceeds 10% of corporate revenue. "When Tong Yah started to evolve into a high-end supplier, I clearly realized the importance of being able to evade mutually-destructive underselling as a strategy as soon as possible," Wu explains. "We target to be the only one supplier in Taiwan to generate profits by relying on our ability to develop newer and better items."
Clearly the company's dedication to R&D has been paying off. It offers a line of technology-leading and innovative products, including the successful development of the first LCD instrument gauge for scooters about 10 years. Now, the firm is a very famous performance gauge supplier to several top motorcycle brands.
Being innovative has its rewards, specifically in building an increasing customer base. So Tong Yah now, to meet the vast demand from so many buyers, offers over 100 models of digital gauges, with dozens of new ones being developed annually.
Tuning Into Different Concept
"The performance or tuning parts business involves a totally different concept from that of the traditional vehicle parts and accessory field," Wu tells backed by years of experience as a leader in the sector. "The retail prices of high-end tuning parts and accessories vary according to market value, not cost. Market value means the price users are willing to pay for superior touches, quality, functionality, performance, and eye-catching design, qualities that are not readily found in typical counterparts in the market. In other words, retail prices can be as high as the threshold at which users' satisfactions are met. Such concept, more or less, explains why our profitability is rarely fazed by highflying material prices or downturns of the global economy or other factors."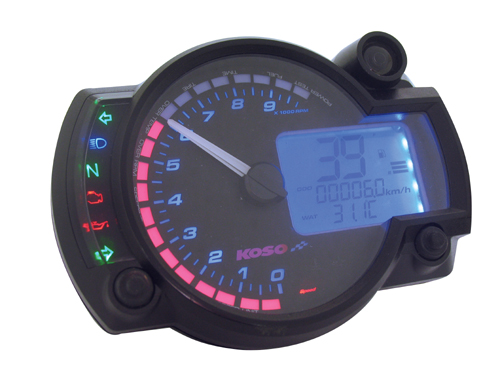 Supplying a very wide range of quality and innovative products.
Wu sees his career in the tuning-parts business as a "lifestyle" that constantly pursues newer ideas, better techniques, and more aggressive marketing. "Just like people's daily lives, my company encounters numerous difficulties and failures all along development processes, with such experiences helping us to sharpen our sense for product development, so that we can better build items acceptable to customers. Off the cuff, about eight of 10 new items we develop turn out to be hot-sellers-a very high and unparalleled rate of success in such line."
New Challenge
The overall tuning parts market encountered a new challenge, Wu recalls, when cellphone became youngsters' new favorite toy; so they began to save to buy new handsets instead of spending money to tune and enhance scooters or motorcycles. "It was also a major obstacle for Tong Yah for a certain period," Wu says, "but we effectively overcame the challenge by tapping our state-of-the-art styling capacity and advanced manufacturing techniques, which enable us to make products featuring highly desirable tactile and visual qualities, as well as vehicles that run faster or steer more precisely."
Expanding Capacity
Tong Yah is constructing a new plant at the firm's original factory site. The company is undertaking such expansion project, according to Wu, because it is paving the way to launch a major quantum leap in the next three to five years.
When the new facility is completed, the company will soon separate its electronics and mechanical-parts production lines originally located together under one roof. "The separation project is significant in various ways," Wu says according to a set of development blueprint he keeps mentally. "In the future, our electronics plant and mechanical-parts facility will be independently managed by two groups of professionals to focus on individual R&D, production, and management according to respective needs and expertise. More importantly, the big investment project (costing US$2 million to US$3 million) is expected to further upgrade the integrated strength and competitiveness of the KOSO brand, which is already the leading cachet in Taiwan and is expected to be much more well-known globally."