Established in 2000, Lung Ming Li Co., Ltd. specializes in hose assemblies for the automotive, motorcycle, paintball-gun, and other applications. The company supplies a full range of hose types, fitting designs, and tube shapes to meet varied requirements of customers worldwide.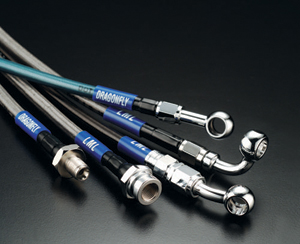 Lung Ming Li supplies high-level PTFE stainless steel braided brake hoses.
The company's major products include polytetrafluoroethylene (PTFE), or Teflon, stainless steel braided brake hoses for various kinds of vehicles, paintball-gun Teflon hoses, and high-pressure nylon hoses for vehicles, machinery, and other equipment. The company sells its hose products under its own brands Dragon and Dragonfly and on an original equipment manufacturing (OEM) basis.
Lung Ming Li can offer hoses ranging in diameters from 1/8 to 1 inch without limitation on length. The company adopts Italy-imported Teflon hoses and processes them into hose assemblies according to customers' special requirements for fittings, sizes, and lengths.
In the U.S., Lung Ming Li supplies its quality hose products to the world's top-three paintball-gun brands and also delivers many high-end hoses for racing cars abroad. In Taiwan, the company is a second-tier supplier to many makers of powered two-wheelers (PTWs), all terrain vehicles (ATVs), and other vehicles
Lung Ming Li's products are well received by major customers in the U.S., Germany, Japan, etc.
Lung Ming Li Co., Ltd.
Bldg. C, No. 30, Alley 689, Lane 18, Hsinan Rd., Sec. 1, Wujih Hsiang, Taichung Hsien, Taiwan 414
Tel: (886-4) 2335-9090
Fax: (886-4) 2335-9191
Website: www.cens.com/lungmingli
E-mail: lomili.tflex@msa.hinet.net