Founded three decades ago, For Dah Industry Co., Ltd. is one of Taiwan's leading manufacturers of whole-plant equipment for the production of PP/HDPE (polypropylene/ high-density polyethylene) woven bag, onion bag, cement bag, and HD/LDPE (high-density/low-density PE) blowing-type bag.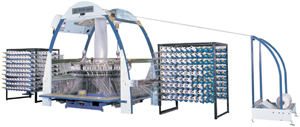 Miniature-type six-shuttle circular loom developed by For Dah.
For Dah started out with the development of woven bag making machines. After decades of development, the company is capable of offering a variety of whole-plant equipment for the plastic processing industry. Based on its successful experience in developing plastic processing machines, the company will soon add printing machines to enrich product lines.
The company boasts all the components and parts used on its products are made by CNC (computerized numerically controlled) precision lathes. The company offers a one-year guarantee for all its machines.
The ISO9001-certified company boasts it has adopted computer aided design and manufacturing (CAD/CAM) systems to make drawings on its products. In addition, the company uses standardized parts and components to ensure the quality of its products.
In addition to supplying high-quality machinery, For Dah also offers sophisticated manufacturing know-how to help customers obtain competitive edge to launch cost-effective production. The company says it provides customers complete technical support, production flow planning, production analysis and operation training because its engineering staff is committed to helping customers choose the most suitable machines for specific applications.
Although most domestic manufacturers in this line still focus on Southeast Asia for exports, For Dah has made inroads into such emerging markets as West Asia and East Europe.

High-speed & high-capacity flat yarn making machine.
For Dah boasts it imports high-quality key parts and components, including electronic control systems and motors, from such industrial nations as Germany and Japan to ensure the quality of its products.
For Dah Industry Co., Ltd.
No.48, Chungshan Rd., Minhsiung Industrial Park, Chiayi Hsien, Taiwan.
Tel: 886-5-221-5139
Fax: 886-5-221-9259
E-mail: fordah@ksts.seed.net.tw
Website://www.fordah.com.tw