SYM, Media Lab & ITRI Make History With Foldable Electric RoboScooter
2008/09/09 | By Philip Liu
Motorcycle makers in Taiwan have been forced to brainstorm, besides relying on filling OEM orders in rosier times, to come up with creative ways to effectively compete in the increasingly harsh global arena, especially with players in emerging economies ready to reduce costs and margins to paper-thin levels. One recent example of the local makers' innovative attempt is the prototype RoboSooter, a compact and foldable electric scooter.
Three major participants in the joint RoboScooter project recently demonstrated the ingenious foldable scooter in Taiwan, after its global premier at EICMA 2007, the 65th International Bicycle and Motorcycle Exhibition in Milan, Italy.
The main backers of the RoboScooter include Sanyang Industry Co., Ltd. (SYM brand), the second-largest powered two-wheeler (PTW) maker in Taiwan; Industrial Technology Research Institute (ITRI) Creativity Laboratory, who aims to generate, evaluate, demonstrate ideas by tapping in-house mechanisms and intensive interactions with industry; and MIT Media Lab, a globally-famous research unit at the Massachusetts Institute of Technology devoted to integrating multimedia and technology.
ITRI president Johnsee Lee (third from left), SYM president Huang Kuang-wuu, and Prof. Bill Mitchell of Media Lab, jointly unveil the RoboScooter.
K.W. Huang, SYM president, said that his company plans to commercialize the RoboScooter in the second half of 2009.
A First With MIT Media Lab
Johnsee Lee, ITRI president, stressed that Taiwan industries have to switch from the underselling mentality to refocus on higher value-added goals. "Through the open innovation platform NEXT Consortium initiated by ITRI Creativity Lab, SYM successfully tapped the ample resources and energy available at ITRI and MIT to create an ideal urban commuter of the future," he said. "The RoboScooter creates a new technology application and opens a new chapter for SYM's concept products, as well as successfully achieves a first for the partnership between NEXT Consortium and Media Lab."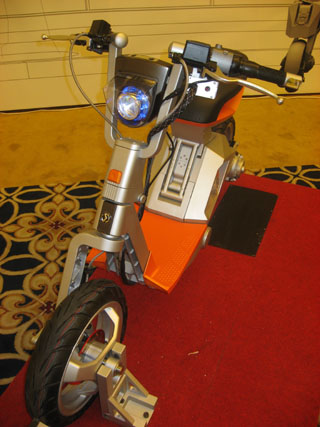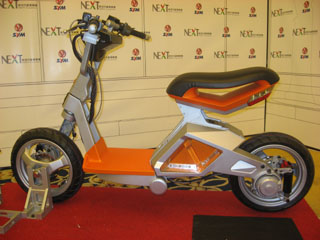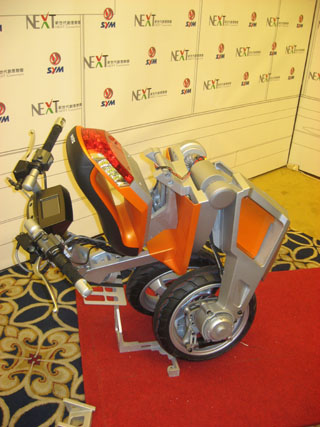 The folded RoboScooter.
SYM president Huang said that his company, being given significant innovative input by joining NEXT Consortium, decided to design a personal transport ideally suited for increasingly crowded streets, parking lots, worsening pollution, and spiraling fuel prices. "The RoboScooter fits the bill: it is a personal urban transport," Huang said, "which is not only foldable, compact and electric but also an easy link between private and public transportation systems."
The RoboScooter adopts an electrically-driven "robot" wheel in the scooter's folding mechanism, Huang said, which sizably reduces the number of parts and weight; with the portable battery pack enabling multi-recharging modes for riders. "SYM anticipates the RoboScooter to change existing urban transport modes through integrating various applications and services," the president said, "and hopes to see the trendy, environment-friendly scooter on roads in the second half of 2009."
Cutting-edge Design
Featuring strong, lightweight aluminum alloy and simplified overall design, the Roboscooter tips the scale at only 50kg, about half of its 50cc gasoline-engine counterpart. Initial tests show that the RoboScooter has maximum speed of 40 and 50 kph, and cruises for about 30 kilometers. SYM aims to cut the gross weight to 40 kg and extend the cruise range to 60 kilometer for commercialization.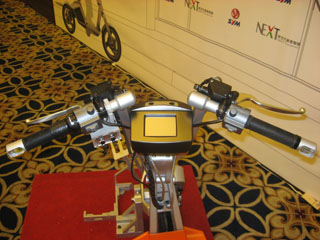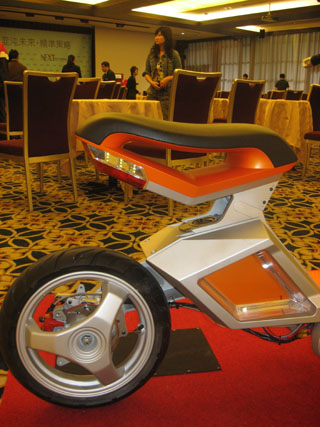 Some details of the innovative electric scooter.
Huang said that SYM plans to produce the non-foldable RoboScooter in the second half of 2009 for the Taiwan market, pricing it under NT$60,000 (US$1,968 at US$1: NT$30.5).