Worldly Industrial Co., Ltd., established in 1997, has been supplying machines under its own brand of "Welead" to over 200 companies of 23 nations. Over the years, the firm has made significant improvements in designing concepts, machinery R&D, manufacturing technologies, quality management, marketing strategy, and environmental protection.

Worldly was rewarded CE and CNAB certification in 1999 and ISO9001:2000 certification in 2003. The company combines its business vision and the skills from its engineering team to provide high-caliber machines and improve its production technologies.

Located in Taichung Industrial Park of central Taiwan, Worldly has been expanding production capacities over the past few years. Since its inception, the company has given first priority to satisfying customers the world over.

In addition to expanding its production capacities, Worldly has invested heavily to enrich manpower resources in-house with in a bid to become a market leader in the printing and packaging industry worldwide.

Recently the company debuted a new machinery model-the high-speed dry laminating machine. The new product features laminating width meeting specific requirements, convenient operation with high-performance synchronized programmable logic controller, reversible smoothing roller to prevent air bubbles during lamination. The machine also offers different options of steam, hot oil, gas, and electric heating. The machine can do superior drying performance without solvent. (BS)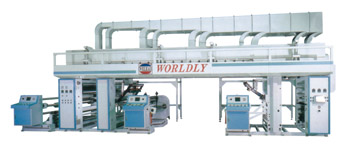 High-speed dry laminating machine developed by Worldly.
Worldly Industrial Co., Ltd.
Tel: 886-4-2359-9850
Fax: 886-4-2359-6625
E-mail: welead@ms17.hinet.net
Website://www.welead.com