In a recent interview with CENS, Dr. C.T. Chen, chief engineer of the motorcycle R&D center at Motive Power Industry Co. Ltd. or the maker of PGO motor scooters and upscale buggies in Taiwan, for the first time confirmed that his company has been working with RCV Engine Ltd. of the U.K. for over two years on developing the innovative RCV (rotating cylinder valve) combustion engine.

PGO, however, is still evaluating the feasibility of commercializing a 125cc RCV scooter engine, as well as working on a 50cc RCV powertrain which is expected to be more powerful than a conventional four-stroke counterpart, and cleaner in terms of emissions and more fuel-efficient than two-stroke ones of the same displacement.

RCV engines are widely used on model aircrafts, with traditional problems related to rotary valve engines having been overcome, specifically the gas sealing and lubrication addressed with a floating valve seal. In fact the British firm has a reputation for model airplane engines and only launched its 125cc RCV prototype scooter engine in February 2006, according to gizmag.com.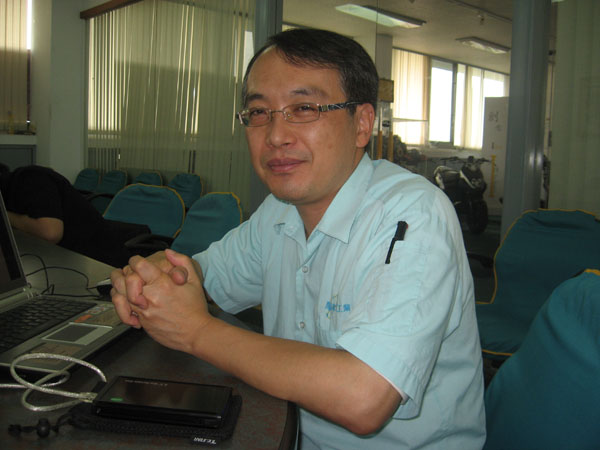 C.T. Chen, chief engineer of the motorcycle R&D center at Motive Power Industry Co. Ltd., confirms the joint RCV engine program with a British partner.
In short, Chen explains, the RCV engine is a valve-less, four-stroke model. The RCV engine operates on a simple but elegant principle: the cylinder, incorporating the combustion chamber port, is rotated around a conventional piston and crank at one-second crank speed via a 2:1 gear ratio. A fixed timing ring completes this efficient rotating-valve arrangement and eliminates the need for complex overhead valves, cams or electronic servos.
"Basically, we decided to tie up with the English partner to jointly develop the new engine with a clear goal: to build a cleaner four-stroke engine as powerful as a two-stroke counterpart," Chen points out. "We have developed a 125cc scooter engine prototype and are weighing the time to commercialize it. The reason for our opting to first develop the 125cc model is the bigger the displacement, the more difficult the technical threshold."
Pros & Cons
Several mechanical advantages of the RCV engine attracted PGO's attention, Chen points out, including reduced friction due to its continuous piston lubrication; no valve-train; and the half crank-rotating speed can improve continuous variable transmission (CVT) efficiency; improved volumetric efficiency; lower emissions for an efficient four-stroke engine; and lower assembly and maintenance costs due to less components, no cam-chain or valve-lash clearance to be adjusted, and no valve rattle at high RPMs etc.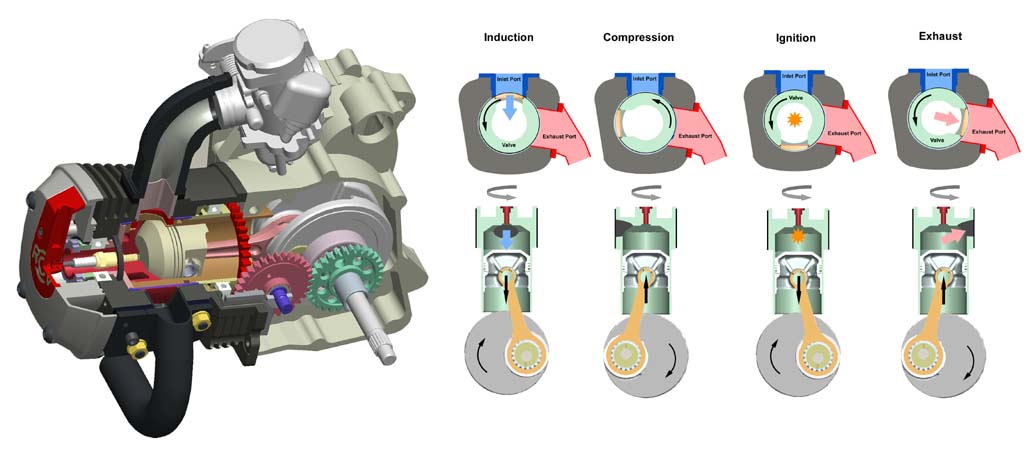 The 125cc RCV scooter engine and its operation. (data courtesy of Motive Power).
The above advantages result in attractive commercial potential, including good fuel economy; very competitive power and torque; good durability and thermal distribution; reduced power loss through CVT; compactness for easy fit inside scooter fairings; lower maintenance cost; production cost reduction by 5% to 15%; and global patents.
The RCV engine, Chen admits, has some disadvantages that have made PGO somewhat hesitant to commercialize the motor for scooter application.
Unproven Track-record
The first among such worries is that the RCV engine is unproven as a commercialized powertrain in the scooter industry, which might take Motive Power into uncharted territory. The second, according to Chen, is the noise problem. The RCV engine generates a bigger racket than traditional counterpart due to more rotating parts. It is not too far an exaggeration to say that the RCV engine basically began life on a model airplane. "It is harder to muffle noise than enhance horsepower," the R&D chief says, "for the former is due to mechanical design while the latter can be tuned."
The third obstacle in the way of commercializing the 125cc RCV engine, according to Chen, is that the overall performance has not reached the company's expectations, or, in short, good enough to be a big hit in the market, despite its revolutionary design.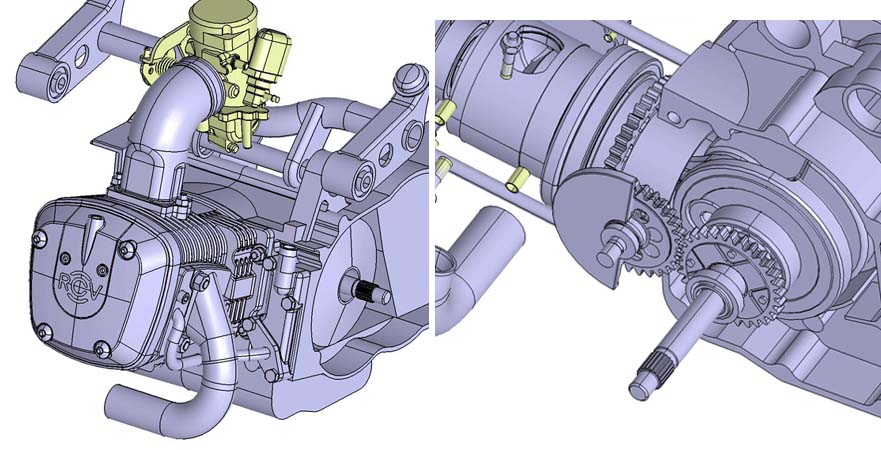 The layout of a RCV Engine.
Certain mechanical advantages of the RCV engine, according to Chen, continue to work for its potential for commercialization, including lower manufacturing cost due to needing less parts and relatively simpler structure relative to traditional four-stroke counterparts.
In addition, Chen stresses, the RCV design is very suitable for markets demanding sub-150cc scooters, such as China, India and Indonesia. Besides, he adds, such engine is ideal for lawnmowers and chainsaws due to its lightweight and easier maintenance, while noise would not be as relevant an issue. "Especially with fuel-injection," Chen stresses, "RCV engine is expected to be perfect as the valve-less design would not hamper the air-fuel mixture injected into the cylinder."